Well its St Patricks Day time again and time to make our yearly batch of GREEN Corned Beef Sausage at work!
I thought some of you would like to see the process. Here we have the corned beef points chunked up to grind through a 3/8" plate on our small tabletop grinder...A total of 40 pounds of CB! This brand had the seasoning sprinkled in the package.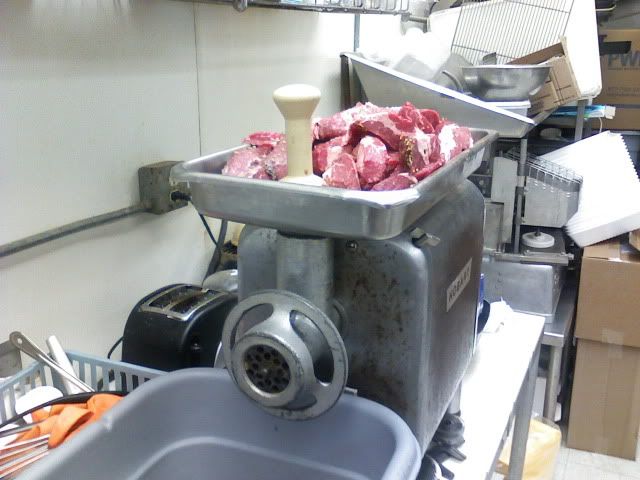 Nice and coarse...Helps keep the sausage from drying out.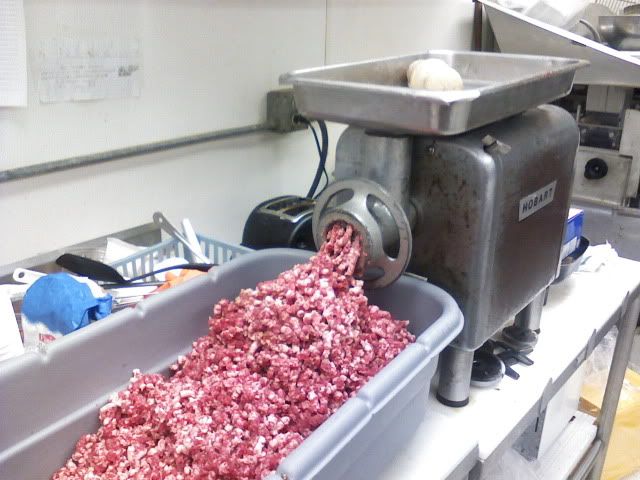 Here we pack it down and lay a layer of plastic filmover top to store it for the nite...for no other reason than we were running out of time at the end of the day.
Below is 25 lbs of our country style sausage mixed up so the seasonings are spead all the way through the pork evenly.
the left is CS Sausage...right is CB grind. Dump the CB in with the sausage and mix thoughly.
The next steps pictures got lost. Add 1 bottle of green food coloring to 4 cups of water then pour into meat mixture and mix really really really completely!!! Be sure to use rubber gloves! Food coloring doesn't come off too easily....Learned the hard way a couple of years ago!
Here I saved out about 15 pounds to roll into fatties and smoke for myself and my co-workers.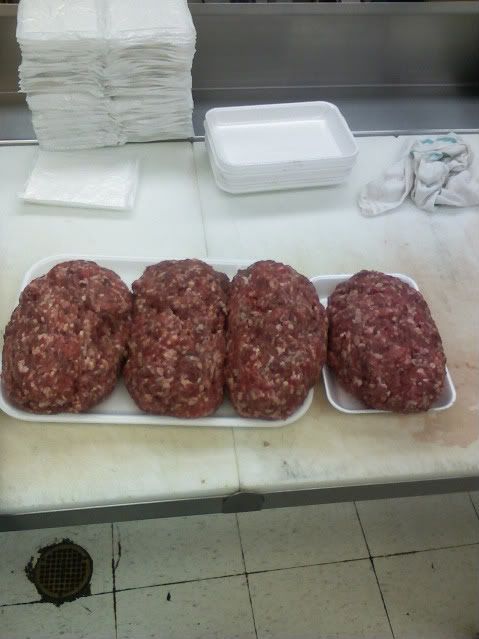 This is our water pressure sausage stuffer. It will do 100 pounds of suasage at a time. Its a very nice toy.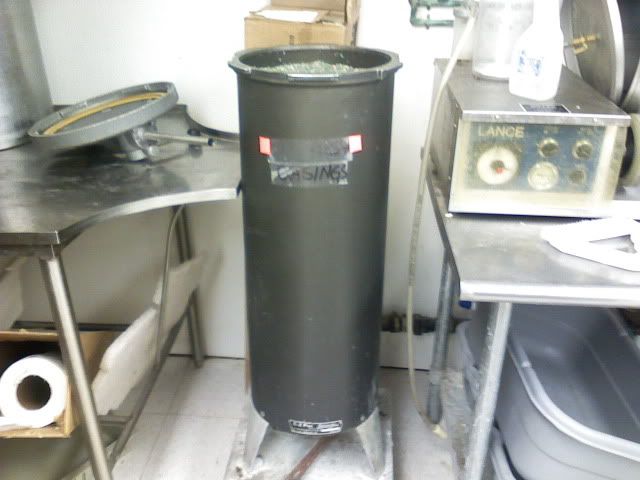 50 pounds packed inside...
Lock the lid down...pull on some hog casings and...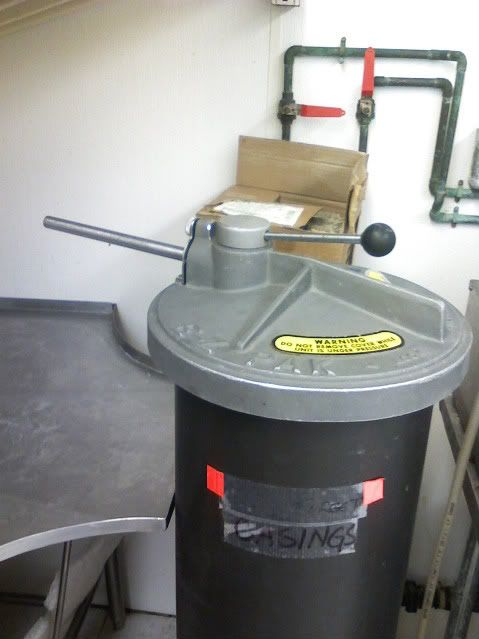 Stuff Stuff Stuff away!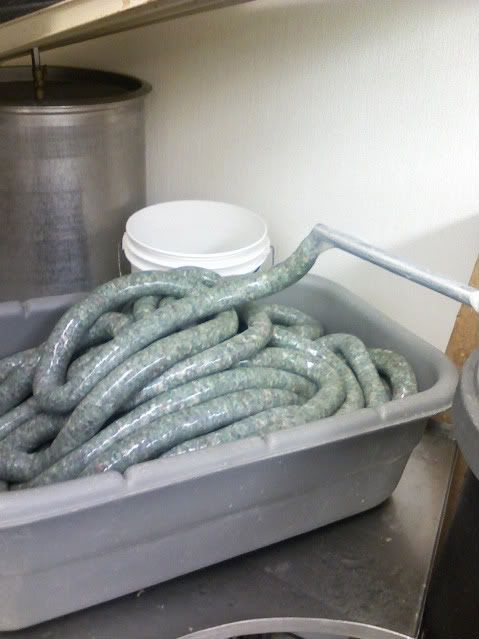 EWWW Green isn't it!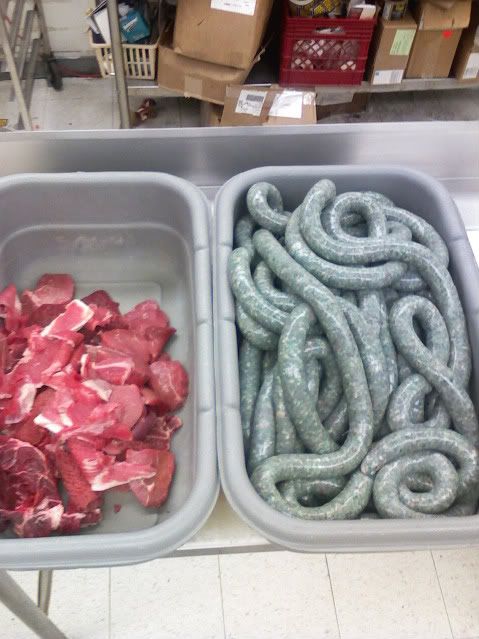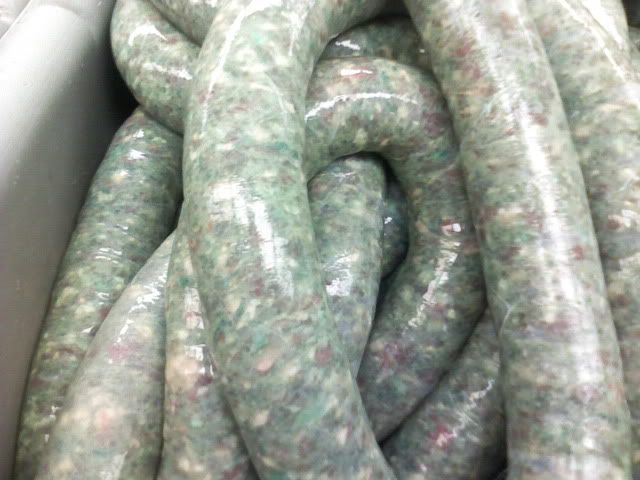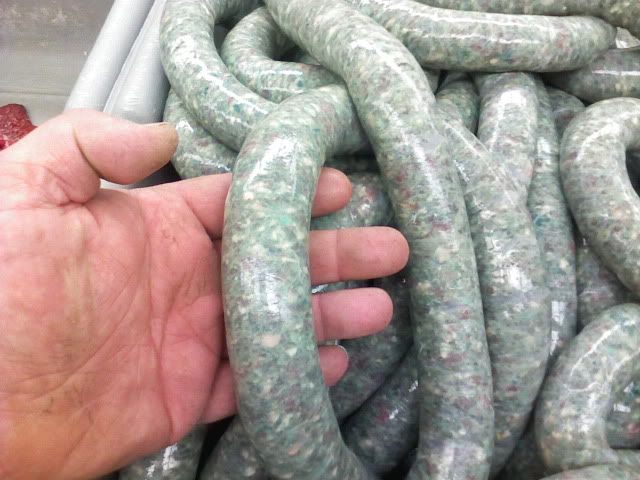 Here is the extra meat rolled into a fattie for smoking.
The fatties, and the left over green mix that gets trapped in the top of the stuffer made into burgers for supper tonight.
Here are some of the sausages all linked up and ready to be wrapped for sale.
Hope you all enjoyed the tour!
I have to give a great big
thanks
to Treegie for making all these pictures soo much easier to load into here.
Thanks for watching
SOB-QTV