Hello all,
My name is Carl and I am addicted to pulled pork. Having said that, I have been shopping for a smoker for some time now. I must have made half a dozen trips to Gander Mountain to buy a smoker. But I couldn't bring myself to pull the trigger. I was having a hard time trying to decide between an electric smoker like the masterbuilt or a propane smoker like the Smoke Hollow. My lovely wife finally put an end to my dilemma when she came home one day, supposedly from grocery shopping. She came in the house and yelled for me to go out to the car and start bringing in the groceries. Much to my surprise, there were no groceries in her trunk because it was full of a brand spanking new Smoke Hollow propane smoker. Happy Birthday, she said. But my birthday is next Saturday I reminded her. Yes, I know she replied, but I could not close the trunk with the smoker in there and I couldn't go all week with my trunk hanging open. Ain't she a peach! This was just one of many reason I made her my wife! I immediately unloaded the smoker. She had bought the last smoker in stock at our local Meijer and had to buy the display unit so it was already assembled.
I got out my tools and began going over all the fasteners to make sure everything was tight. Then I hauled it out back and connected the propane tank. After reading the instructions I fired up the smoker for the seasoning process. This is when I discovered that what everyone on the web said about this smoker was true. I could not get the temerature below 275*. recalling what I had read on the internet, I called Outdoor liesure products on Monday the 1st and they promised to send a new regulator out the next day. So, I was like a kid at Christmas. I could not wait for the replacement regulator to arrive. 5 days came and went and still no regulator. My birthdaiy was Saturday, March 6th and on that day the regulator arrived. After about 5 minutes I had the new regulator installed and a test smoke started. Now the smoker ran a steady 225* on low. I was ready for my first pork butt.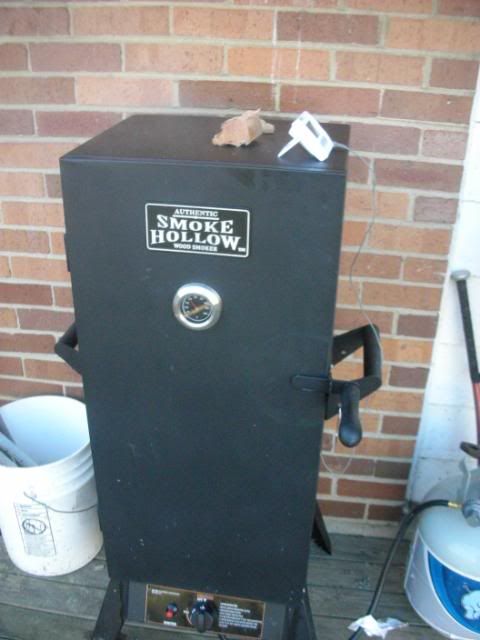 I will post pics of my first pork butt in the propane smoker sectiion.
Carl