I've been bored that last week, and had some free time to do some grilling/smoking.
First was last week, I had my dinner plans changed. Was planning on grilling some ribeye's the next day, and had two already soaking in Mr Yoshidia's in prep. Change of plans, we're doing them now. Since I had about 2 1/2 hours before they needed to be done, I fired up my Ghetto Smoker(not what it's designed for, but it is working nice), and got almost 2 hours of smoke in them. Then I finished them off once the family was home. Oh Em Gee!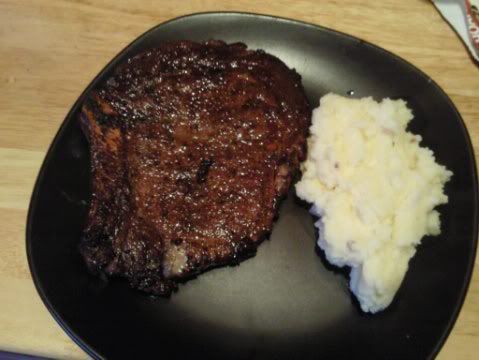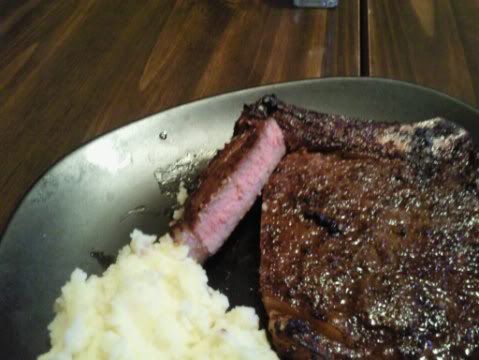 Taste was wonderful, and the touch of smoke they had was grand. I'll be doing this again soon. I can't wait till the local store gets som whole rib roasts in so I can do another whole one.
Flash forward to today. Since chuckies have become all the rage, I desided that It's What's For Dinner:) Ran to the local store this morning and got me a nice 3 1/4 pound chuckie and rubed it up with garlic salt and the cheapo spice club steak seasoning from Aldie's. Also injected it with Allegro original.
on the ghetto smoker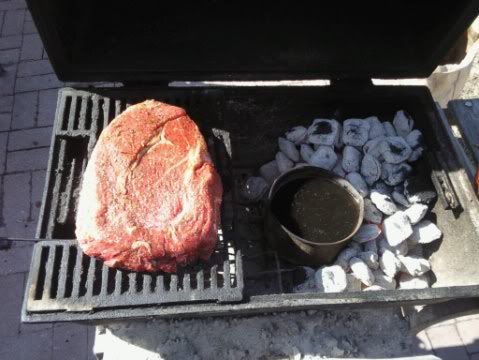 1 1/2 hours in
I'll have some more pics when she's done in a couple more hours.
Also, since the grill was goin anyway, had me a nice t-bone for lunch. YUM!