Thanks to all of you my first butt was a complete success! I picked up a 4.5 lb bone in pork butt from my local grocery store. Friday night I injected it with 3/4 cup of apple juice, 1 TBS of worcestershire sauce, and 1 TBS of Jeff's Naked Rib Rub. Then I rubbed the butt with yellow mustard and a healthy dose of Jeff's Rub. I wrapped it in Glad wrap and put it in the fridge overnight.
Saturday morning came early at 6 AM. Damn the beers the night before. Got the WSM set up and loaded with charcoal and apple wood. The butt went on at about 7:40 AM. Set it and forget it with the WSM. I was impressed at how well it held temp between 230* and 260* all day long. After 2 hours I sprayed the butt with a mixture of 3 parts apple juice and 1 part Captain Morgan's spiced rum and sprayed it every hour thereafter. At the 7 hour mark I needed to refill the water pan. At the 10 hour mark I added more charcoal and apple wood. Probably didn't need to add the wood as I'm sure the meat didn't absorb any more smoke flavor.
I had a 5 hour period where the internal temp went from 155* to 175*. If it wasn't for you guys and all the posts I've read I probably would have freaked out and cranked up the temps of the smoker. But I stayed calm, kept the smoker at temp, ,and just let the Q tell me when it was ready. So the butt went on at 7:40 AM and came off at 7:38 PM when it hit 200*. I wrapped it in foil, threw it in a cooler with towels, and let it rest for 45 minutes or so. After resting, I took a set of bear claws and shredded the butt. The Mrs. and I made a few sandwiches and she made her home made cole slaw to go with it. It was delicious!
Not sure who posted the injection recipe of 3/4 cup apple juice, 1 TBS of worcestershire, and 1 TBS of rub but thank you.
The butt was delicious, moist & tender.
Rivet - thanks for the Carolina finishing sauce recipe. Me and the wife loved it!
To all of you that posted your butt smoking adventures, thank you very much!
I think I would have freaked when I hit the stall if it wasn't for all the posts saying calm down and let the heat do the work on the Q.
Ok, on to the Q-view...
Butt ready for rub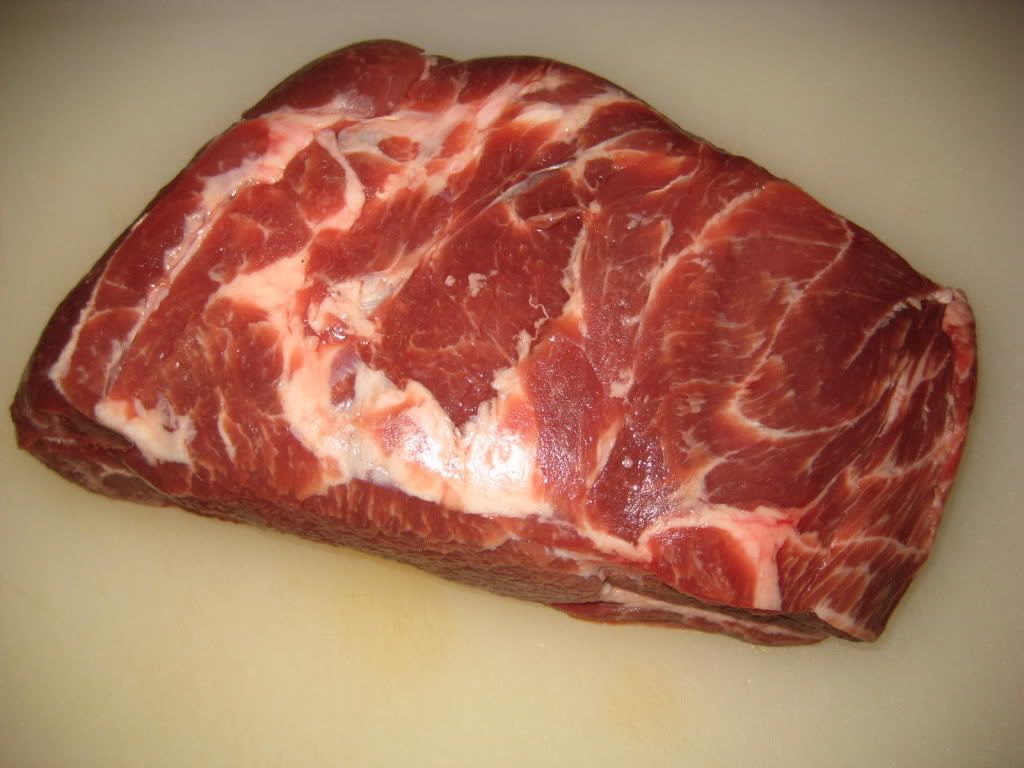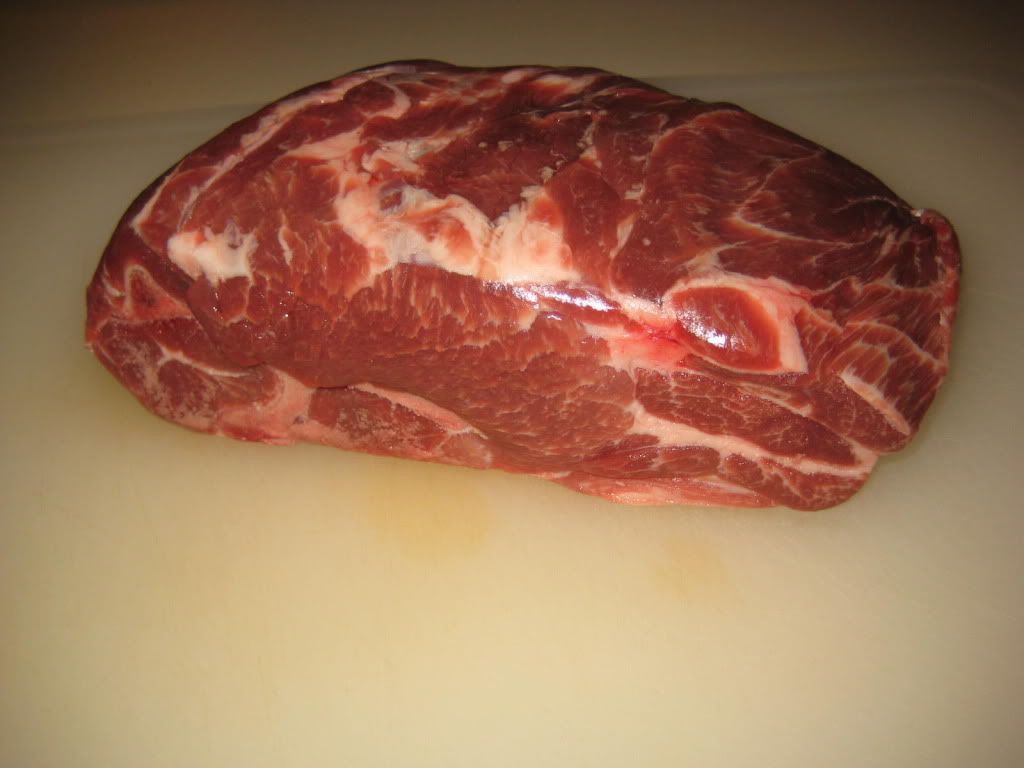 Rubbed down with Jeff's naked rib rub. Injected it prior to rubbing.
Wrapped in Glad wrap for a nice little nap until the morning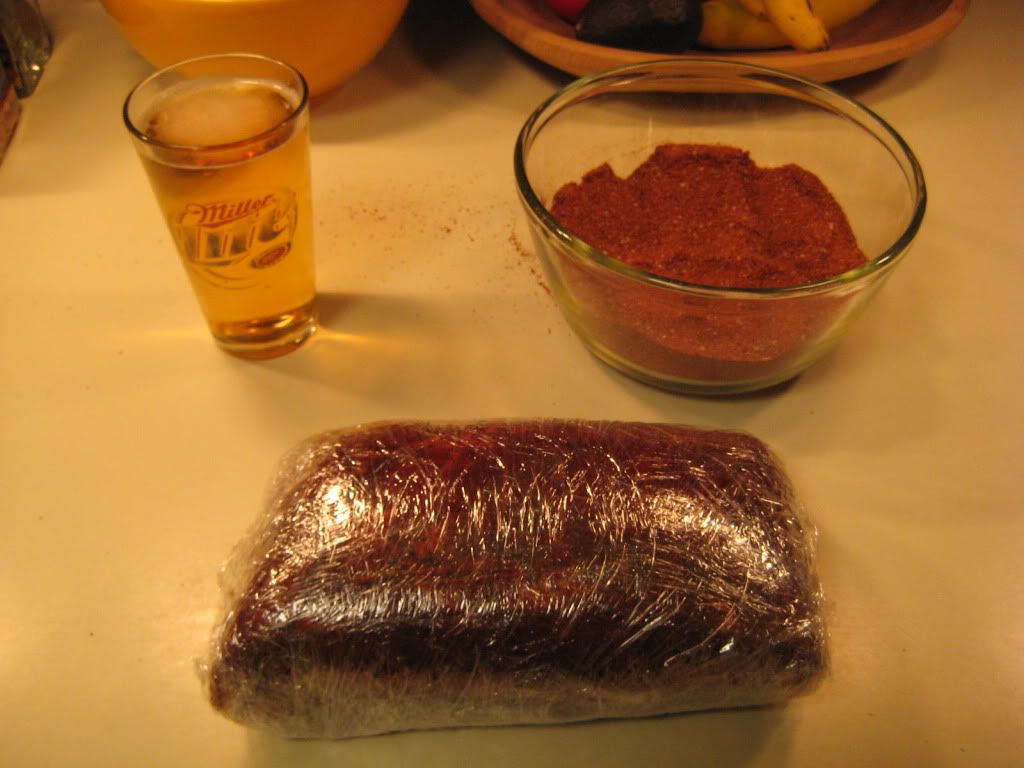 On the WSM
Flipped at the half way point
Off the smoker after foiling and ready for shredding....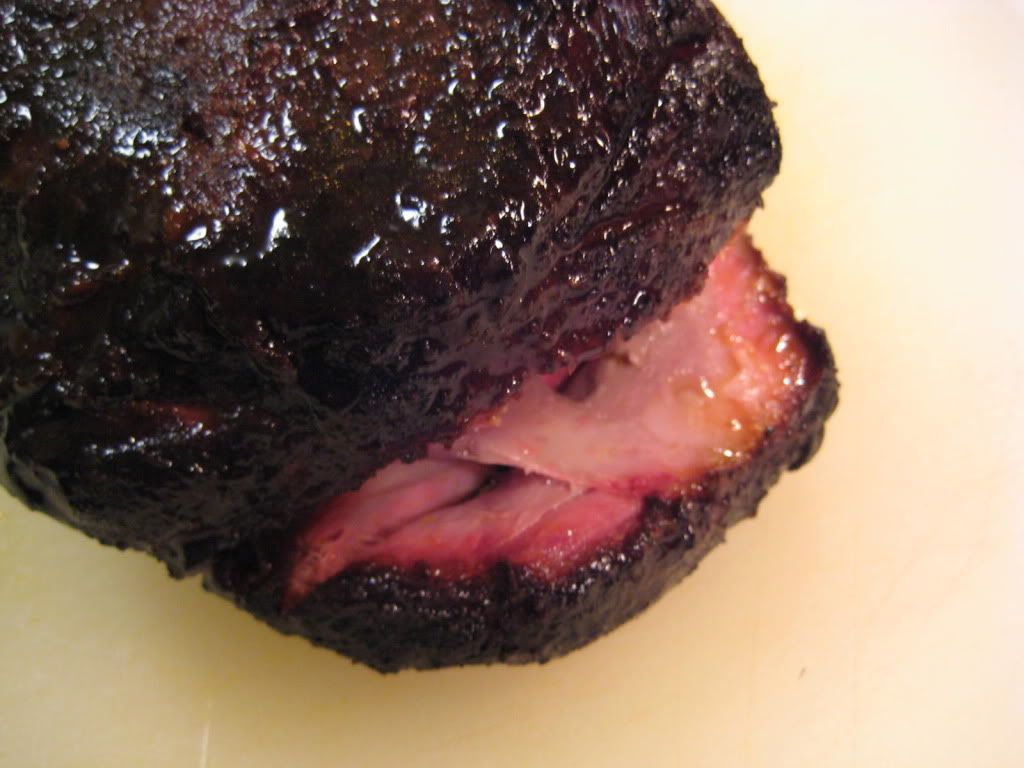 Bone pulled right out!
Shredded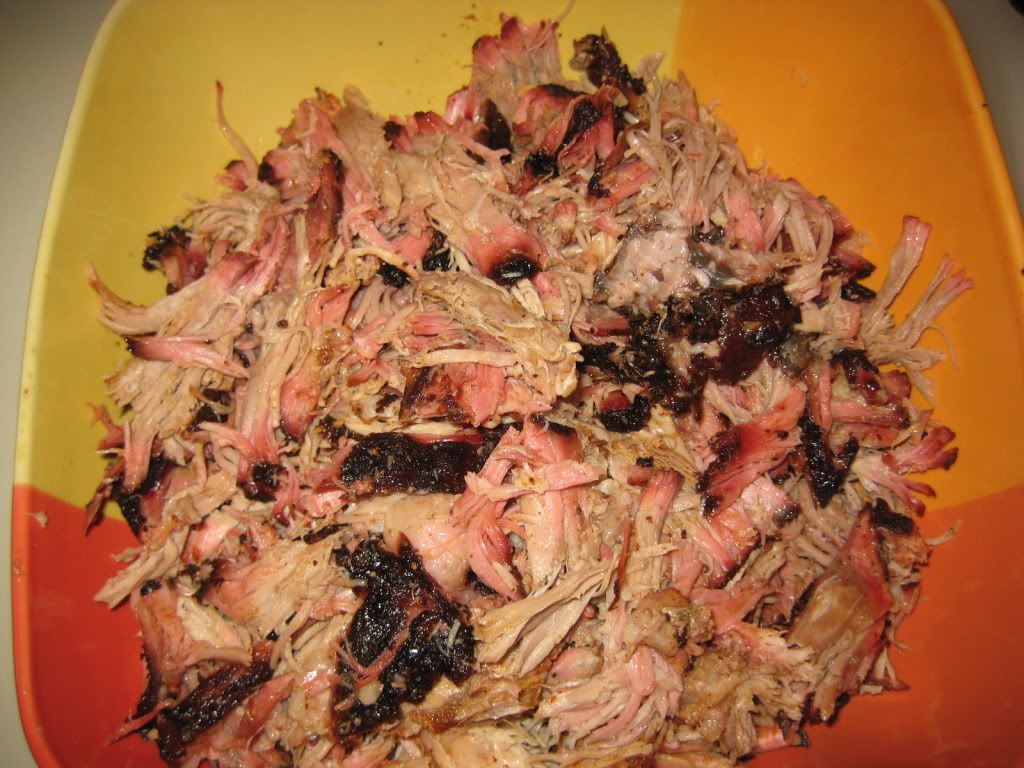 The Mrs' plate...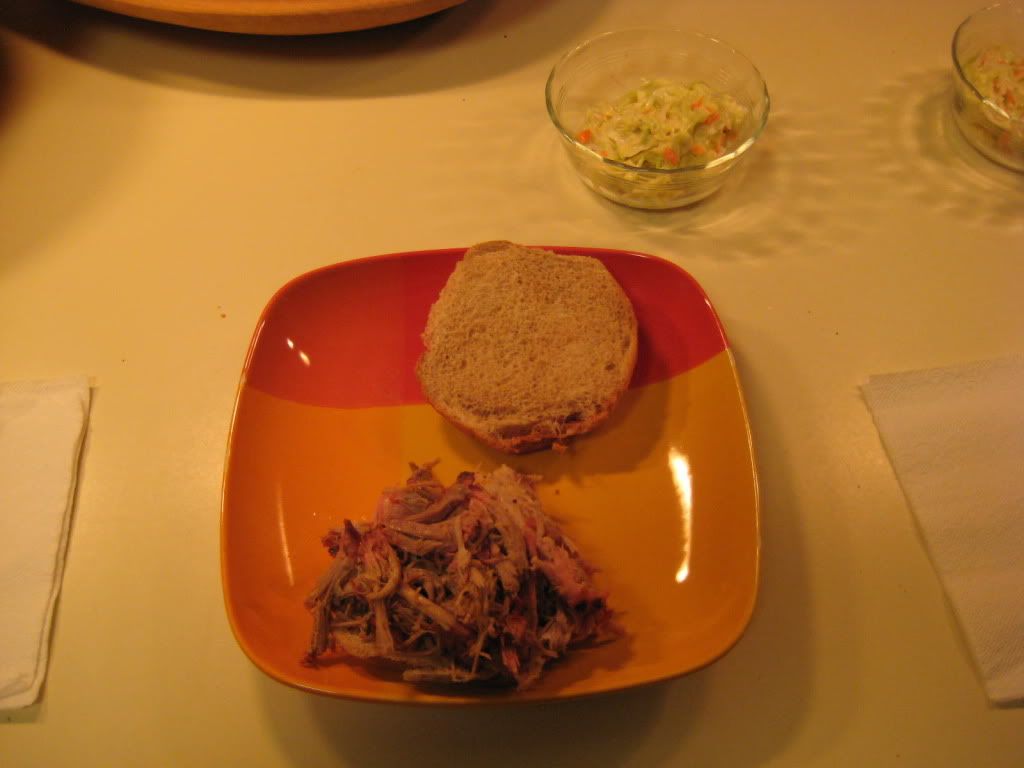 My plate...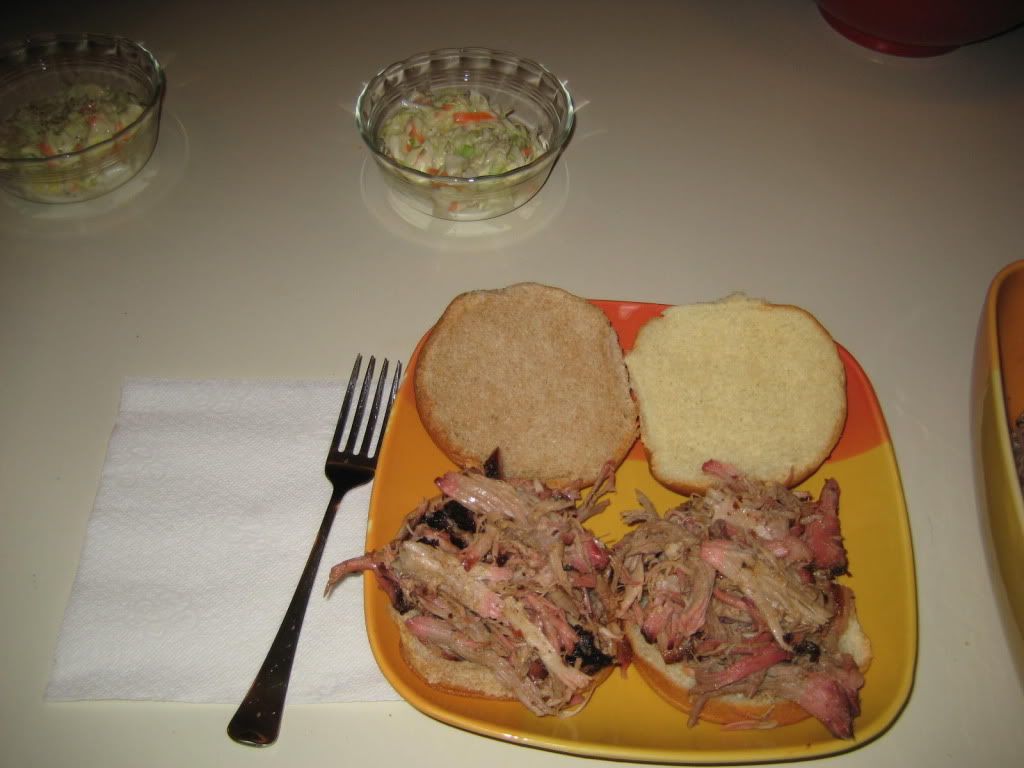 Leftover..MMMMMMMM!