I have posted my jerky making before but it has been awhile.
I took out 10# of venison roasts the other day and let them partially
thaw in the fridge.
sliced them up on my slicer and mixed up my marinade. I forgot to put the cure in the photo but I did not forget to put it in the marinade.
this will brine until tomorrow night and then will go in my dehydrator for 9 hrs @ 140*
I have been making this recipe for years and it is fantastic
for 10#
3 C worcestershire
3 C soy sauce
1.5 C catsup
3TBS granulated garlic
3TBS onion powder
2TBS salt
1/4 C brown sugar
2tsp cure #1 (if you use tenderquick eliminate the salt)
1tsp ea. white pepper, black pepper, cayenne pepper
1 tsp liquid smoke (eliminate if you dry in your smoker)
mix all spices together and blend into liquid
add sliced meat and mix well
let marinade for at least 24hr
put wet into dehydrator or smoker @140-150* for 9 hrs or until dry but bendable without cracking.
enjoy
I never worry about how to store it because it doesn't last
but it will store at room temp for several weeks
or vac seal and store in the pantry or freezer for late use
meat sliced 1/4 -3/8 with the grain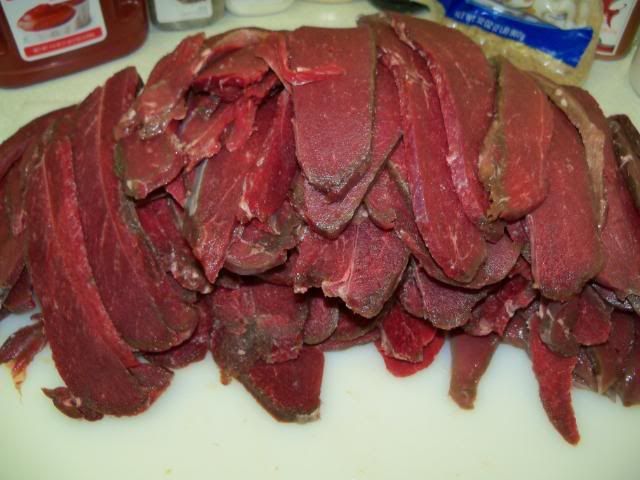 the ingredients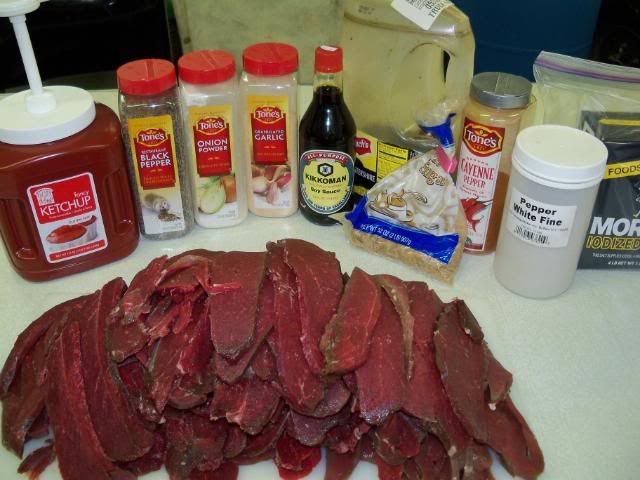 in the marinade to rest for 24