Doing my weekly batch of ribs to feed my pork rib cravings. Got a buddy coming over to watch some Olympics, and the Blackhawks later.
(3) slabs of bb ribs - $2.78/lb. @ RD.
Rinsed them with water, then rinsed them with vinegar. Patted dry and removed the membranes. Slathered with mustard, and applied my rub. In the fridge for the past couple hours waiting.
Typically I just let the smoker do its work and dont mess with the ribs. Today I am trying a version of Gary Wiviott's tart wash found in the book Low and Slow.
tart wash:
3/4 cup cranberry juice
1/4 cup oil
2 tsp my rub.
got the mix in a squeeze bottle and going to squirt some of this on the bbs around the 2 hour mark.
also going to do some beans with some kilbasa I will smoke on the WSM.
WSM is getting ready to do its majic, ring loaded with lump, and some wood, chimney starter getting ready. Temps in the mid 20's no wind. Should be a good smoke:
BB's rinsed and membrane removed: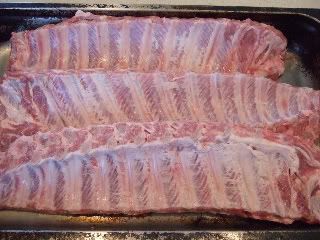 slatered and rubbed with my rub:
tart wash: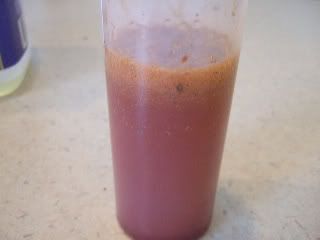 WSM should be ready in the next 30-40 minutes. more pics later
thanks for looking