Went to Sam's today (too cold to do anything else). Bought a couple of salmon filet's, some ground chuck, a couple of ribeye's & some shrimp. I have never smoked salmon before. We always bbq'd it and it was always very good, however we wanted to try & smoke the salmon. We trimmed it just like spares, took off the thin pieces & were left with a piece about 1" thick. We coated it with evoo & cajun spice just like we would do if we grilled it. Also coated the thin pieces the same way & had a small burger left over, so we cut up some garlic cloves & mixed them up with the chuck & put it in the smoker as well. Were using apple wood pellets in our MES. Temp set at 225. Don't know what to expect. Will update with qview.
Here it is ready to put in the smoker.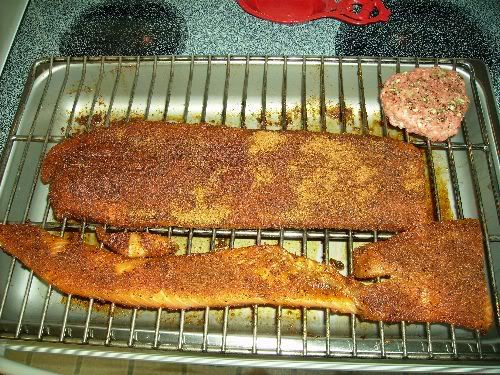 Will update with qview.