Here's the tenderloin steak I made last night. I was so excited I forgot to take pics with my regular camera, so I just used my Blackberry hence the poor quality. Sorry! It was as thick as it looks, a couple inches. Purchased at Sam's Club.
I covered with sea salt, fresh ground black pepper, and Steak Dust and let hang out uncovered in the fridge for a couple hours. Then I rinsed it quickly, dried it, and applied a light sprinkle of Steak Dust again. Then grilled/seared as hot as my grill would go on both sides. I had a few chunks of mesquite smoking on the grill for added deliciousness. Let rest for a few minutes then devoured with some bourbon on the rocks. Best tasting and textured steak I have ever had. Probably because I'm usually a sirloin/ribeye guy.
Here it is chilling and covered with the salty mix. And those are all thick-cut ribeyes in the packages to the right of it to give you an idea of how thick this beast really was.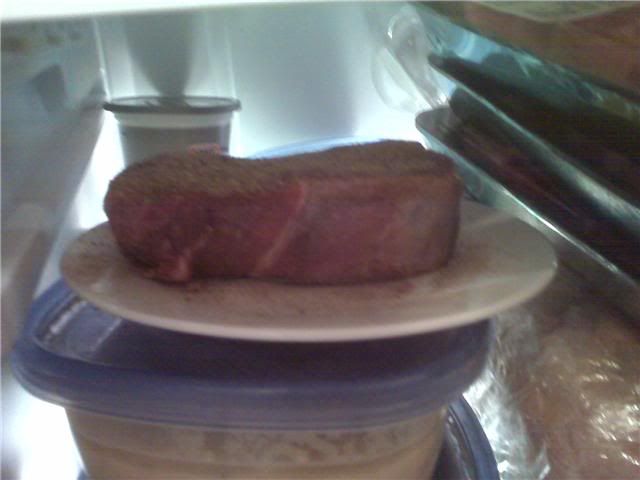 Here it is half eaten. So delicious!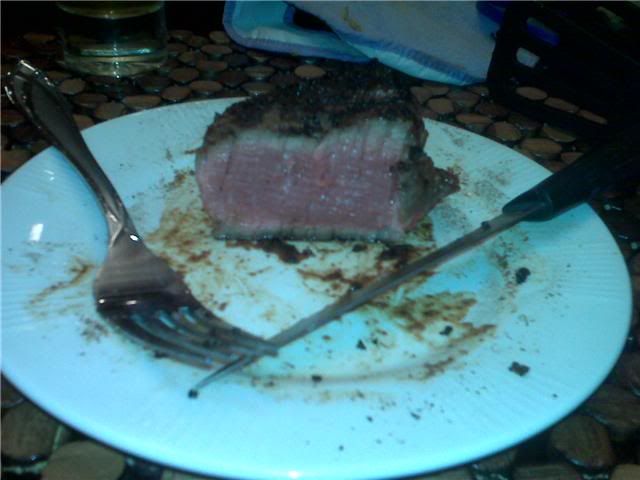 I should have taken more pics, but it's all good.