I forgot to take pics of all the prep work. I like whole briskets & my wife will not let me trim any fat. Thursday I soaked the 13 lb brisket in Zesty Italian dressing. Friday I washed it off & put on my homemade Cajun rub. Sat morning I fired up the smoker. I put the brisket in a foil pan, fat side down & smoked for 2 hrs then turned it over & smoked for 2 hrs. By then I had some good drippings. Took brisket out & set on grates, fat side up. I mixed the drippings with a can of beer & some BBQ sauce & used that for mopping. After about 4 hrs I turned over the brisket so fat side is down. Smoked it until 180* then put in pan, poured some mop sauce on it & covered with foil & smoked till 190*. Let it rest & the wife went to cutting.
Here's a pic of it before reaching 180*:
And a pic of the sliced brisket. Very moist, tender, and needs no sauce: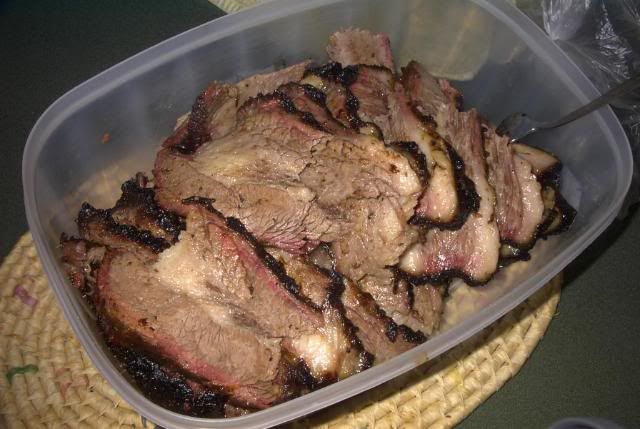 Just want to say thank ya'll for all the help & ideas. There will be more smoking at Barney's..........I'm getting hungry........