the other day, i asked RIVET if he could send up some blackstrap molasses, which i have never been able to find up here in the frozen tundra of northern montana. he said that he thought he might be able to muster some up, and also asked if i'd like to try some of that koops mustard that he has been talking about, and also a little bit of strawberry's - an excellent barbecue seasoning with a really unique tang to it. i replied that some koops and strawberry's would be most welcome.
when mrs. tas called to say that a box arrived, i was eager to get home from work. i was expecing a box, but imagine my surprise when i found a very large one sitting on the table! opened it up and found all kinds of goodies, carefully wrapped and packaged.
here's the blackstrap molasses that i had requested, along with a couple of bonuses - some really nice mediterranean sea salt, some mexican oregano and two jars of rivet's famous satan's salsa - just in time, too, because my first jar was nearly empty, and the superbowl is this weekend!
but that wasn't all; here's the koops and a monstrous container of strawberry's, but there's also a huge, two-pound block of cracker barrel sharp cheddar cheese - again, perfect timing for superbowl! also a jar of ground cardamom, a very robust and earthy spice crucial for many flavor profiles, from texican to middle-eastern to southeast asian to even old bay seasoning. as if that wasn't enough, there was a garganutan five-pound bag of arborio rice. this is truly significant, because i have been wanting to try my hand at making
paella
españa
, and arborio rice is critical for the execution of this traditional dish!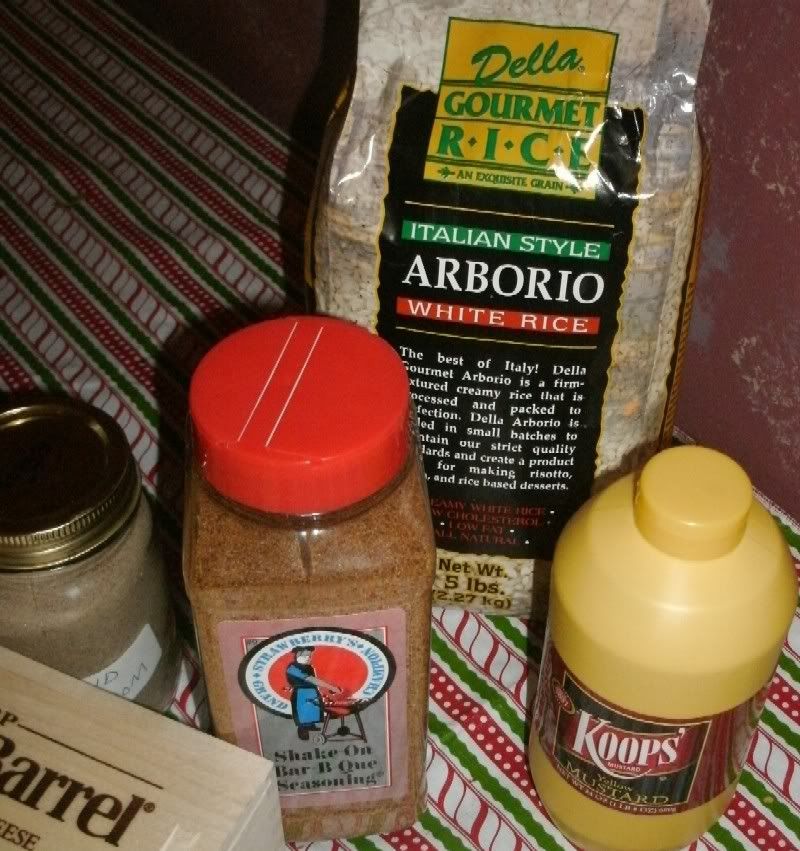 one other really special gift in this box is shown here; a riga gold smoked sprats (herring), imported from latvia. i've never heard of this brand and have never tried these, but i am looking forward to cracking them open for the game this weekend!
to round out the surprises, there was a vial of very nice-quality pure almond extract. i can think of many uses for this and plan on trying it with several projects.
and there you have it - a veritable Smörgåsbord of great flavors and wonderful things from all over. i'd like to offer many, many thanks to my good friend in missouri for helping to see that many of my culinary ambitions have a better chance of coming to fruition!