I am an egg junkie so I couldn't wait to try smoking them after seeing several posts here.
Started with 2 dozen fresh eggs, some brown, some green.
Loaded the BGE with royal oak lump, grilled a steak first, then got the temp down to 200 and added some fist sized chunks of hickory.
Here they are after an hour or so.
I had two hiccups, I allowed the temp to creep up to almost 300 for a bit (when I took it down to 200 I didn't let stabilize long enough), and I ran them a bit longer than the planned 2 hours. Makers Mark is to blame for both of the above!
Here they are ready for the ice water bath.
And here is one peeled and cut in 1/2.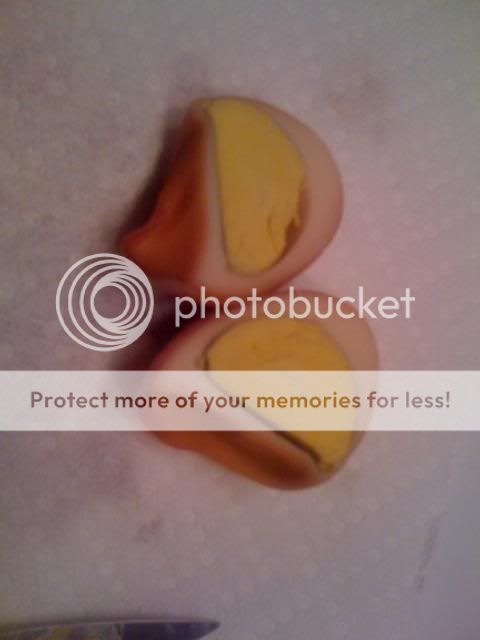 A few observations, these were very fresh eggs so not sure if that is the reason, the "air pocket" was way bigger then when hard boiling (you can see it in the last pic), the over cooking gave them a very rubbery feel and some squeaked when chewing, lol
I was surprised at the color, the eggs were the same color as the shell, when peeled.
My wife, 2 co-workers and myself were very please with the taste but all agreed they were over cooked.
Next time I will get it to 220 and stabilize for a good 20 mins before putting eggs in, and will do 2-3 dozen, pulling a couple at a time starting at 60 mins. I know some wont get done right but I want to try to get a closer cook time, I can see myself smoking eggs often, once I fine tune the time.
Thanks to all those who posted about eggs and replied to my questions.
Godspeed,
bigslick