I got a LATE start on prepping the meat last night after some friends came over for dinner. After finally making billbo's dry rub for the pork butt I added some Apple Juice, spiced rum, apple cider vinegar and worchester (sp) sauce and a little bit of the dry rub to make an injection for the butt. Beer-b-q's dry rub and mop for the brisket.
They sat in the fridge for a few hours and they are now sitting on the counter coming up in temp while the MES heats up. They are going in at 235 degrees.
There will be a double order of Dutch's wicked beans making an appearance after the brisket is done since they got rave reviews after the first time I did it.
Now it is just a little bit after 5 am.
The brisket is being done for a co-worker after she brought in a whole packer for me. Lunch at the office is going to be so good on Monday.
I will update the Qview as the day goes on.
Thanks for looking
Here is the flat on the left and the point on the right after they were trimmed and sat for a few hours with the injection and rub.
close up of the brisket
close up of the pork butt-bone in\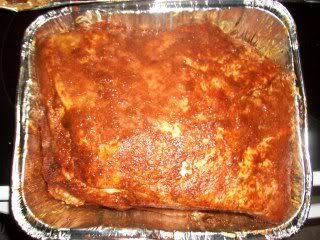 After a couple hours in the TBS