I finally got around to getting a belly bacon project going. I obtained a hunk of pork belly. The slab weighed in at just under 6 lbs.
Here are a couple pics of the belly
I kept the cure very simple. I measured out the appropriate amount of TenderQuick and added 2 tablespoons each of white & brown sugar. I rubbed it down on all sides and edges for a few minutes.
It cured about 9 1/2 days total. This is a pic after I rinsed the cure off. I taste tested and it was a tad salty. I soaked it for an hour and rechecked and it was much better
Just on the smoker this morning
I tended a tiny fire all day. A small cluster of coals and a chunk of cherry. The temps were mostly between 80 and 90 degrees but I did have occasional spikes up to 120 or so. I then propped lid slightly open or adjust my fire to bring the temp back down. My little fire.
This was after about 6 hours. The pic doesn't show it well but there is starting to be a nice color change on the edges.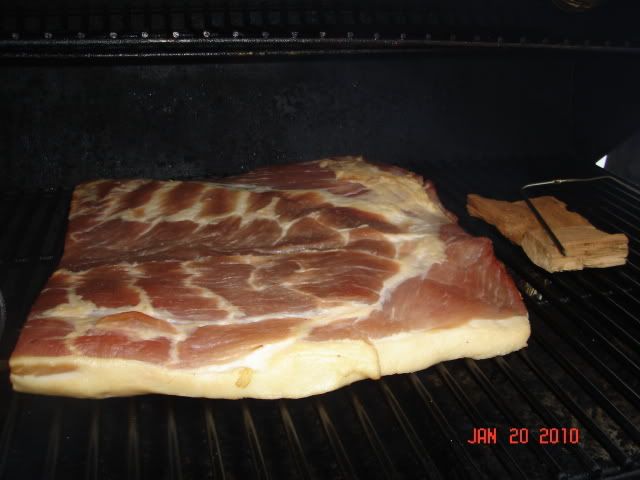 This was after about 10 hours
I pulled it off the smoker after about 11 1/2 hours total smoke time. It is now taking a nap in the fridge til tomorrow before slicing. I did cut off another small hunk for a taste test and it is good!
I will post some sliced pics tomorrow