I was in the mood for some Italian beef so the other day I picked up some meat.
Normally i do chuckies for things like this but bottom rounds were on sale and and when I originally began doing Italian Beef I would use bottom rounds and they work great!
The beef:
Seasoned it with some Italian seasoning and beef bouillon, also made several cups of beef broth and added onions and seasonings. Placed the pan under the meat in the smoker.
No pics of it in the smoker
but I did it at about 275 for 3 hours over oak.
Once 3 hours had passed I placed it in the crock pot with the beef broth and onions and let it cook on high for 4 hours then shredded the meat and back into the crock pot for another half an hour.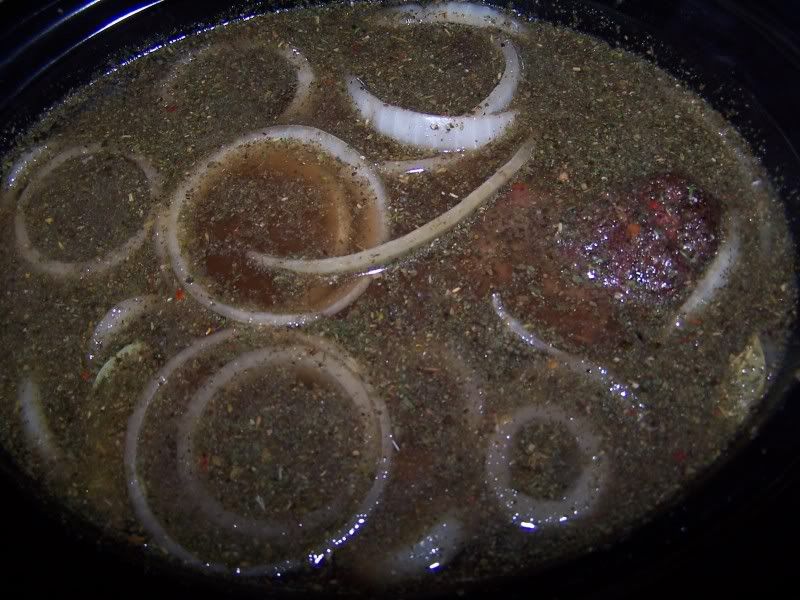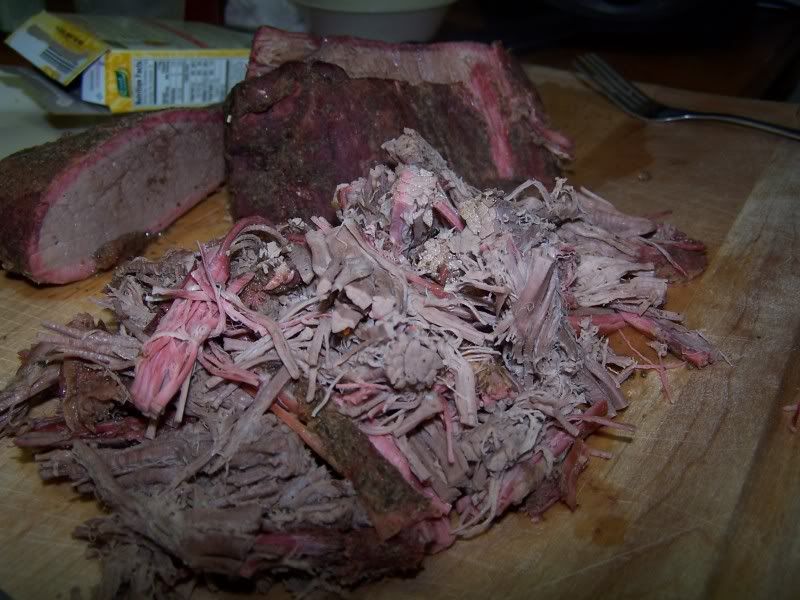 Made a few Italian beef hoagies with onion, mushroom, pepperoncinis on an Italian hoagie and topped with melted provolone...Mmmmmm......
Forgot to snap pics of those so the next night I decided to make pizza using the Italian beef, no yeast! I did however have a small can of biscuit dough which I have tried before for pizzas and it turned out fine but this time I wanted to do pizza cups and see how it tasted.
Spray the bottom of a muffin pan with oil, press the dough into the bottom and up the sides and sprinkled in a little mozzarella and parm cheese.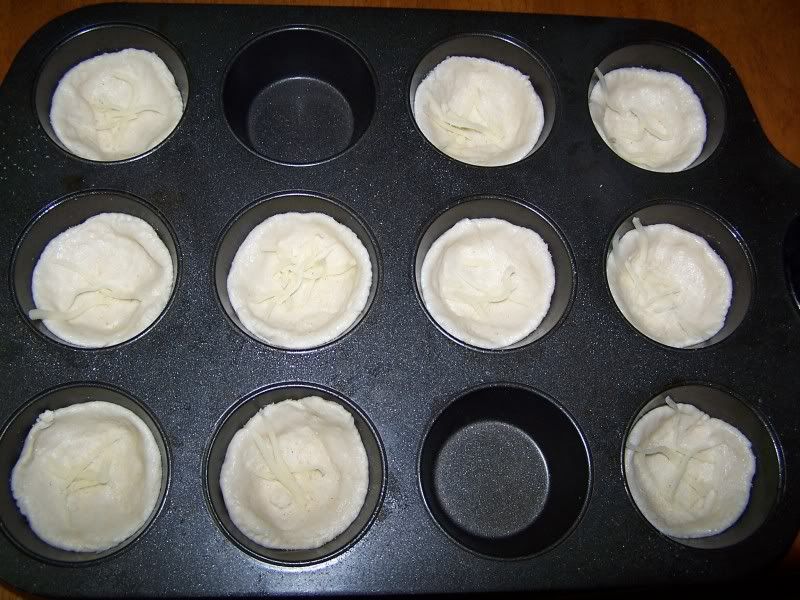 Did 2 with BBQ sauce just to see how it tasted then 4 with red sauce and 4 with a quick garlic alfredo I whipped up which was mighty tasty!
Topped some with onions and mushrooms, all of them with mozzarella, provolone and parm then baked @350 for 15 minutes.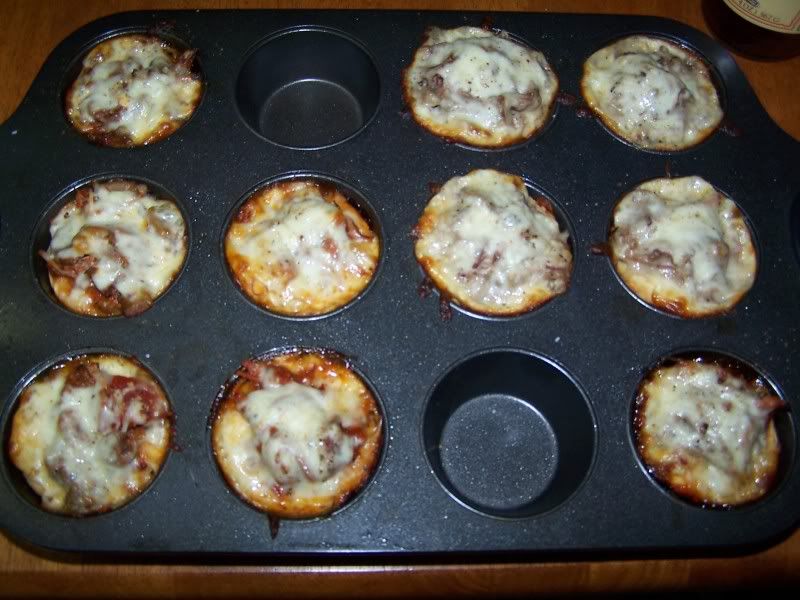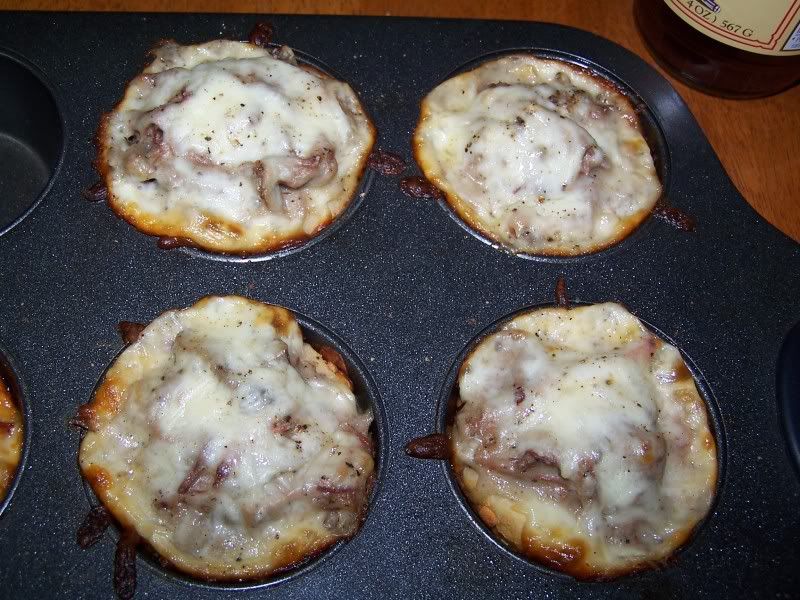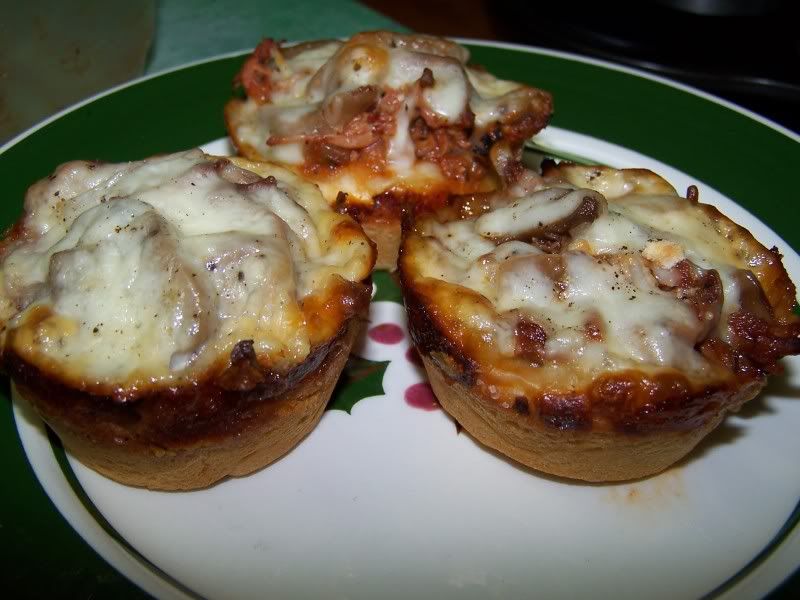 The pizza ones were great and I really liked the alfredo ones. I was surprised that the dough wasn't biscuity like I thought it would be, more like a slightly fluffy pizza crust.
These were quick and easy and a great snack that you could pick up and eat with your hands.
Would probably be a big hit with kids or as a snack at a party.