First i have to give credit where it is due. This was based on a post I read on here by
GLGOODWIN
----
http://www.smokingmeatforums.com/for...?postid=402126
Based on his idea I took my old Brinkmann electric gourmet and combined it with the base of my turkey fryer to create a handy and quick propane smoker.
Now don't get me wrong I LOVE my sNp but I wanted something that I could fire up nice and quick for those short smokes and cold nights and not have to worry so much about tending a fire.
Took a pork loin that I rubbed down with olive oil and gave a nice coating of my chipotle rub.
Put in the "new" smoker at 250, had a cast iron skillet in the bottom to throw chunks of birch wood in for the smoke.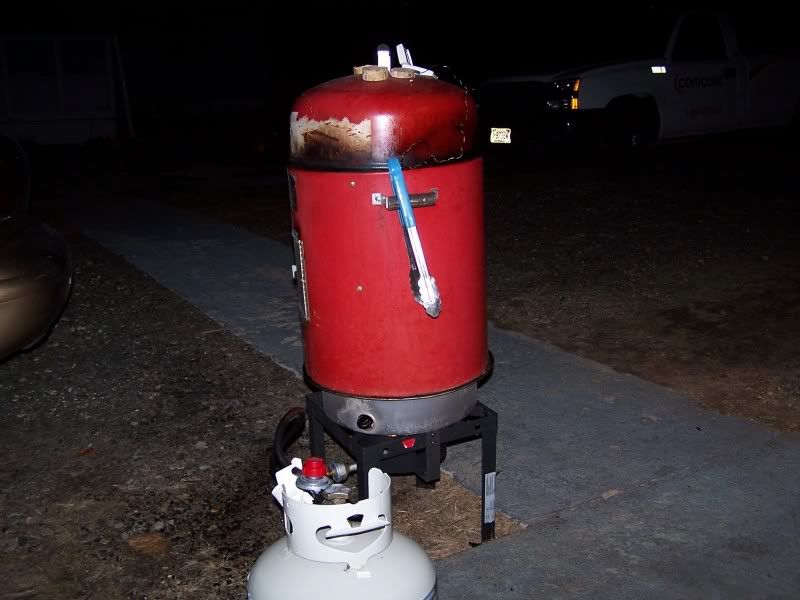 Brought to 150, pulled and rested under a tent of foil for 15 minutes before cutting.
Not as deep of a smoke ring as compared to charcoal/wood but still there and the flavor was wonderful. Not only the sweetness from the birch but the smoke flavor was very smooth and deep not to mention how incredibly moist it was, I was extremely happy with how the propane worked out.