So the more and more i get into smoking meat, the more i would love to have a rig that i can pull behind my truck and why not??? Since my dad works in the propane industry, i have an endless supply of tanks at my disposal. I went tank hunting yesterday and after oggling a few 500 gal. on trailers, i realized i would probably never fill the damn thing. I know.. its a pity, but realistically.. a 250 is going to work just fine for what i want it to do. I finally found 2 different 250's on trailers that i like. Im just not sure what one i want to build up yet.. I will be putting a 75 on it for a firebox. This will be a reverse flow set up. I made my first smoker out of a 50 gal. and its a reverse flow and im sold on the effectiveness of the design.
I plan on keeping everyone informed as this build continues, and like my last build, i will be doing it on a budget. I am hoping to be able to build this one for under 300 bucks. And would love to be able to get away with spending less than 150!! We will see.... For starters, here is a few pics that i took yesterday of tank heaven. And one of the two possible candidates.
choices.. choices... choices...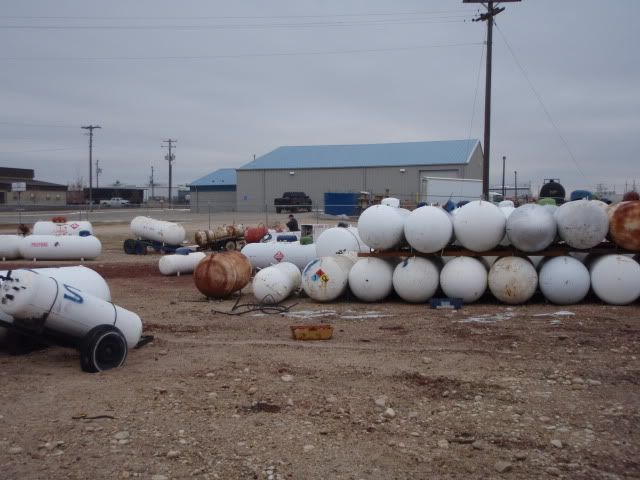 more choices... more choices... more choices...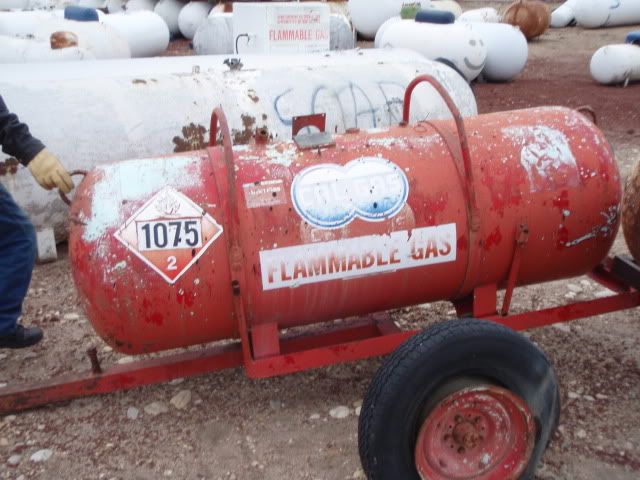 And i think we have a winner!!! Not sure yet. Its a toss up between this one and another one that is also mounted on a trailer. Both are going to need new tires. The other trailer is beefier, but it needs welded before i move it. I am trying to find a way to move it without welding it. It still has gas in it, and there is no way i am welding anywhere near it with gas still in it. Luckily i also have a friend with a tire store. So i should be able to sweet talk my way into two good used tires for free. ..If you followed my last build you may remember that i have a lot of great connections here in Boise and that really helps when you are trying to accomplish something for next to nothing. I will keep you posted as this build continues.