In my very first somewhat technical exchange well over a year ago I had gotten a charcoal basket through Rivet, being the great guy that he is he also included a few extras one of which was a bottle of Curley's BBQ sauce.
Well just let me say I fell in love with it, not only is is absolutely delicious but it also has a short list of all natural real ingredients, no High Fructose Corn Syrup like you find in 90% of all condiments, especially BBQ sauces.
I don't use BBQ sauce on a lot of things, IMO most BBQ done right doesn't need sauce but when I do use sauce I reach for Curley's.
Having run out I asked John if he would be up for a trade and he was more than happy and shipped me out a package of goodies.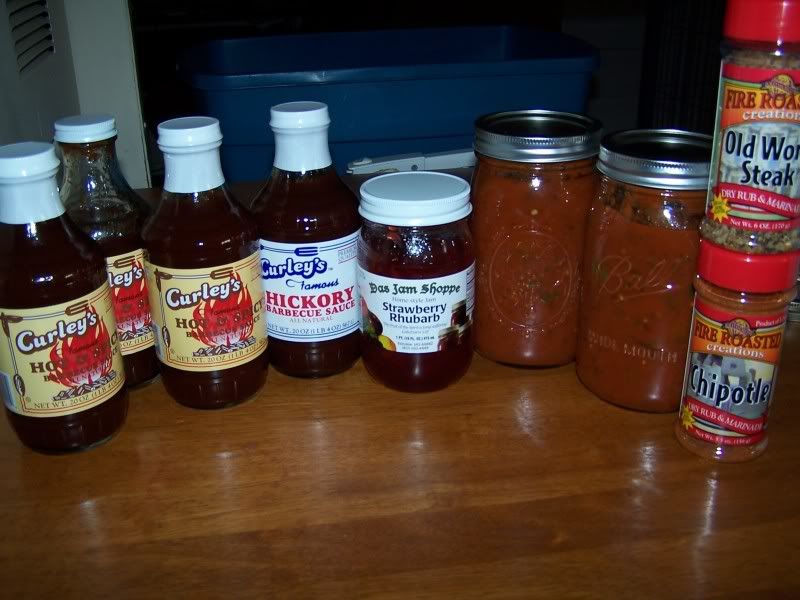 Out of the different Curley's (though all of them are good) the Hot & Spicy was my favorite and I would take a bath in that stuff and the hickory was my second but nothing compares to that hot & spicy!
Also sent me a few seasonings-a chipotle one which I use whenever I run out of my homemade chipotle and a steak seasoning that had a flavor in it that took me a second to place, it was good but unusual, turns out it contains rye seed, gives the seasoning a really interesting level of flavor, can't wait to try it on a chuckie.
Next was a jar of strawberry rhubarb jam, another locally made item, a clean and minimal list of real ingredients, no synthetics and it tastes absolutely amazing, I had never had strawberry rhubarb jam before but I can now say that because of this I am a fan, it was not too sweet and had an amazing fresh flavor!
Finally, 2 huge jars of John's homemade red sauce/pasta sauce/marinara sauce/whatever you prefer to call it.
This will be used for a big Family dinner, smoked meatballs and spaghetti dinner.
The sauce is great and I am very happy and very lucky to have been able to receive some, I'm still in the process of trying to figure out one of the underlying ingredients, through all the flavors towards the end comes a slight heat, I have made a few guesses but don't want to cheat by looking at the original post and John said he will tell me if I want but I'm still trying to figure it out...
Here is a pic of those sauces, I'm going to go taste again...I'm getting close...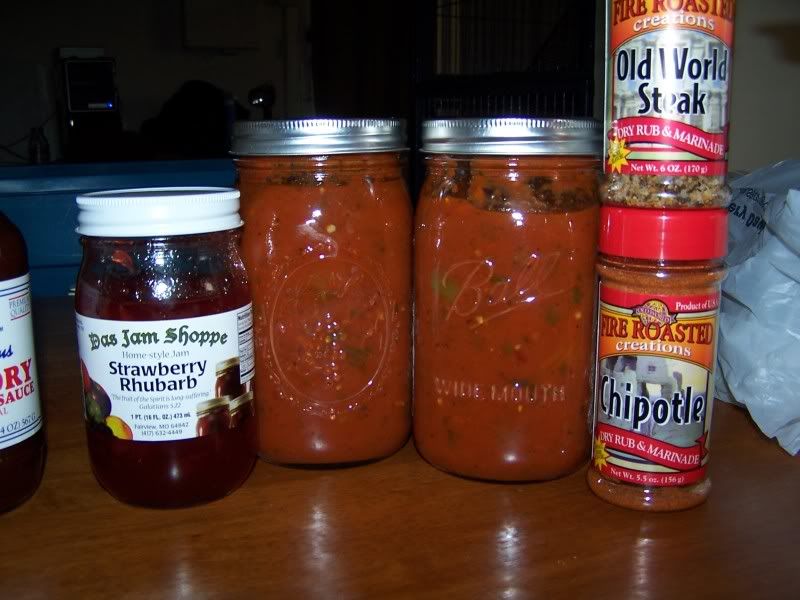 OK I give up.
After going to the kitchen and eating almost a whole bowl of sauce I'm still not quite sure. I would guess cayenne but the heat seems to have more flavor than cayennes normally do, then I would almost say if not cayenne maybe chili powder yet it doesn't have than particular pungentness that comes with chili powder...
Oh well, I give up John.
Thanks for the great package, can't wait to do another brisket, burnt ends are great but when done with Curley's they are perfect!