Had some chicken stock that I tuned up with some thinly sliced carrots, some celery, some garlic, some celry leaves, and some white onion. Simmered it for about 15 minutes. Also had some leftover BB rib meat i pulled off some ribs 2 weeks ago i had tossed in the freezer. Also had some frozen Udon noodles I bought from the asian market this past week.
Became a great cold winter night soup.
Udon noodles are thick, supple, meaty noodles, perfect for broth. They only take 1 mintue in boiling water from their frozen state.
I ladeled out the broth, topped with noodles, topped with the bbq pork meat, and then some green onion. I also added some soy sauce, and Shark brand siracha sauce(I prefer it to Rooster Brand). Made for a dish that packed some heat, some smokey kick from the pork, chewy noddles, and some crunh from the veggies. Ill do this one again for sure.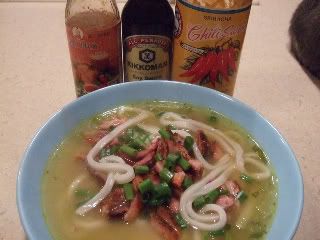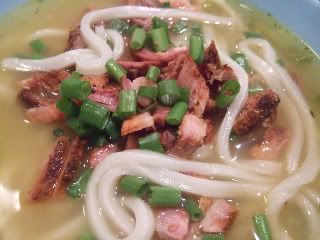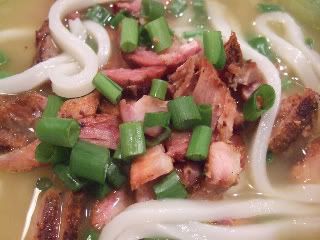 thanks for looking at my quick Tuesday dinner.