Venison front Quarter/Leg AND first smoke on the BGE
This year I decided to try something new with the front quarter, and it fell in nicely with my personal 2010 smoking challenge.
Instead of cleaning it to grind it all, I left it whole to smoke.
Rubbed it with my favorite home made rub and let it sit overnight.
Got up this morning to get the smoker going. Had a full load of charcoal and did a make shift chimney out of old water heater exhaust pipe (will buy a real one in short order, just forgot about it!) Mixed some chunks of mesquite in with the lump and loaded it up with every bit I could. Got the "chimney" coals going, dumped them in the middle and was very impressed how easy it was to bring it up to temp and stabilize at 220. This was my first attempt, beginners luck perhaps, or the BGE is in fact idiot proof (I will test this for sure.)
Here we are ready to feed "Kermit"
Gorgeous day out!
After about an hour realized I had forgotten the BACON!
there all better
Sun setting with some tbs...
after 6 hours hit 190 internal, pulled wrapped and coolered it.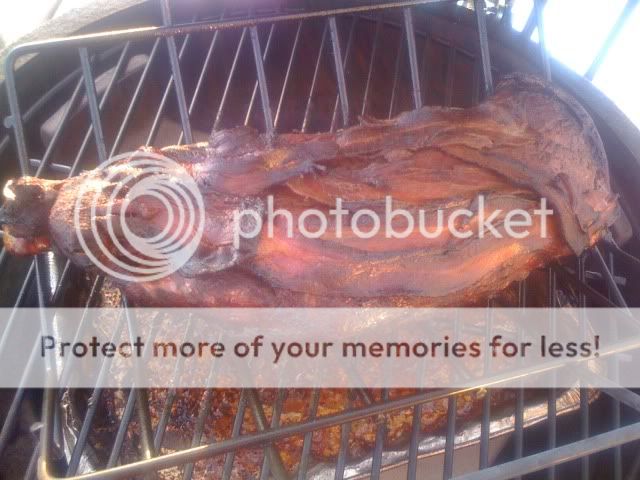 I will be honest I had no idea what to expect with the finished product.
It did not pull at all, so I managed to yank it apart, lol
and then slice it.
Over all, it was a bit dry so I sliced it all and added some of SoFlaQuer's finishing sauce. Honestly it saved this smoke!
Kept the bones to try a venison wild mushroom soup later this winter.
So for my first week of 2010aSO I would say the food outcome was mediocre, but the learning was top notch. I took a piece of meat that I would normally not do much with and tried something new. Would I do it again? not the same way, but yes, I will smoke another front quarter, I already have better plans for the next one...
The BGE held temp very well in cold and high wind, I can't wait to try smoking in it again.
Thanks for looking!
Godspeed,
bigslick