WoW!!! is all i can say. Someone else here said after all is said and done anything smoked should stand on its own feet without any type of sauce. Let me tell ya, 16 hrs to produce this beauty and the only thing i regret is that i only did 1. This meat sits on your tongue for a few seconds then just melts away. The Flavor just fills your taste buds. Pulled it all by hand. Made some slaw and a Carolina Red sauce to with it though.
8.5LB butt smothered in mustard and Ol Henrys Maple n Brown Sugar rub and sat in fridge for 12 hrs. Fired up the smoker at 730am and ready at 8. I used a 50/50 cherry/pecan TBS for about 8 hours. I made a few mods to the grill this time and was pleased that i could keep the temp 225-230 the whole time. I raised the grate in the firebox for more airflow. And used a 5inch pipe in the smoke stack to bring the roof of the smoker down. If that makes any sense.
After 3 hours i started basting with 3cups apple juice/1 cup spiced rum.
Here it is after 11 hours in the smoker...int temp 160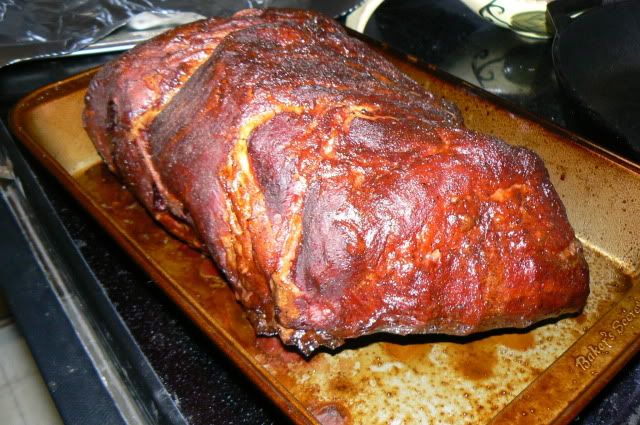 Foiling to go in oven. 275 for 3 hours. poured the drippings and adding a generous amount of spray....
Here it is at 205deg internal. Going in blanket in cooler for 2 hours...
And this is the finished product after 16 hours of labor and love......"sigh"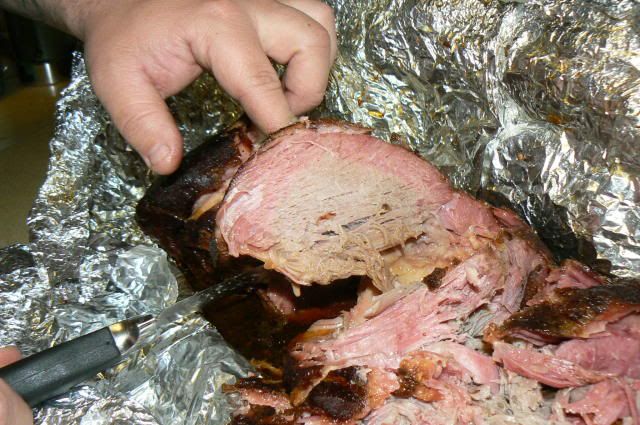 Here is the sauce i made..
recipe calls for...
1 cup cider vinegar
1cup Ketchup
half cup h2o
1 tbsp sugar
1 tsp salt
quarter tsp red pepper
I used...2nd batch
1 cup cider vinegar
1.5 cup Ketchup
half cup apple juice
quarter cup h2o
2 tbsp sugar
1 tsp salt
1 tsp crushed red pepper
Mixed all above in pot and brought to boiling and then simmered for 20 min. Removed from heat. let cool 1 hour then bottled. Mix 3 days before use. That way all ingrediants have chance to mellow and mix
I gotta tell ya. i followed the original recipe and it was WAY WAY WAY vinegary...WAY WAY...So i made a few changes to my second batch. in my opinion this is MUCH MUCH BETTER. great flavor. nothing overpowers and really helps bring out the smoky flavor in the pork. Delicious all the way round.