Today was my first smoke, I did a pork crown roast (thread in pork section), Dutch's Wicked baked beans, and ABT's
We did 4 different variations.
My wife made her stuffing with cream cheese, cooked bacon, and chedder. this was all stuffed in an upright jap with no bacon cap (trying to cut back)
Mine were cream cheese, Emeril's Essence, garlic, fresh herbs (sage, oregano, basil) all stuffed in an upright jap, then a wedge of cheddar was squished into it, and then topped with bacon.
We had a half Jalapeño left from the baked beans, so it was stuffed flat with the filling used on mine.
We had a single late season banana pepper that we stuffed with my stuffing and cheddar with a little bacon on top. The banana pepper was too skinny for my ABT rack, so I put a washer on top of it and it fit just fine after that.
They were smoked at 250 for about 2 hours. They turned out a lot hotter than grilled ABT's that I'm used to. my wife gave up after 1 bite, I ate both of mine, got the hiccups and only needed an extra helping of Dutch's beans to cool off with. My dad took one bite of the half jalapeño one and ended up with a burning mouth and a headache, so he took some aspirin lol.
here's the Qview!
Japs stuffed with cream cheese mixture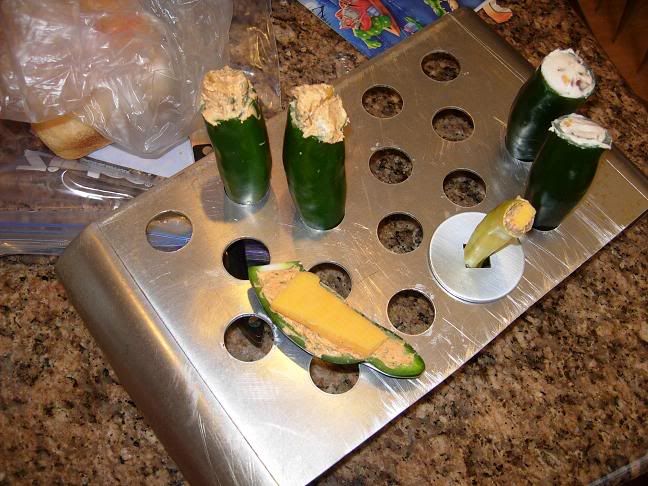 Japs with cheddar wedge shoved in them
covered with bacon, now ready to go
ABT's added to smoker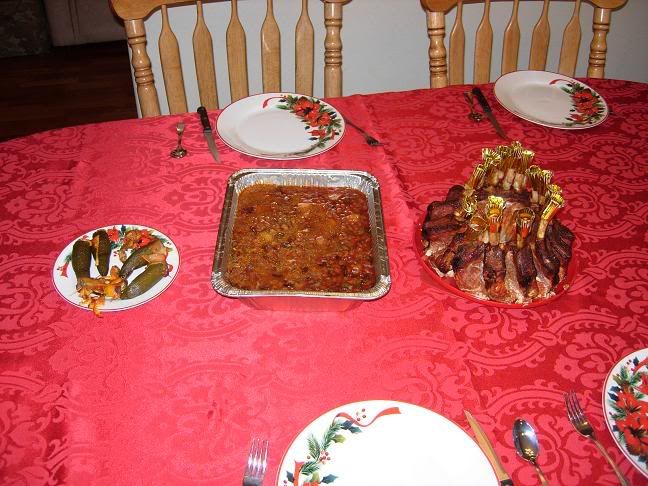 ABT's along with other smoked dinner items.
I'm not sure why these were so much hotter than grilled ones, I'm guessing because the length of time unlocks the oils or something. I will try them again, thats for sure. I guess I'll just hafta figure out some way to tone it down for the rest of my family.