Thanks. I agree, I really like this design but I wish there was a side fire box on it..that would be great..If I had a welder and access to some heavy gauge sheet metal I'd probably give a go at fabbing something up myself..This should suffice for now.
Anyway, here is the finished product..Took it out of the fridge, sealed it nice and tight in the foil pan and put it in the oven at 300 degrees around 12:00 this afternoon. It took close to 4 more hours to bring it 200, but it was worth the wait. The meat was so moist I couldn't believe it..All in all, I'd have to say my first brisket was a success, and to be honest I was a little worried at first. My in-laws were coming for dinner and my father in-law couldn't stop eating it while I was cutting it up so I thought that was a good sign. Looking forward to doing a lot more smoking in the near future.
Right out of the oven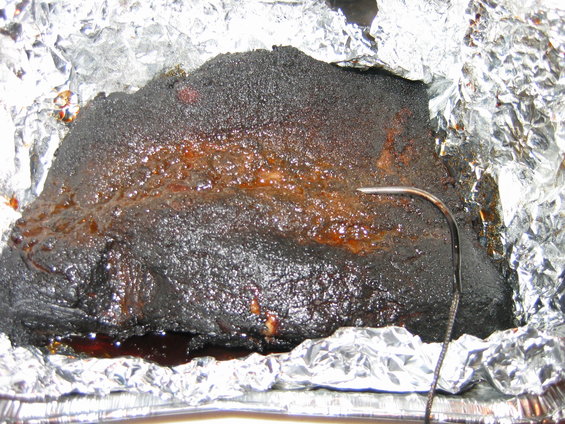 First cut.
Looks pretty good doesn't it?