Boy it's been a while since I've been back here. Great to see all of the activitiy and new faces. For Christmas this year I decided to go for Rytek Kutas' schinkenspeck recipe (less the 'speck' or bacon) and cure/smoke according to his ham recipe. Here's the play-by-play. I'm a complete ham 'virgin' so everything I'm doing is a first.
1.
Buy a fresh ham
: Um, not so easy as I found out. Not a butcher in Orlando could get their hands on a ham. I decided to go with the shoulder (picnic) as I like the bone and the potential flavor that might bring (again, just guessing here as I don't really know if that's true).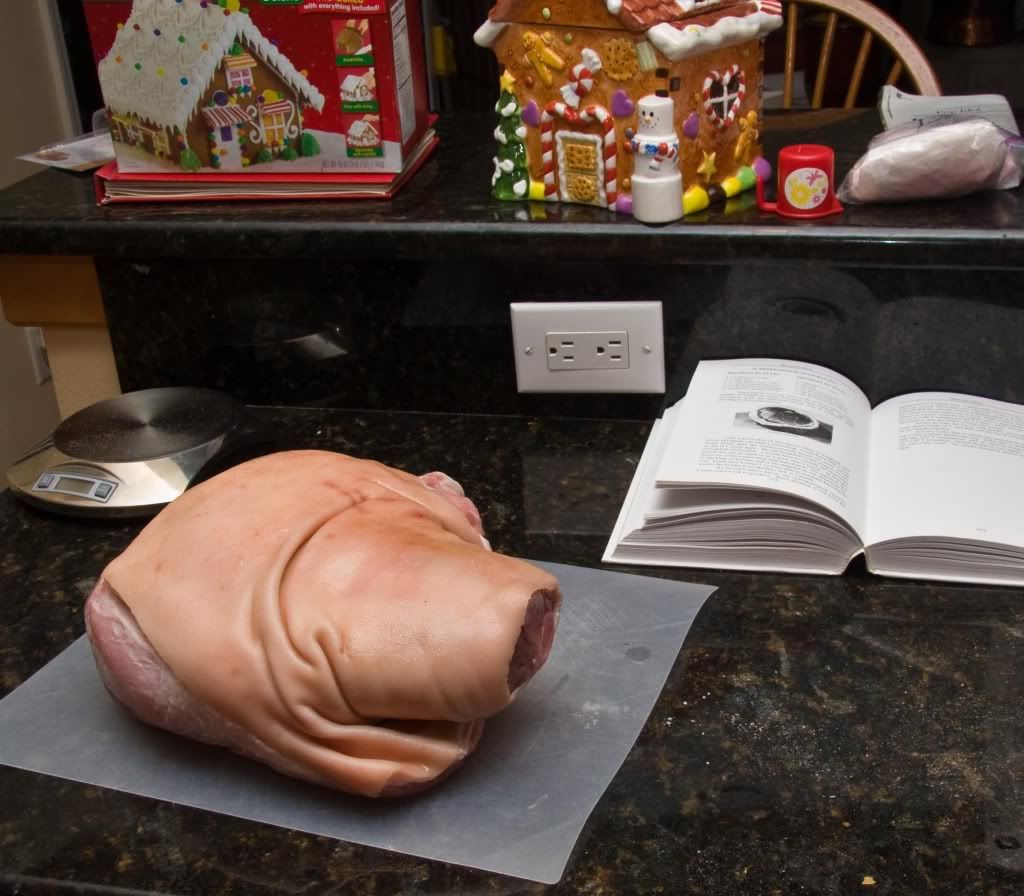 2.
Mix the brine
: The ingredients are simple enough. Got the juniper berries from The Sausage Maker and ground the berries and white pepper in a coffee grinder. I mixed it all with water, stirring for a while to be sure it all disoved.
3.
Trim and pump
: I trimmed all of the skin and loose fat and then weighed the beast. The recipe calls for pumping to 15% of the green weight so at 11lbs, I did my best to fill'er up with 1.7lbs of brine. As you can see, some of it is sitting in the bottom of the tray. Not sure if I did this right or not but I pumped in as many places as possible. I then put into a bucket with the brine and kept in the fridge for 7 days.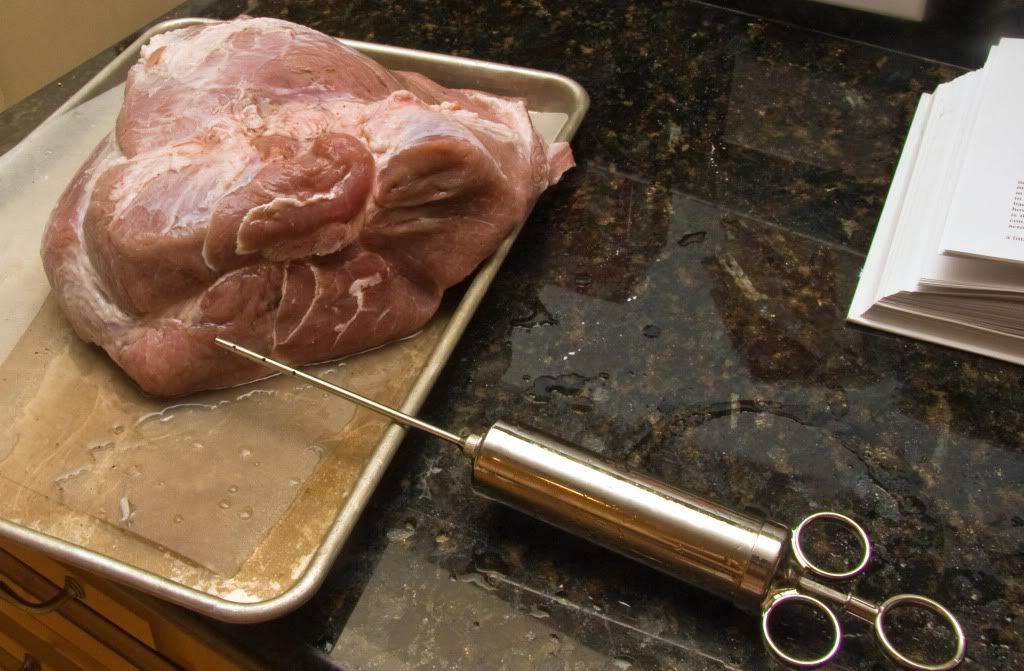 4.
Let the wild rumpus start
: I pulled the picnic out this morning in preparation for the first step; drying for 12 hours in the smoker at 120 degrees(went in at 8a today). I realized only then that the netting I bought was too small. UGH! I improvised with a make shift net of my own using 4 long pieces of string tied together in the middle and placed the ham on that and tied it up. I think it will be fine.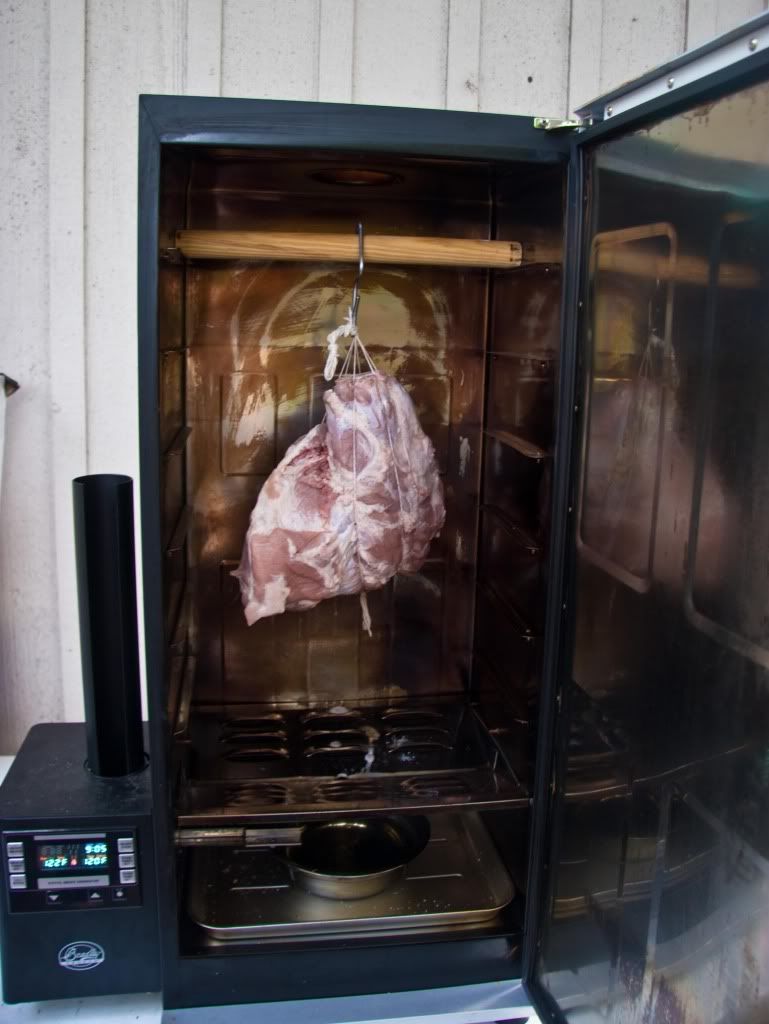 5.
The Smoke (tba)
: Got the smoke started around 8:30p last night. Had it going all night until about 8am this morning. About 4:30 am I got up and checked the box and all was well. I decided to speed things up a bit and took the smoker temp up to 165. The meat temp at the time was 132. As of about 9a (5 hours later) it was at 137. So about a degree an hour. Looks like I may have another 7 hours left. Here's the shot of the ham at 7:30a this morning after 12 1/2 hrs of drying and nearly 12 hours of smoking. From here, I've shut the damper in hopes of reaching the magic number of 145 sooner than later.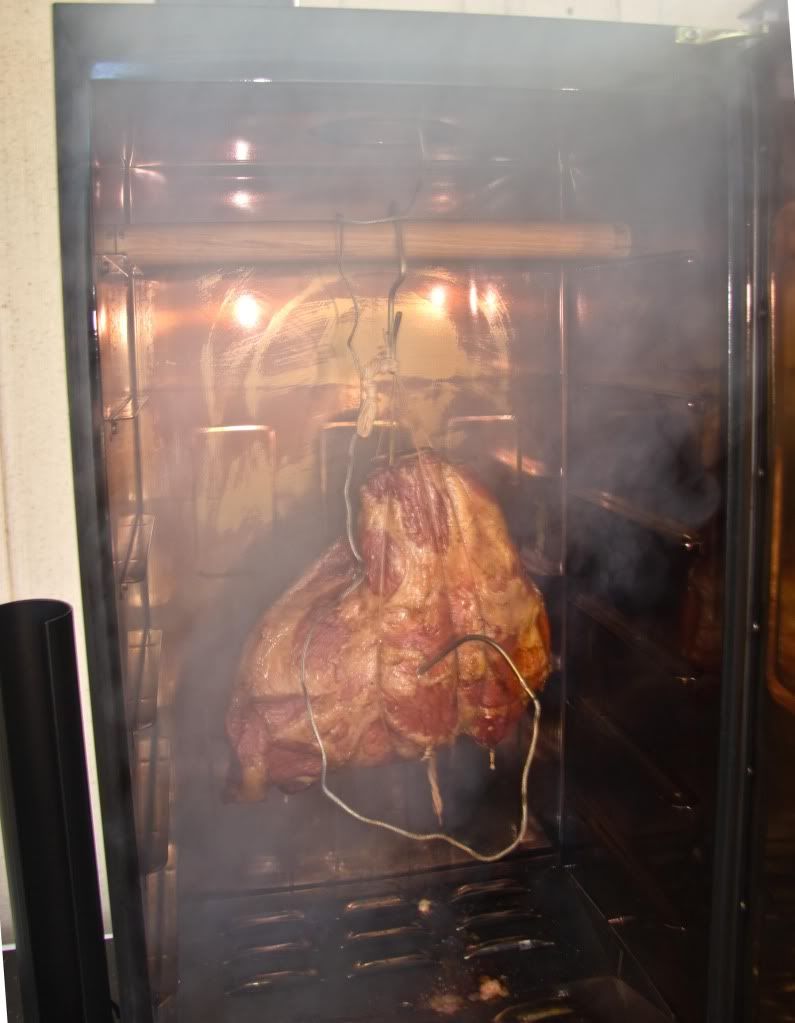 6.
Serve on Christmas Day
: I'll get some shots of the carved beast and update sometime that day, unless the bubbly gets to me first...burp.
Merry Christmas.