I had mentioned the other day i was going to try this.
Came across the recipe in my Googling and it was basically nothing more than pouring Yoshida's into a smal sauce pan, adding slices of chicken and cooking. You can let it go at a bare simmer and people can serve themselves all night out of the pot (if you are throwing a party) with hot Yoshida chicken.
I had a pack of leg quarters I am curing into some chicken pastrami (thanks Eric).
I separated the leg from the thighs, removed the skin and added 2 of the drums to some Yoshida's in a small saucepan.
I added some chipotle rub (couldn't get spicy Ypshida's and think it has an amazing flavor accompanied by a slight kick). Also added a few slices of vidalia onion.
Sorry for the lack of pics, wasn't smoking and didn't even thin to grab the camera until the end.
I brought the Yoshida's to a boil, reduced to a simmer and let the legs go for about 45 minutes.
Couldn't really probe them in a simmering liquid.
They were done when I pulled them out, byond moist and ever so flavorful.
I actually dipped back into the Yoshida's mixture, great flavor, tender, juicy, and I just love that slight buttery aftertaste that trails off after the salt then sweetness of the Yoshida's dissipates.
Ron, thank you for turning me onto Yoshida's, damn good stuff!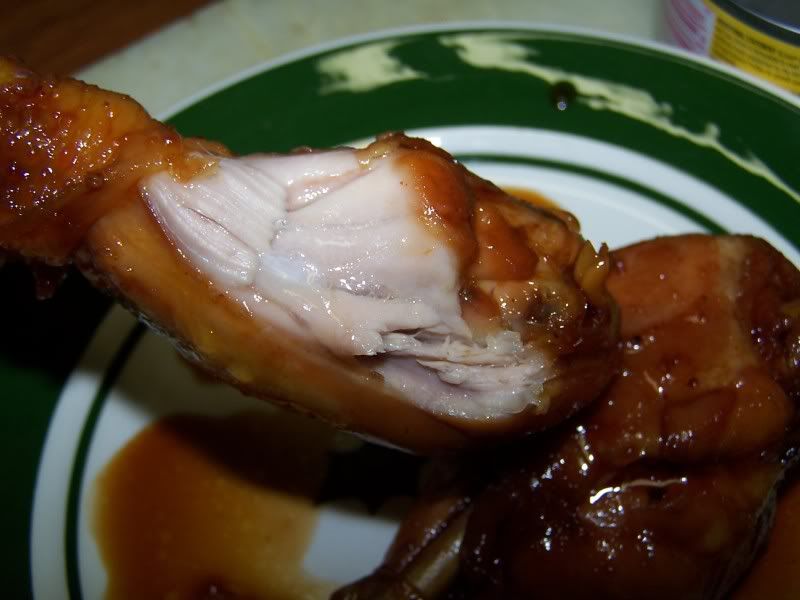 I know this has nothing to do with smoked food which is why I placed it in the marinades section.
Ron, you ever have a night where you need a quick meal and don't have time for the smoker this one will definitely work.