During the deer hunting season here in WI, my son got a deer . . . unfortunately, not in the
traditional
way (or maybe it WAS the traditional way! LOL). He didn't shoot one, but happened upon a woman on Highway 29, just a mile from our house, who happened to hit not one, but TWO deer! We think it was a momma and her yearling buck. He stopped to help (the buck was stuck under her van), and the doe was laying on the side of the road with two broken legs. He asked if he should take it, and I told him to do whatever he thought was best.
He talked to the woman (who was shaken up, but physically OK) about taking the deer, and she was fine with that. The doe was not dead, and was in pain, with the broken legs. He didn't have his gun with him, but happened to have a knife, so he slit her throat to end her suffering. Kind of gruesome to me, but then again, he's only been out of Basic Training for a few months, so not so gruesome to him! LOL He hadn't been there five minutes when someone else showed up, asking to take the young buck! LOL They waited for the police to show up, as he needed a "special" tag to be able to take the deer. Meanwhile, the woman who hit the deer was praying, literally praying, saying "I'm sorry, I didn't mean to hit you" and "I hope you become somebody's meal, but not mine." I thought that was very sweet!
We weren't able to get as much meat as we hoped, as there were areas that were VERY bruised, and we couldn't use.
So, this is what we had for making sausage, jerky, etc.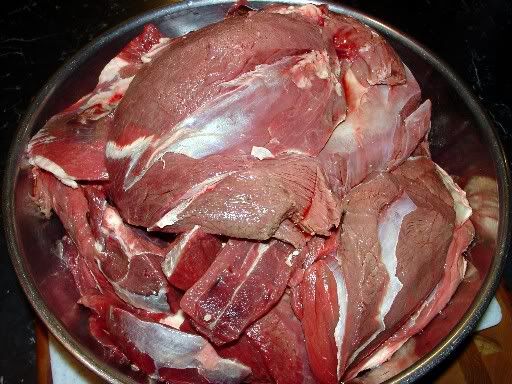 I had some issues grinding it, as the "sinew" wasn't removed and kept getting wrapped around the cutting blade on the grinder, and then stuck all over the grinding plate I was using. This was my FIRST EVER attempt at grinding meat, so what did I know? I had NO CLUE that that had to be trimmed off. I finally gave up, and decided that my son had to trim the meat to get rid of that. Even though he trimmed it, there were still some issues. I'm not sure if this is because I have a relatively inexpensive grinder, or because it was venison, or because the meat should have been trimmed better. Maybe someone here can help with that.
Anyway, we got it all ground, and then I ground the fat that was cut from the deer. We made a 80/20 mix of the meat and fat and added our summer sausage seasonings and extra sweet special cure, and then made five 1 lb. rolls of summer sausage! Here's a pic of them!
They're now in the fridge, waiting to be smoked tomorrow. We're also going to make some "ground meat" jerky tomorrow. It's currently in the fridge, curing. My son bought a jerky shooter tonight, so we will use that tomorrow and then smoke the jerky.
I'm so excited about doing all this! We have five pounds of ground venison left, and once my casings arrive early next week, we're going to try making hot dogs! I don't have a mix for those like I have for the summer sausage and jerky, but figure I can poke around here to find one!
Let me know what you think of our first try at summer sausage!
Julie
PS, if you've read all the way through this, THANK YOU! I have a habit of being a bit "windy," which you'll quickly discover as I post more! LOL Hope you don't mind!