Just like you can't have one thread on turkey you can't have just one for the soup!
I started out by throwing the turkey carcass cut up a bit and all the leg/wing bones into a crock pot and filled it up with water. After about 8 hours I took out as many of the bones as I could and ended up with this.
I layered some cheesecloth on top of another bowl and filtered it through it.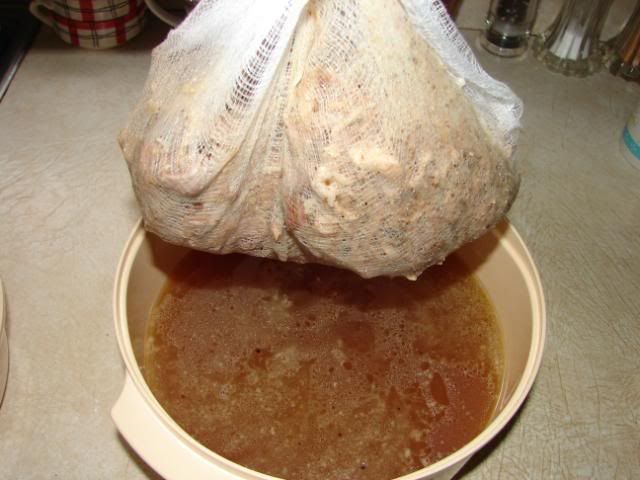 Since it had been a long day I wanted to get it all cooled down and ready for the fridge until the next day so I used an ice water bath to get it below 40 degrees relatively quickly.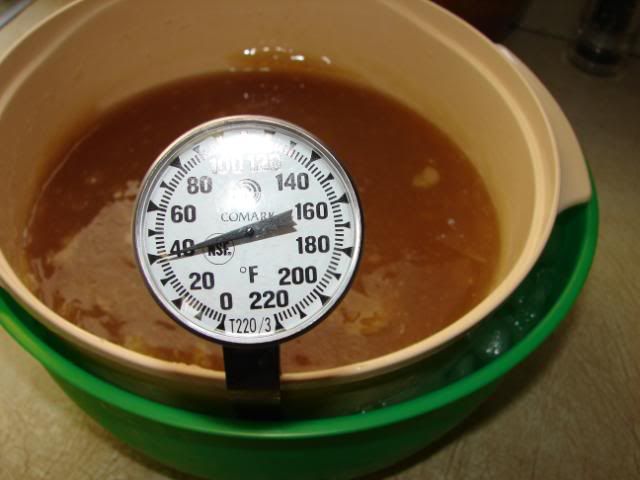 In between stirring the soup base cooling it, I started pulling out the bone pieces that were left in the meat. This by far was the hardest part of the whole process and I had to go through it 3 times at a snail's pace to be sure I got ALL of the sometimes extremely small bones out of it. I ended up with 18 ounces of meat, but...next time I might just keep back a pound to put in later.
The next day I skimmed off the fat from the base stock. There wasn't much but I figured what the heck might as well make it as healthy as I can!
Now it all went back into the crock pot along with the other goodies. I'm not sure where I copied this recipe from but it looked like the best one out of the ones that I had. I added even more peas in the final 2 hours to my batch just because I like them in soups/stews.
2 large carrots, sliced
1 cup chopped celery
1 large onion, chopped
4 chicken bouillon cubes
1 can (28 oz) stewed tomatoes
3/4 cup fresh or frozen peas
3/4 cup long grain rice
1 package (10 oz) frozen chopped spinach
1
TBS
salt, or to taste
3/4 tsp pepper
1/2 tsp dried marjoram
1/2 tsp dried thyme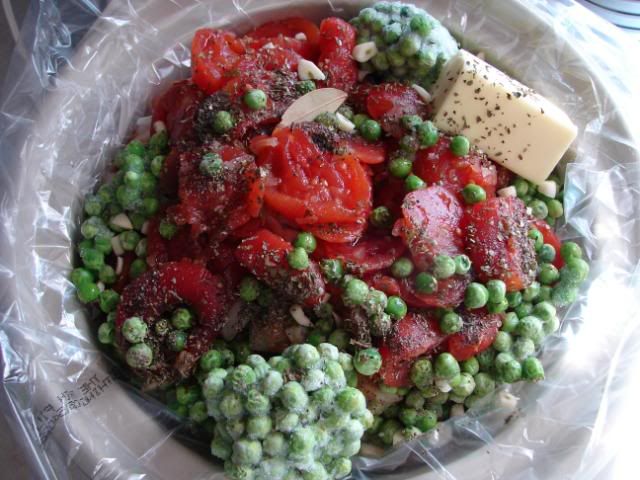 Heres a shot after everything has been "crocking" for a few hours. Smelling good!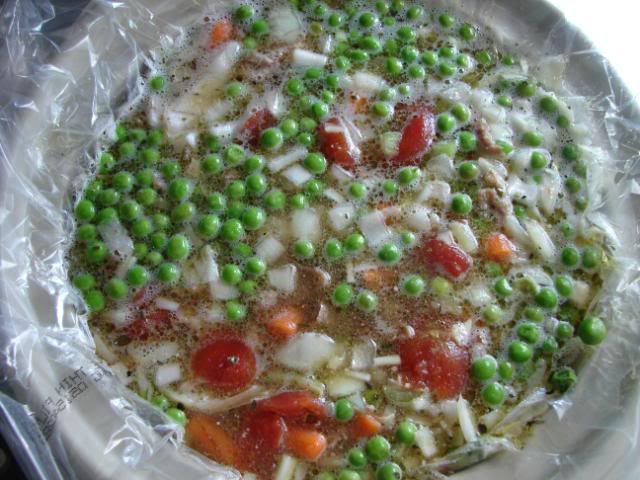 And time to eat!