Since there seems to be a good amount of talk about bacon lately, I thought I would show ya what I did about a month ago.
When shopping at the local Mexican Market, I saw fresh pork bellys in the meat case... Had to give it a try, so I picked up 10lbs of it. Looked around the net and various forums looking to see how much Tender Quick to use and found a lot of various opinions on the subject. I sort of took all of the amounts and decided to go about half way... So for 10lbs of belly, I used 7 oz of MTQ, 1/2 cup of fresh cracked black pepper and a little more than 1/2 cup of turbinado sugar. I ran the sugar and pepper corns through the burr grinder so they were fairly small and consistant granules, but not as small as the TQ. Rubbed the various pieces of belly and bagged them up and put 'em in the 38° fridge. I turned them once a day for 8 days.
Here they are fresh from the market and then rubbed up with cure and those two with maple syrup.
After 8 days in the fridge, rinsed and patted dry.
Put the cured pieces on the big ugly pit. 2 bottom pieces with fresh cracked pepper and the 2 top pieces with Sucklebusters Hoochie Mama. The little piece was just left plain.
Tried to keep the temps down and the smoke up, so I used the basket from one of my UDSs with some briquettes and small hickory splits.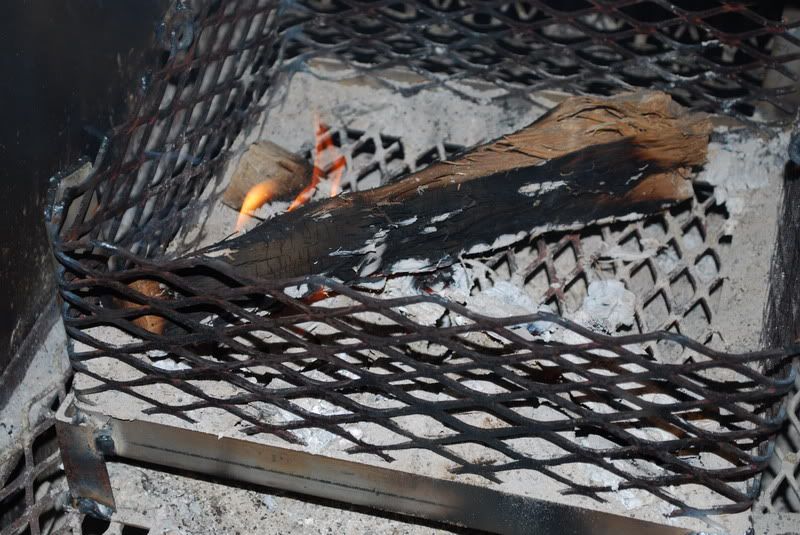 Temps were a little iffy in the early going (I've got a plan for better control on the next attempt). They got up to 200 for a very short while, but I managed to get the temps back down to ~150° for most of the cook. Took them off at about 140° internal. They finished up a bit earlier than I wanted. here they are after 5 1/2 hrs, I was shooting for about 8 hours in the smoke.
Wrapped and ready to sit in the chill chest for a day or so.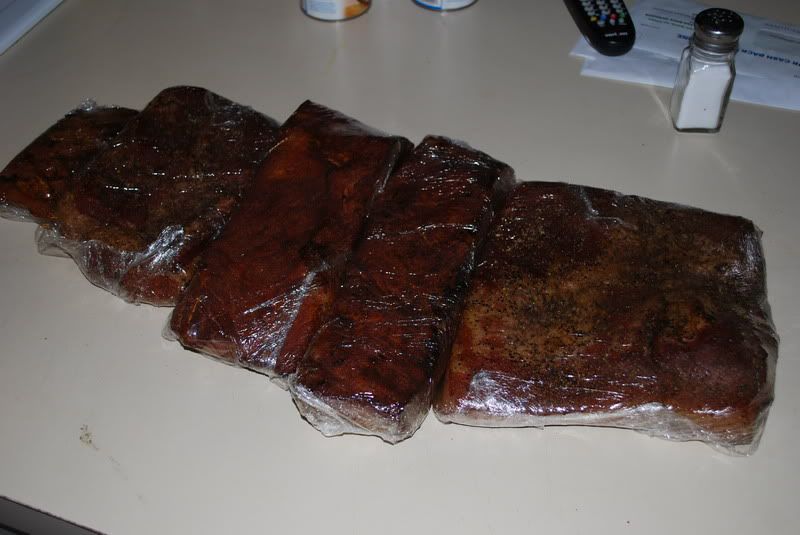 I know your supposed to chill it several hours for the flavors to bloom (or what ever they call it), but I couldn't stand it no more... I had to try at least a piece, so I took the skin off the smallest slab, sliced then fried it in an old CI skillet... Over all, not bad... not bad at all really. Maybe a little salty. Next time I might back off on the TQ a bit, or leave the cure on it for 1 less day...
These are the slices from the small piece of belly. They were only about 2/3s as long as a regular bacon slice.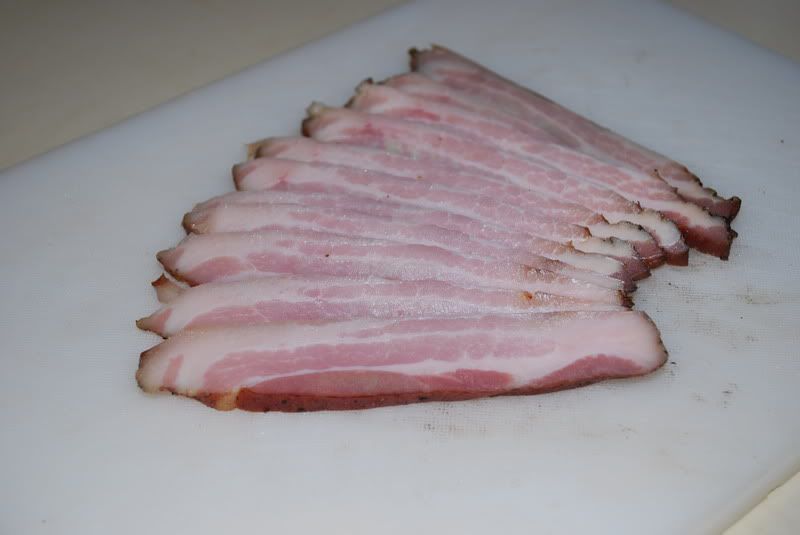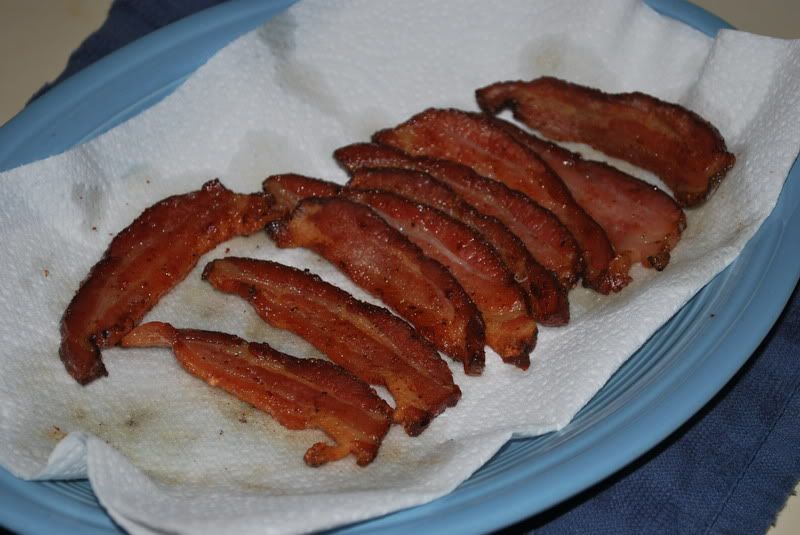 Got the rest of the bacon sliced up and most of it vac packed for later use. Slicing by hand sure ain't no fun. I'll be looking for a decent, economically priced slicer... Maybe Santa will bring me one.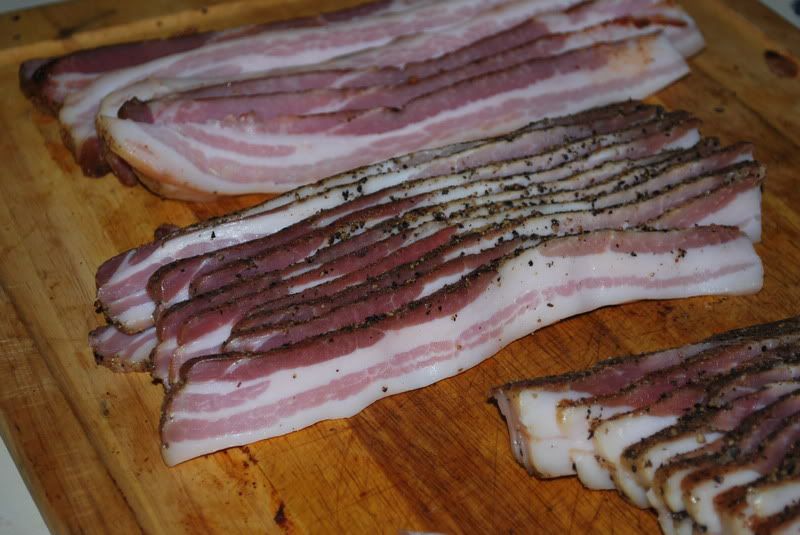 Also had to have an obligatory BLT.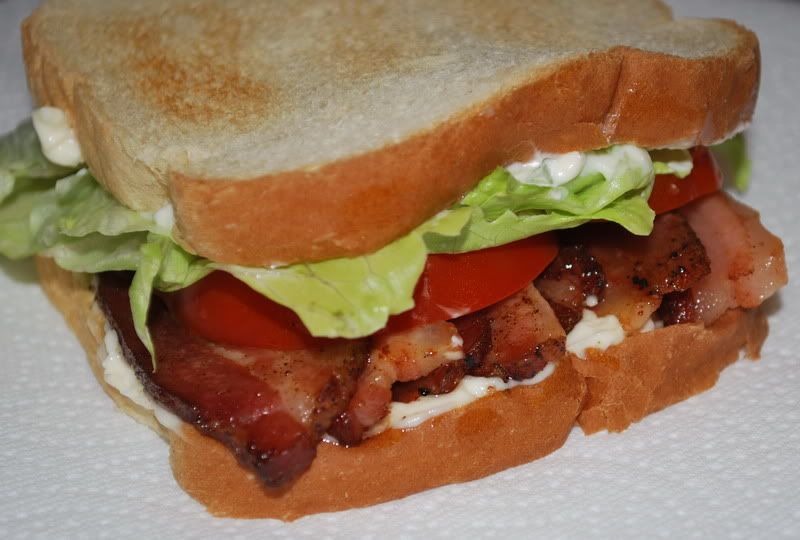 Over all, I'm impressed with the final product. Other than having to wait a week or more, it was a very easy process and I will be doing this again and again...