Hi Guys,
I always wanted to try smoking a precooked ham. A couple of weeks ago my neighbor came over to me and asked me if I was interested in cooking or splitting a precooked ham. He's a single guy who was married for a long time and still hasn't figured out how to buy for a single guy.
I told him I would try smoking it up and split it with him. It came out great!
Here's the recipe I followed. I only had a 3 # ham so I cut it in half:
1 6# Precooked Ham
Rub:
1 Tablespoon Black Pepper
1 Tablespoon Paprika
1 Tablespoon Sugar
1 Tablespoon Salt
1 Teaspoon Mustard Powder
Mop:
3/4 Cup Chicken Stock
3/4 Cup Pineapple Juice
1 1/2 Tablespoons Vegetable Oil (I used Canola)
1/2 Teaspoon Dry Mustard
1/2 Teaspoon Ground Cloves
Glaze:
1/2 Cup Honey
1/4 cup Pineapple Juice
1/2 Teaspoon Dry Mustard
1 Pinch Ground Cloves
1. Rub ham an foil
2. Let rest in fridge overnight
3. Remove ham in morning and let stand on counter for 1 hour
4. Prep smoker for a 200-210 smoke
5. Meanwhile prep mop by combining all ingredients and heating till mixed (I
brought to a boil while whisking briskly)
6. Put ham on smoker and mop 1x per hour
7. Smoke till desired doneness (I smoked till 145)
8. For last hour brush generously with glaze every 15-20 minutes
9. Cut up and enjoy, now for the qview: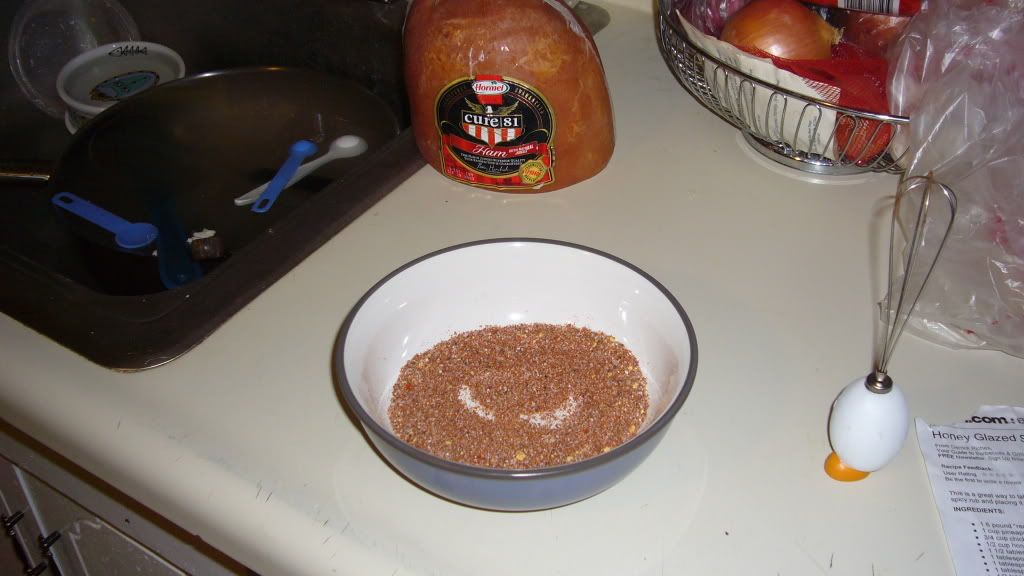 The rub waiting to do it's magic
My rubbed meat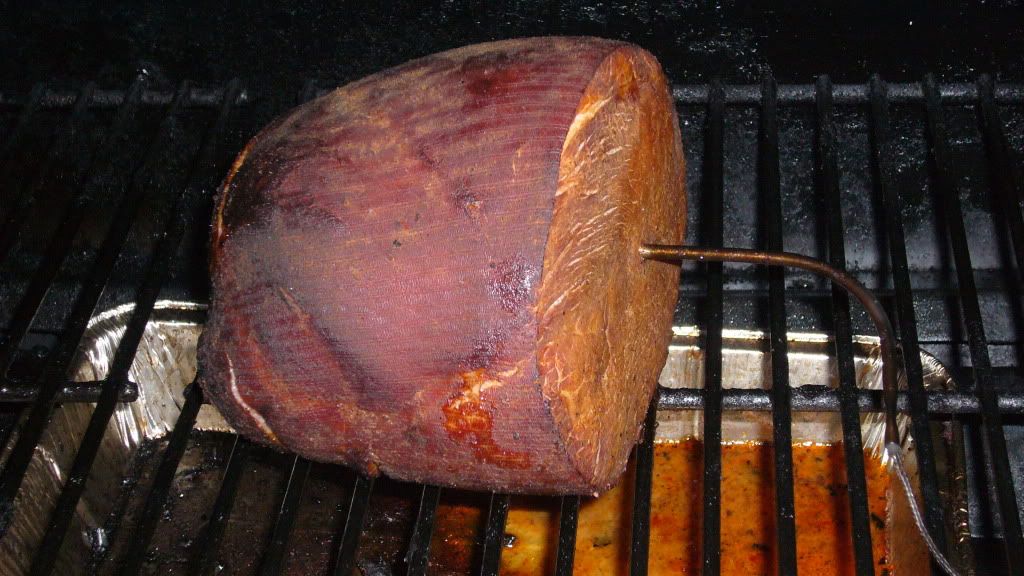 On the smoker. Looks a bit dry but it came out moist and juicy!
Off the smoker and waiting to be divided up. Didn't even get a chance to make it into deviled ham as I had planned to do with the leftovers, guys at work devoured it.
I know Jeff does this slightly differently but I liked this way. Give it a whirl!
As always, thanx for looking.