I was inspired by
forluvofsmoke
's thread about his
first Canadian Bacon
so I thought I would follow his lead and give it a go.
I followed his recipe and directions:

Spicy Brine/Cure:
3 cups water
6 Tbls Tender Quick cure
1 Tbls dried green bell pepper, powdered
4 Tbls brown sugar
½ tsp cayenne pepper
½ Tbls mild smoked paprika
2 whole bay leaves
½ Tbls ground cinnamon
1 Tbls black pepper, powdered  
Regular Brine/Cure:
Omit the cayenne pepper and cinnamon
Only difference is that I did not have dried bell pepper so I used 3 Tbsp of fresh green bell pepper instead.
I picked up just about 8 lb boneless pork loin and divided it into 2 slightly less then 4 lb pieces. I'm keeping my fingers crossed that the meat is not too salty at the end of this :)
Full Cryo'd Loin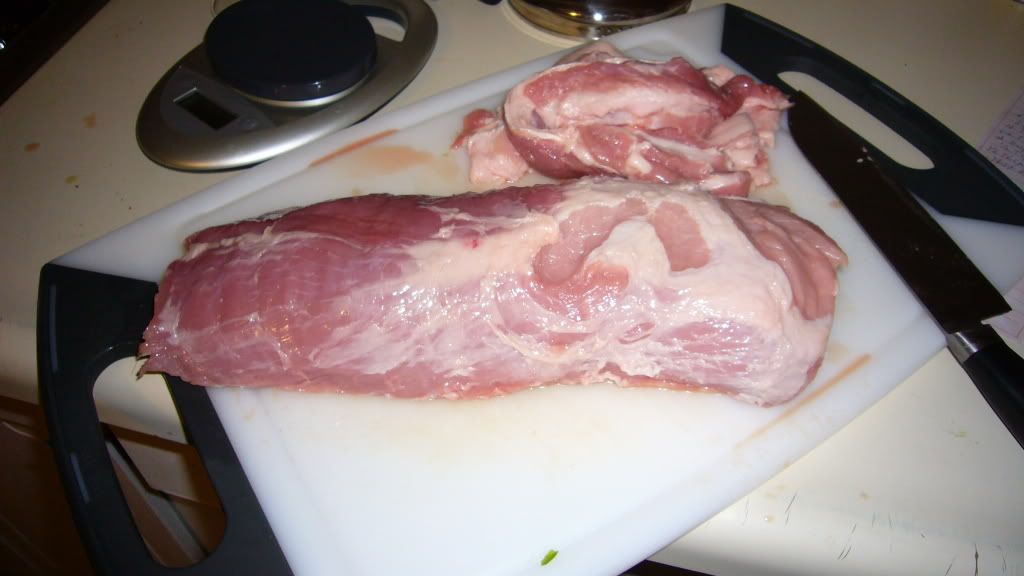 Divided and trimmed
Curing in a vacuum sealed bag (what a pain in the ash it was to get it to seal right).
I've been turning the pieces and massaging them for a week and 1/2 now. Going to take them out on Sunday and get them on the smoke. Can hardly wait. Will post more pics on Sunday and let you know how it turns out.