Here goes my first attempt at making sausage. I'm making Venison Maple breakfast sausage for patties with step by step Qview for other 1st timers.
Ingrediants:
12 lbs. of Venison (from the neck meat)
3 lbs. of Pork butt (trim out the bone)
1 Hi Mountain's Western Legends (breakfast sausage seasoning) Country Maple
Ok, here we go.
The seaoning...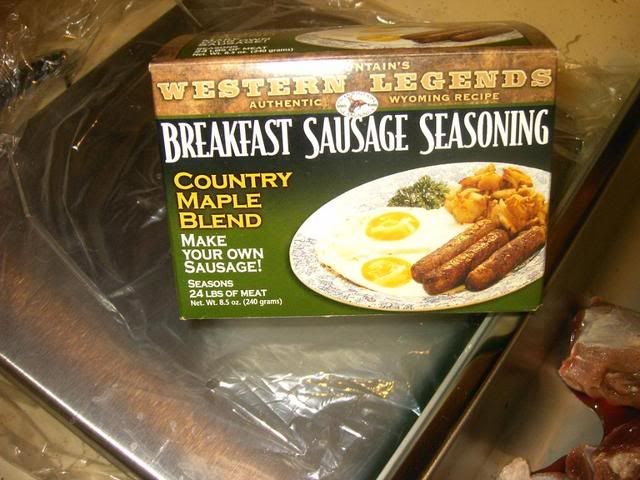 Venison soaking to remove the blood. (let water run over container til clear)
Trimming fat from venison and cutting into approx. 1 inch cubes.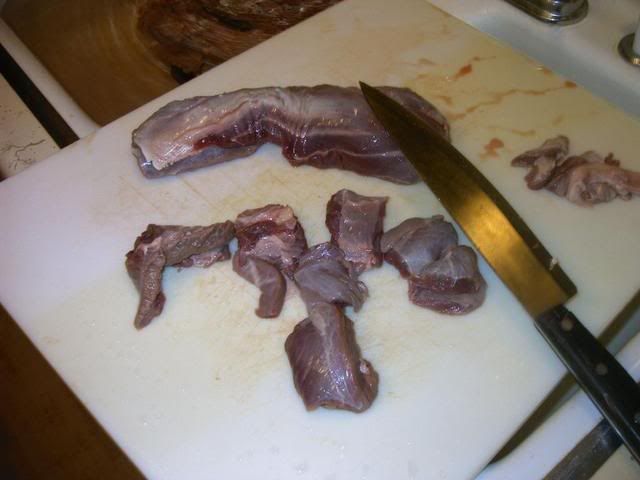 12 lbs. of venison weighed, cubed and ready to go.
3 lbs. of pork butt deboned and cubed, ready to go.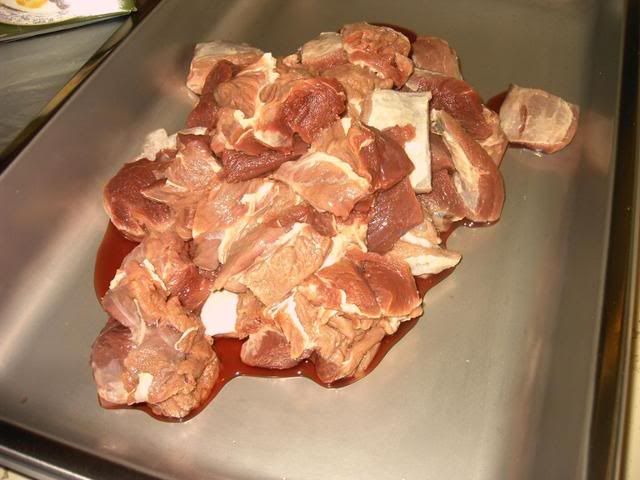 Venison and pork butt mixed together and ready for seasoning.
Venison and pork butt with seasoning mixing in meat tub. Here is where you add a little seasoning and mix, then repeat this until all your seasoning is used being sure to mix so all the meat has been covered.
Into the grinder for the coarse grinding. (1st grind)
Loaded into the grinder again for the fine grind for making patties. (this also helps to make sure your seasons are mixed in well).
Fine grinding completed and ready to add ice water as per instructions.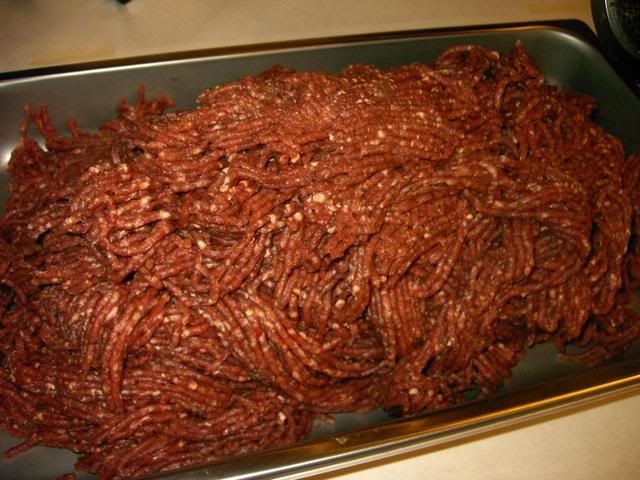 Loaded into the grinder with the stuffing tube attachments and ready to produce the final product.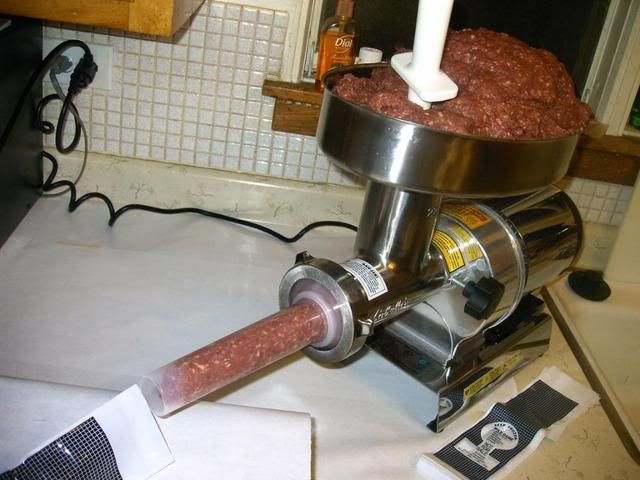 Loading into 1 lb. tubes from Cabelas and also using their tape sealing machine. (It works great and makes sealing the bags a snap).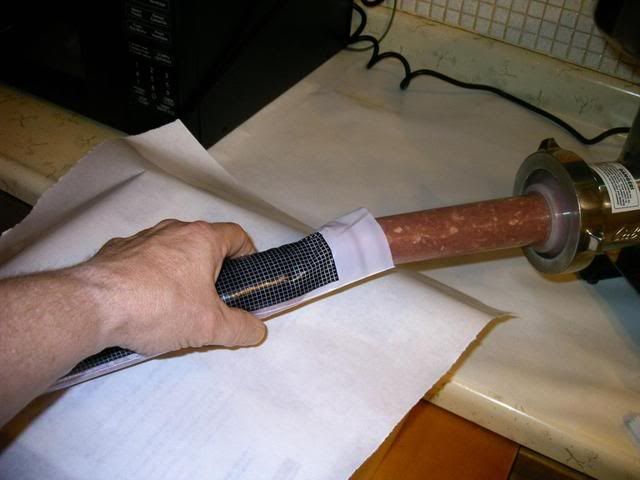 The fininished product. A 1 lb. tube filled, sealed and ready for the freezer.
Now for the fry pan and taste test.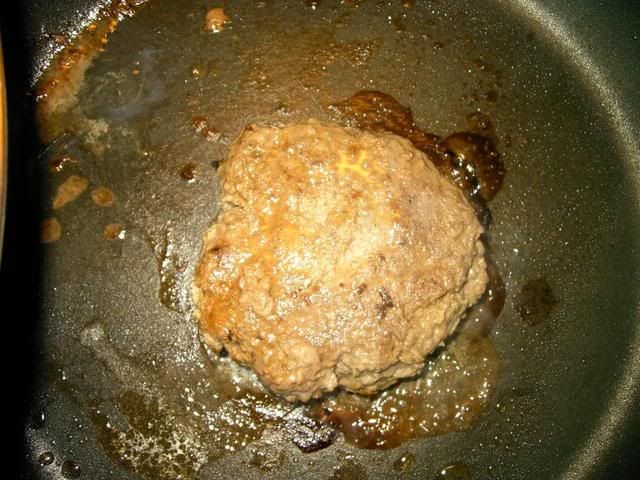 Ahhhhhhhh, the finished pattie. I broke a piece off so I could taste just the sausage.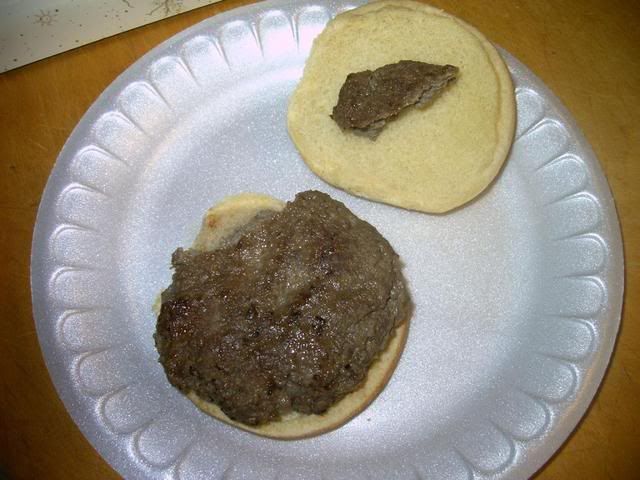 Excellent!!!!! It's a success!!!! Mmmmmmm so good I ate 3 of these. LOL
I used both bags of seasoning 8.5 ounces for 15 lbs. total meat. The contents are supposed to be for 24 lbs. but the directions said you can use more for better flavor and this worked out good.
The only thing I will change for this is that I used 1 lb. pork to 4 lbs. venison, next time I will add 1 1/2 lbs. of pork to 4 lbs. of venison as the venison is very lean.
My total weight after adding water and processing was 17 lbs. finished product.
I hope you all enjoyed this and it helps someone doing their 1st batch.