Years ago, a local locker plant used to sell a stuffed breakfast sausage that was cold smoked. Can't find commercial sources of that these days, so I started making my own. Made the mistake of giving away some samples to family members and now they want more. Lots more. In the case of an uncle, a request for 10 pounds of a hotter version of it. So here goes.
It starts with the butts. Since I'm exchanging sausage for other favors, the price of the sausage is on me. So it's best to watch for sales. In this case, butts for 99 cents a pound:
Those were 5# butts, so after trimming, would come up short of 10# stuffed, so I bought 3 of them, and will used the surplus to make a fresh breakfast sausage for myself.
An overlooked piece of equipment for this job is a sharp boning knife:
The knife in question is some non-descript boning knife I bought from a meat processor some 35 years ago. Carbon steel that will rust......but will take on a razor edge. Most of my sausage sessions start with that knife, or one like it, and a few minutes on a wet stone.....a Norton Hard Translucent Arkansas Benchstone. It doesn't take much to touch it up. If the knife slows down during the boning process, a few swipes on a steel puts it back into business. Don't fear a sharp knife. They are far safer than a dull one. Something magical in watching a sharp knife work through meat.
So once it's all boned out, I weigh out 10 pounds for the smoked rope sausage(will be cold smoked so it gets spices plus 2 tsp of Insta Cure). This is ground and set aside: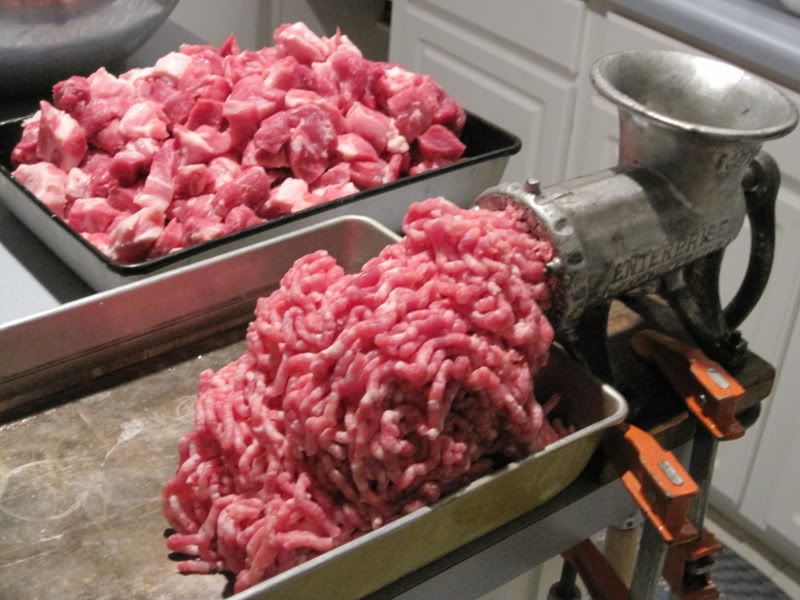 The rest goes in a separate pan for fresh. In this case, I'm going to try Sausage Maker's breakfast sausage mix.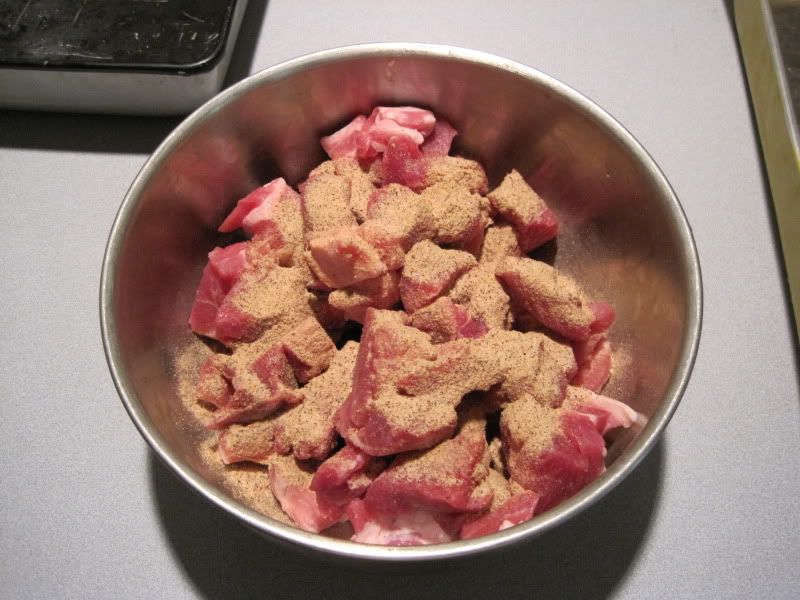 For this, I mixed in the spices, then ground twice. Grinder is a old Enterprise #12 I bought on Ebay for about $25. It did close to 15# of sausage in under 15 minutes and is not hard to crank. It would go faster if the meat were cubed up smaller so it would feed into the screw easier:
That's done. Nothing more to do but fry up a sample and package it up.
On to the smoked rope. This gets it's own spice mix (which included additional cayenne to kick it up a notch). Once it's all mixed together, it is stuffed into casings:
I found a local store that makes fresh sausages in the store, and will sell me the high quality casings they use for $8 something a pound. $1.50 worth of these will make nearly 20 pounds of stuffed sausage. They come as shown. Cleaned, soaked and ready to slip onto the stuffer. What a deal.
This was the maiden voyage for a new LEM 5# stuffer (purchased with gift cards, so free to me). Prior to this I had been using my parents old Enterprise 8 quart. No comparison here. The LEM wins hands down. On a preference scale.....maybe 100:1. It is a dream to use:
If you are going to make sausage, get yourself a stuffer like this. For smaller batches (like I tend to make), the 5# is adequate (and easy to store). For larger runs, look to the 15 pound size.
So all stuffed and ready to smoke: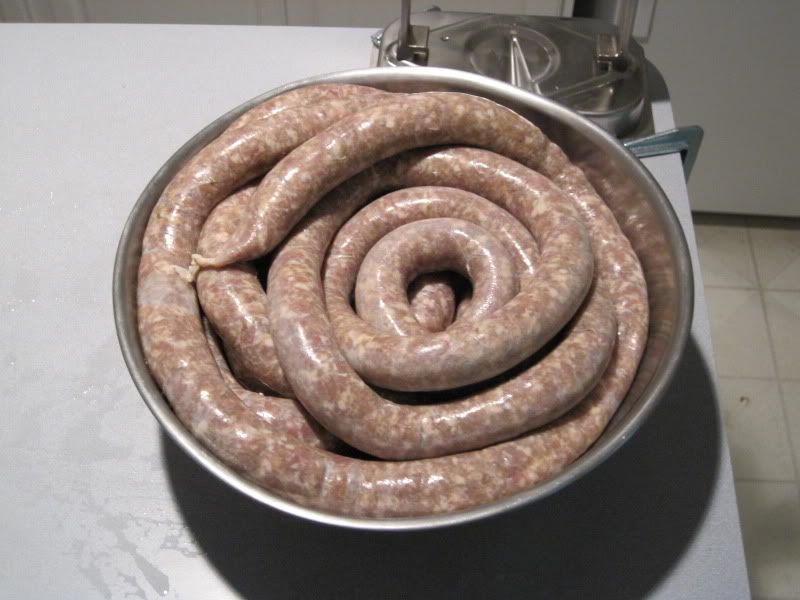 In this case, cold smoked in a drum smoker I'm building (still very much an ugly drum smoker):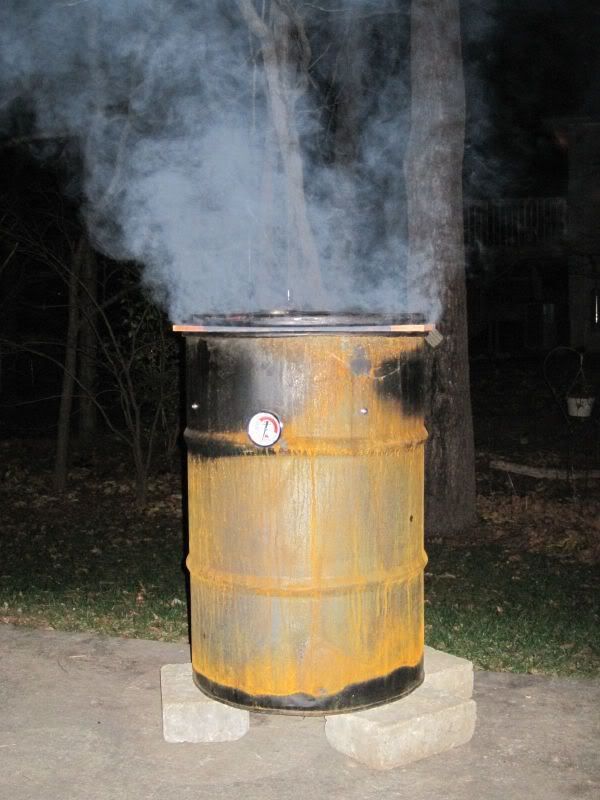 Smoke source was an old dutch oven with apple chips. About an inch of chips in the bottom. Light one side and it will smolder it's way across. Smoked pretty heavy for 3 hours (comments on previous samples were for "more smoke please"). These are smoked for flavor only. Not cooked. Temps in barrel never got much above 75 degrees. I waited until after dark when it cooled down for the day and outside temps were about 60 degrees. Even at these temps, this stuff gets the cure. No reason to take chances with botulism.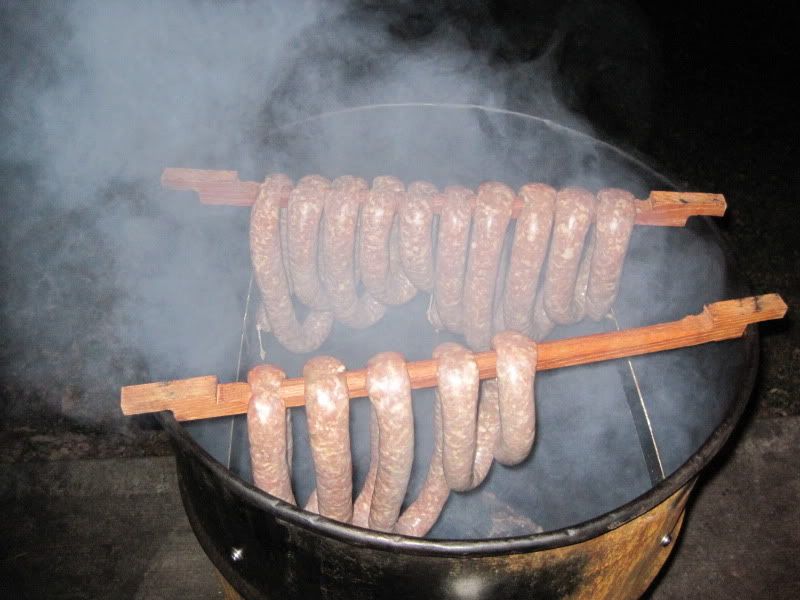 Smoked and ready to package. Portions are about 4 oz per serving. Left as a length of casing (piece of rope), but you could link them as well:
Ready for the freezer: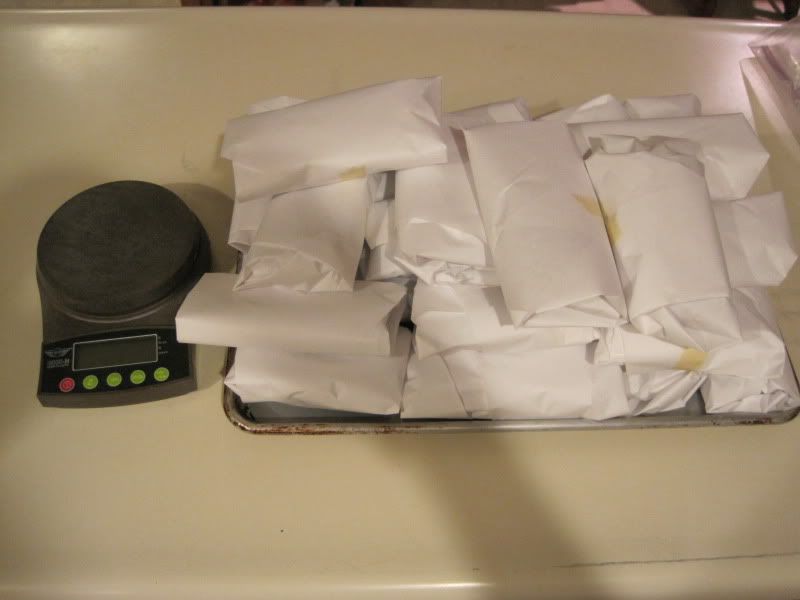 Those small digital scales are a big help all along the way. For scales, you really need two. A bigger analog set to at least 25 pounds plus, and a smaller electronic like the one shown. I'd suggest accuracy to 1 gram minimum......maybe 0.1 gram if you are going to use them to weigh out your spices for small batches.
Test run 1 for the fresh bulk.....note the pink color:
These were fresh butts......not from a cryopac with liquid. For sausage, I'm convinced this makes all the difference in the world for an attractive, fresh tasting sausage. The store these came from may get all my business from now on. (Besides fresh butts, they are the only local store that sells pork fat and have the cheapest prices on beer. My new favorite place to shop).
Test run 2 for the smoked link.....note the cooking method. Sausage goes into a small frying pan with enough water to cover the bottom and a tight fitting lid on top. Simmer on med-low until the water boils off. The sausage then browns in it's own grease uncovered. That cooks it all the way through. Cooking time is about 15 minutes.
Total elapsed time working alone (including 3 hours smoking......with me sipping a beer and sniffing that sweet apple smoke).....was about 7 hours. Thats from pulling the butts from the refriderator to sitting down with another beer after the final cleanup.
Hope you enjoyed the tour. Thanks for looking.