I did my first whole chicken last weekend.
Brine:
4qt water
1 cup sea salt
2tbsp garlic powder
2tbsp onion powder
2tbsp paprika
Brined for 5 hours.
Smoked with 50/50 hickory/apple.
Smoked at 230 degrees which I know is a little lower than recommended for chicken but also had pork loins in at the same time.
I had the termometer in the breast area and removed the chicken at exactly 160 degrees. It took 3 hours and 20 minutes to hit 160.
Because the pork loins weren't done yet I foil tented the chicken for an hour while waiting for the loins to get done.
The breasts were tender and juicy and not any pink at all. Very tasty and moist.
However, the legs and wing areas seemed like there was quite a bit of pink to them. And with the brining when I cut into the leg/thigh area there were just tons of juices but the juices seemed pinkish. This freaked the wife and I out a bit so I put it in the oven under the foil tent at 375 for another 20 minutes just to make sure it was done. Unfortunatley I didn't get any pics because the kids were starving so getting them fed got me sidetracked from taking pics.
What I'm not sure of is if it was just that smoking/brining causes the darker meat areas to seem undone or if there were in fact not done. Like I say the breast area was perfect and I took it out at 160 degrees. Any feedback on this is greatly appreciated so I know whether to cook it longer next time or not.
Oh, and one more thing. This is newbie mistake. I put the chicken on the bottom rack and the pork loin and ABT's on the upper racks both of which were wrapped in bacon. So, the bacon grease dripped all over the chicken.
Pic of chicken, pork loins, and ABT's in the MES: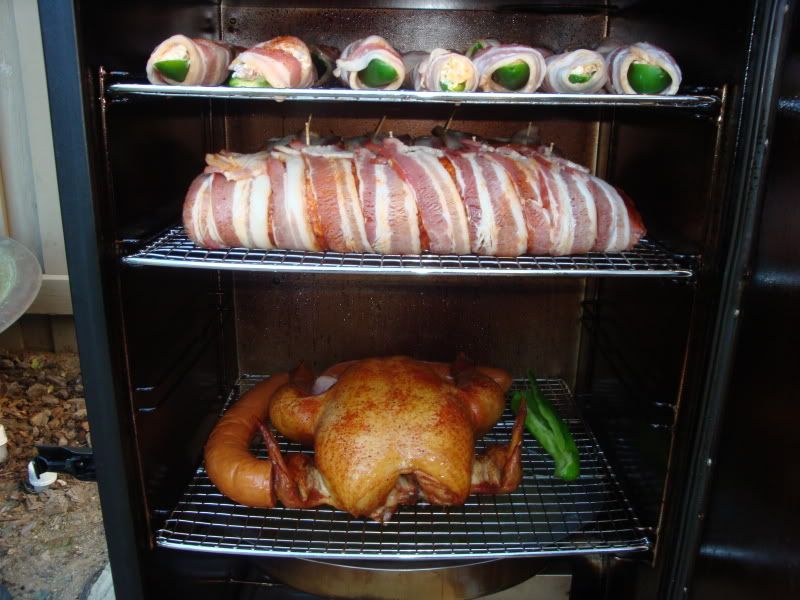 Chicken done (see the bacon drippings):