Smoked some dino bones last weekend. Been a crazy week - finally getting a chance to post. It was my birthday dinner with the family so of course I had everyone over and cooked for them.
Sort of a funny story. We had the rich aunt and uncle over. We served buffet style so they each got some pulled pork and one rib each along with salad and the corn casserole for the side. They weren't quite sure what they were going to do with the ribs so they ate the sides and pulled pork first.
They finally got the ribs and I watched them as they proceeded to eat them with a fork and knife. You know, it's not prim and proper to eat with your fingers. Well, a few bites into the ribs and they couldn't stop commenting on how good it was. Next thing you know they both had picked up their rib and started going to town. Cleaned the bone off and then got up for seconds for another one. Then when I was giving out pork and ribs as people were leaving all they wanted was more ribs to take home.
After they left even my wife commented that she was amazed that they actually picked up the bones and ate off of them. Haha. Made me feel kind of good.
I do think these were my best ever. Only my 2nd time in the smoker but I've done then in the oven a lot. Pulled the membrane off this time. Didn't even know about the membrane until a couple of weeks ago when I read about it on this forum. Also trimmed some of the extra fat off which I hadn't done before. I think these two things helped quite a bit along with getting just the right amount of rub on.
Sorry, no qview of finished product. Was running around quite a bit getting everything ready and served.
The pulled pork was done in the crock pot. I've only had my smoker for 3 weeks so haven't had a chance to do one in the smoker yet so went the safe route in the crock pot which I've done before.
On deck for this weekend is prime rib roast, pork ribs, and a ham. I've never done pork ribs before even in the oven so should be fun. I also have some bacon that I want to do some bacon candy with the brown sugar. Would the bacon also be good on top of the prime rib while it is smoking?
Ribs ready to be trimmed and to take the membrane off:
Ribs in new rib racks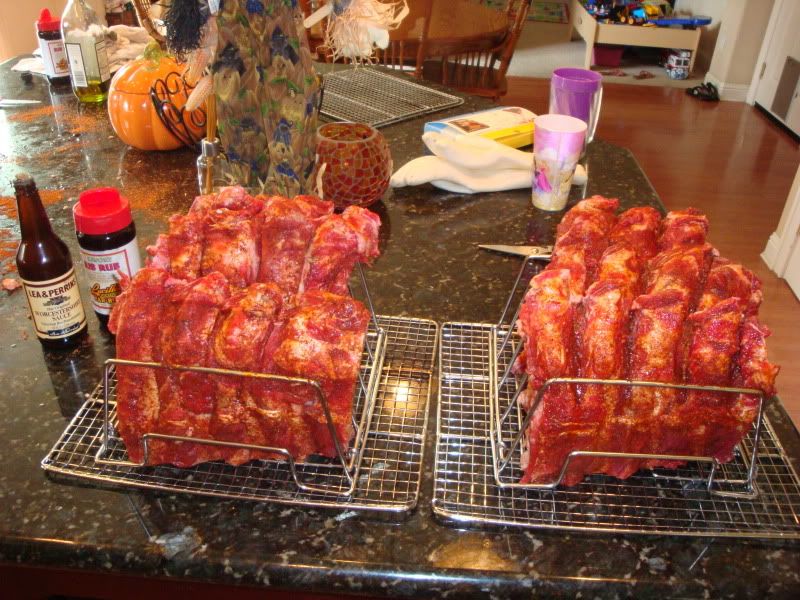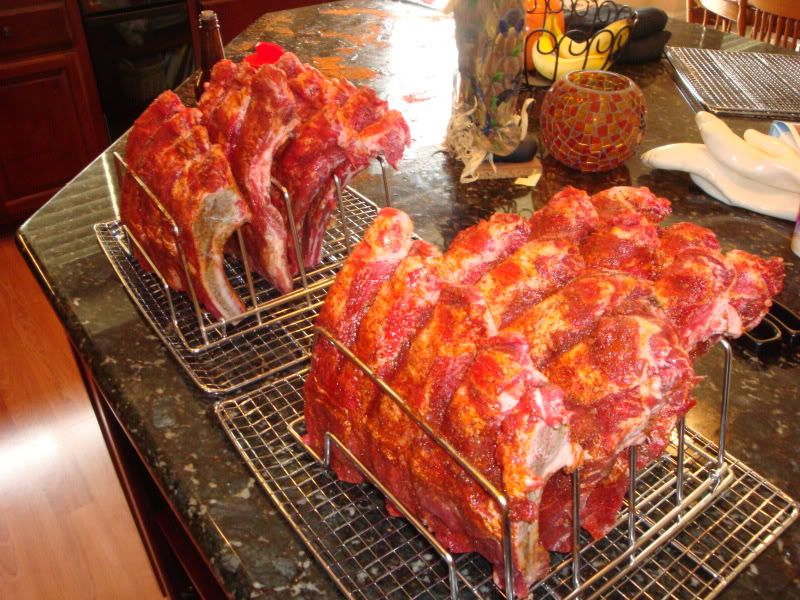 Pork butt done and getting foil wrapped for an hour: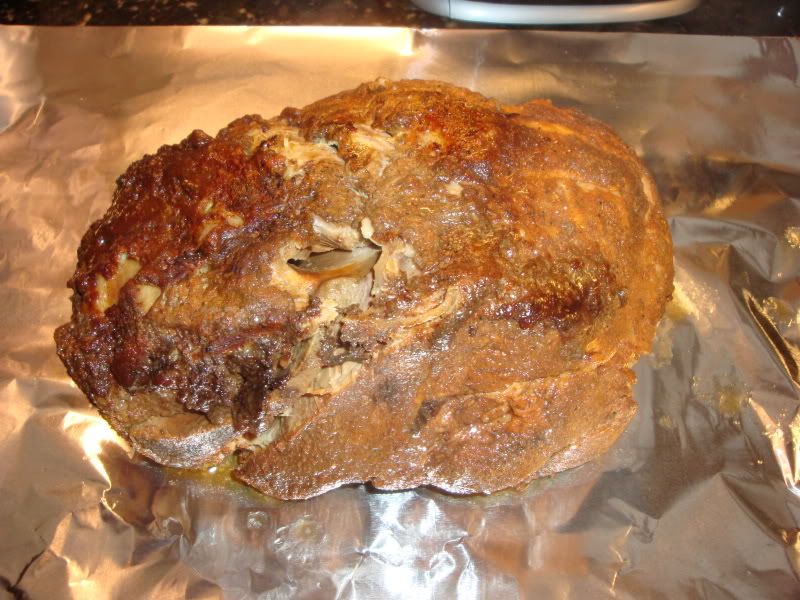 Me blowing out all 36 candles with a little help from the kids: