My first big smoke in the UDS.
After finishing and seasoning my UDS on Friday night, I wanted to give it a real try other than just the seasoning fatties, so I decided to run a 8.75 lb pork butt, a 3 lb log of ground chuck for chili and nachos, a hot sausage fattie with 2 chopped japs and and 2 chopped habs in it and some bacon wrapped redskins. I'm used to smokin' in my SnP which take 3 hours to do a fattie and I was hoping to have the fattie and 'taters ready for halftime of the Michigan game so I popped them in at 10:30 AM, the butt went in at about 9:45 AM. Right now I'm using a turkey fryer thermo in the UDS because it's all I have and it was reading at 225º - 235º pretty steadily. I only have one remote thermo and it was stuck in the butt on the bottom rack. At the 4 hour mark when the butt reached 160º I stuck the fattie on the top rack with a quick read and it only showed 120º so I decided to leave everything in until the butt reached 200º. Well that didn't happen until 7 hours had rolled around. I stuck the fattie again and it read 160º and the beef chub read 150º so I pulled the whole top rack and brought it in the house. I brought the butt in too and foiled it for 1 1/2 hours too.
I sliced up some of the chub and fattie to go with the taters for football snacks even though the football game was long over and the second game of the day almost so. The meat was great with nice smoke rings, but the 'taters were only half done. I nuked them for another 4 minutes and was happy about them. I seem to remember someone else making these and they said that they would partially cook them before wrapping them the next time too.
The butt has excellent flavor, and really isn't at the easily shreddable stage, but Diana and I both decided to forego putting it back in the smoker to finish, because the meat we sliced for supper that night was so good.
The meat from the UDS doesn't taste the same as that that comes outta my SnP. Even though it's nice and smoky flavored, I think that because it's cooked directly over the charc and the juices drip in the fire it gives it more of a grilled flavor than meat that is smoked indirectly. So I will be finishing the baffle and tuning plate mods on the SnP too.
After my seasoning smoke was done Friday night, I shut all the inlet vents and forgot to shut the top vent. When I went out to light 'er up again Saturday morning for this smoke, the temp still read 75º and it had some still glowing coals in the basket. That's 18 hours after I first fired it up to season it and for the first 3 hours it ran wide open and got up to 525º before shutting it down to 220º.
Saturday when I shut it down when I took the meat out, I remembered to shut the top vent and 45 minutes later the thermo read 0º and the drum was cold to the touch.
There's a definite temp difference between the top and bottom rack and maybe my thermo isn't right too. I think Thursday when I do the 6 fatties for Diana to take to work, I'm going to try running it at about 250º - 260º.
8.75 lb pork but with Rich's Rub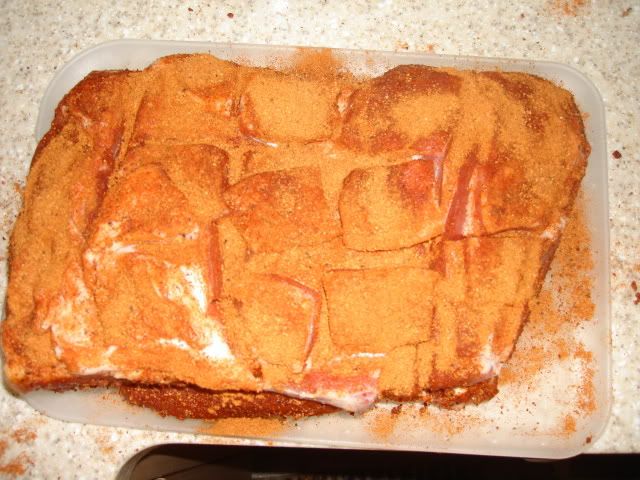 Bacon wrapped redskins, ground beef chub and jalapeño/habanero hot sausage fattie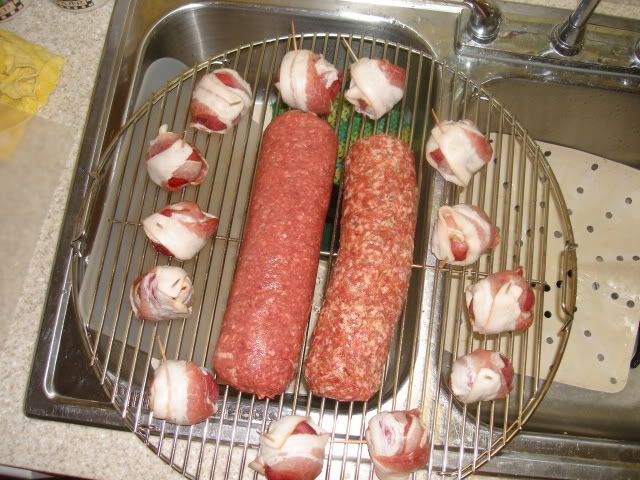 Ready for the meat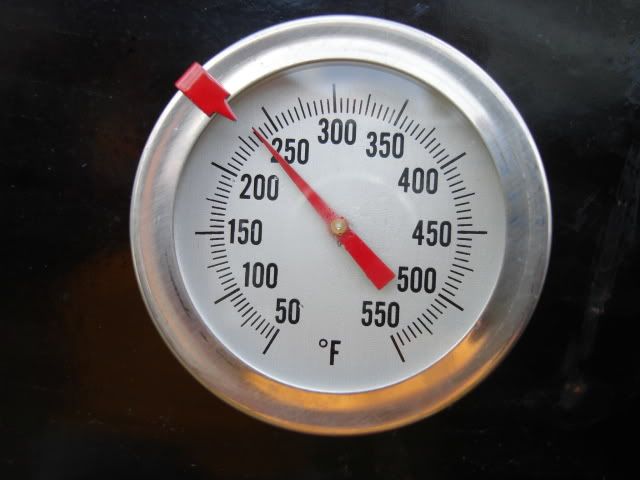 Chubs are done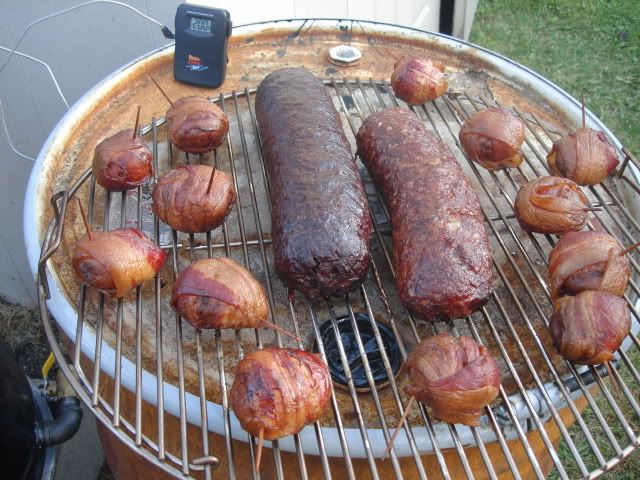 First butt from the UDS
Jalapeño/Habanero Fattie. So delicious! Will make lots more of these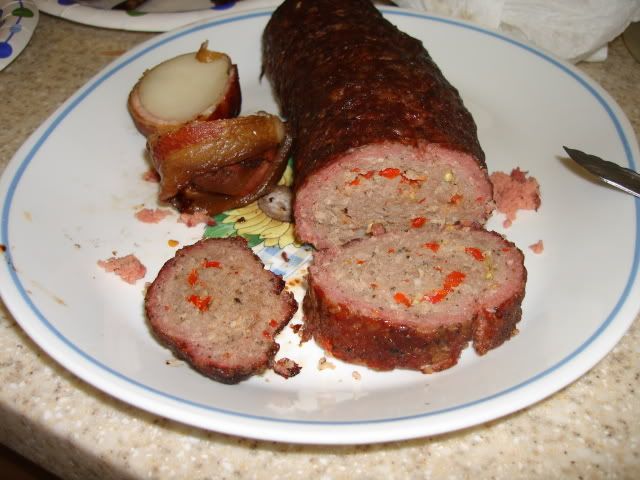 Beef chub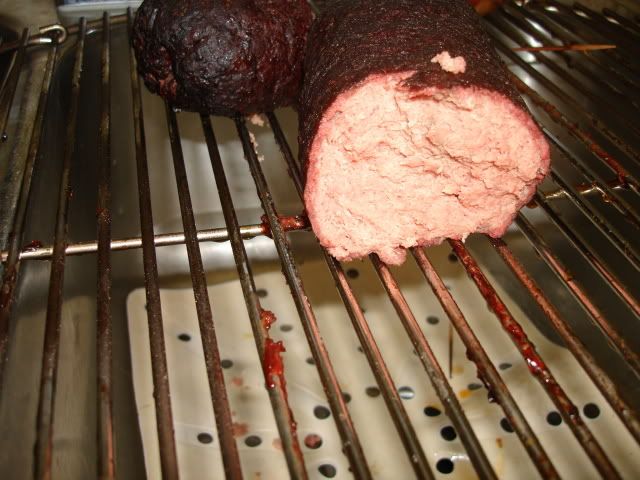 Great Butt!
Sunday breakfast, fried egg sammies with sausage fattie and bacon wrapped 'taters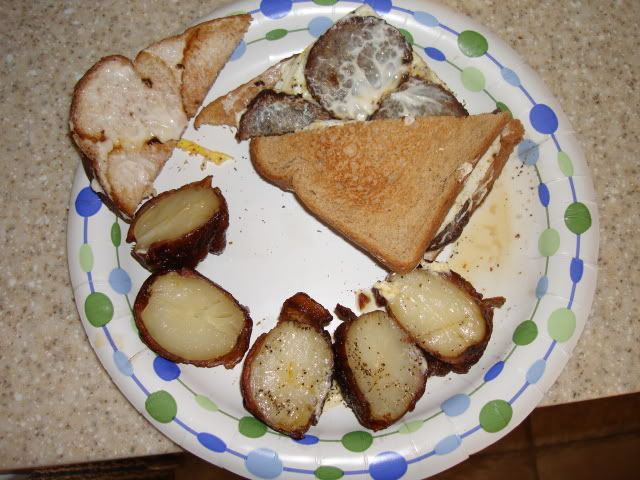 Thanks for lookin' at my first UDS smoke! I can't wait to get this thing nailed down.