Well, after getting my new drum and scrubbing it out Thursday, Friday I drilled 2 3/4" vent holes and 1 1 1/4" hole to accept a 1" ball valve. I've read that putting an elbow on the ball valve restricts the flow somewhat, so I went up one size from the standard 3/4" valve. I also cut the bottom out of the drum with a sabre saw and ground the rouch edges down. The Weber lid fit this drum perfect without having to do any hammering on it at all to get it to fit. Once that was done I drilled and installed the u-bolt grate supports and drilled and installed the thermometer probe port. I've got a thermometer ordered from Bubba, but until it comes, I drilled a hole under the second (lower) grate and stuck my turkey fryer thermo in there. All that was left to do was to put the top, now the bottom of the drum back on and season it. I ran up to Krogewrs and bought a can of their cooking spray and used the whole thing up all over the inside of the drum. I cut the bottom out of a 1lb coffee can and kept the plastic lid. I filled the can with the lid on with charcoal and dumped it in my chimney and lit it. While that was firin' up I set the can in the middle of my charcoal grate, minus the plastic lid, and layered charcoal and hickory chunks around it until the basket was full. When the chimney of coals was ready, I dumped them in the coffee can, then lifted the can out with some channel locks. I grabbed the handle of the basket and lowered it into the drum.
I left all the vents open and in 10 minutes it was up to 250º, in 30 it was at 350º and at the hour mark it was at 450º. I let it run up to 525º and shut it down to bring it down to 220º. Once it hit that temp, I stuck two plain 1 lb sausage fatties in it and let it run for 4 hours. It was windy out but it held at 220º - 240º beautifully the whole time. Saturday morning we had some great fried egg sammies with sausage fattie slices in them.
Drum's Marked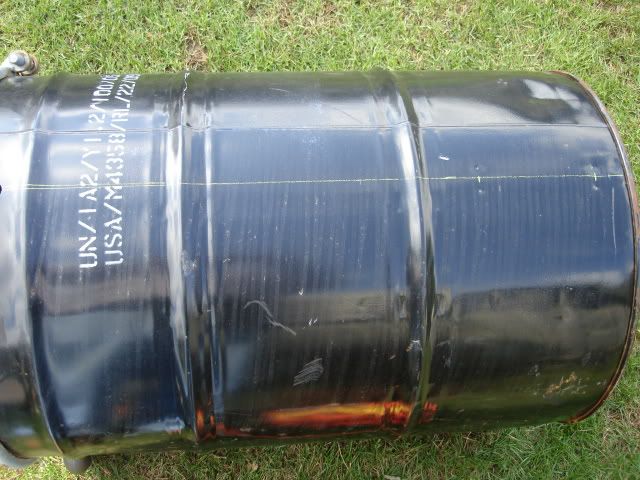 Holes drilled and 1" valve in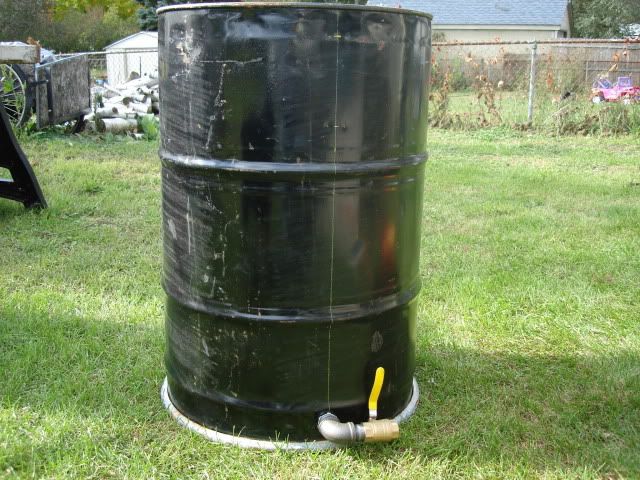 Grate supports in
Thermo in with helper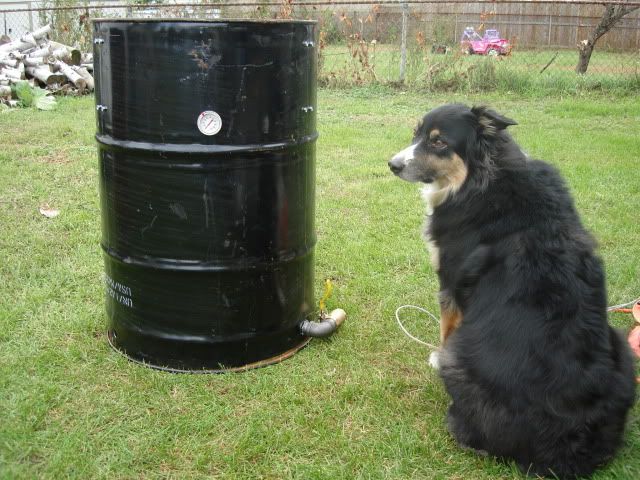 Bernie says "Where's the bottom?"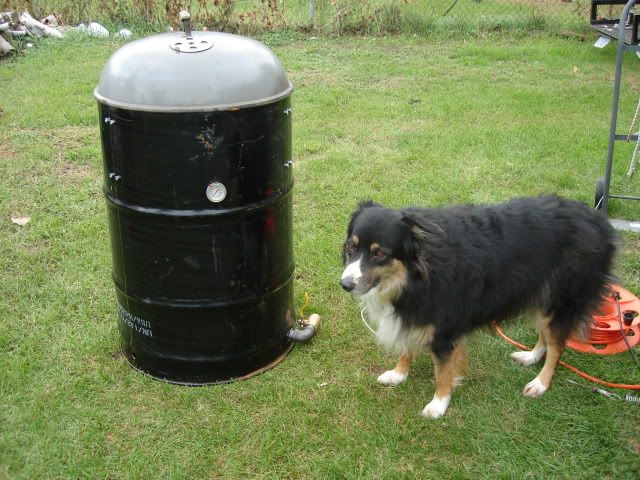 Charc basket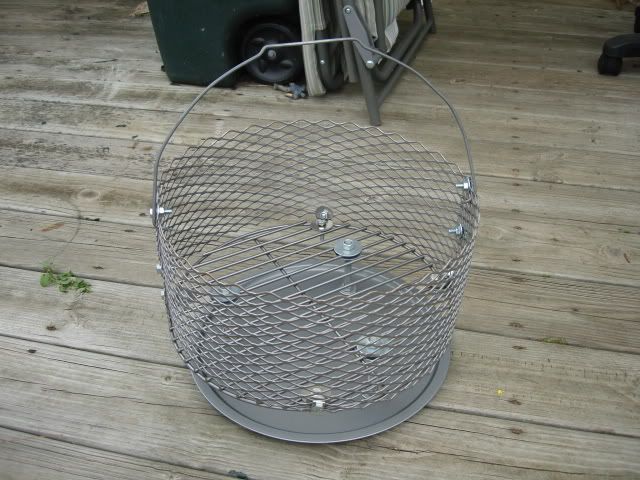 Charc basket loaded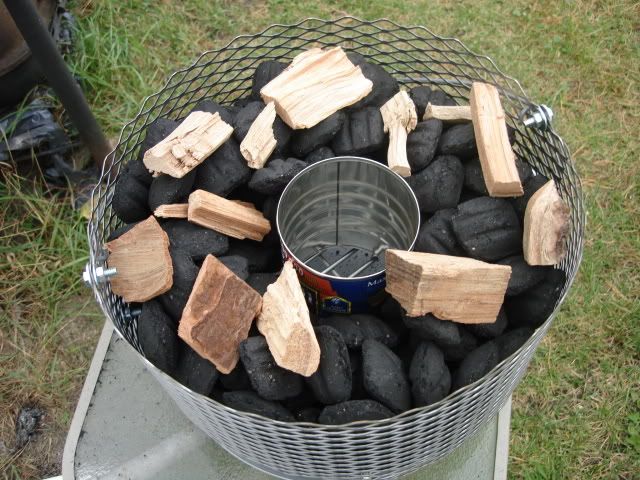 Hot chimney of charc in the middle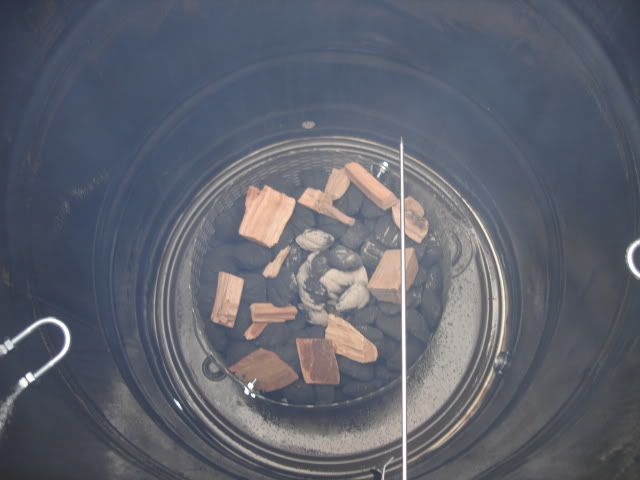 Thin and Blue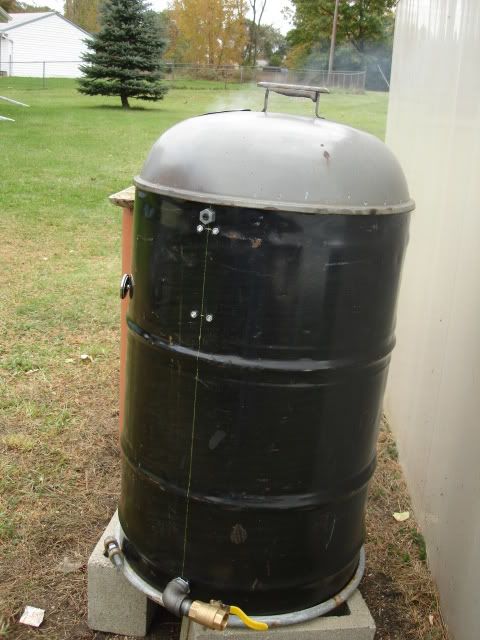 Heatin' up
Traditional seasoning fatties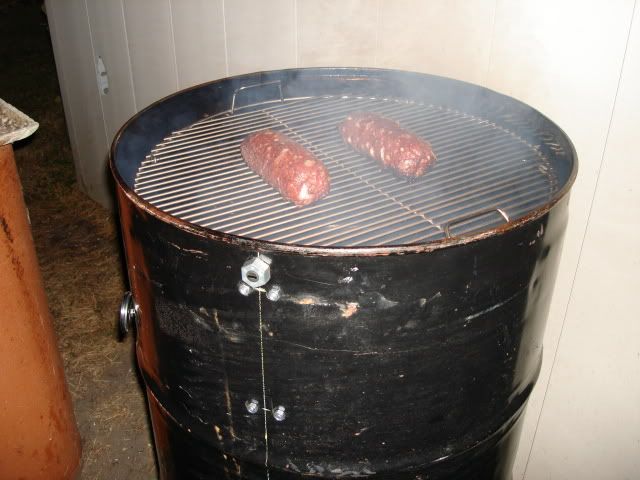 Ready for Saturday's breakfast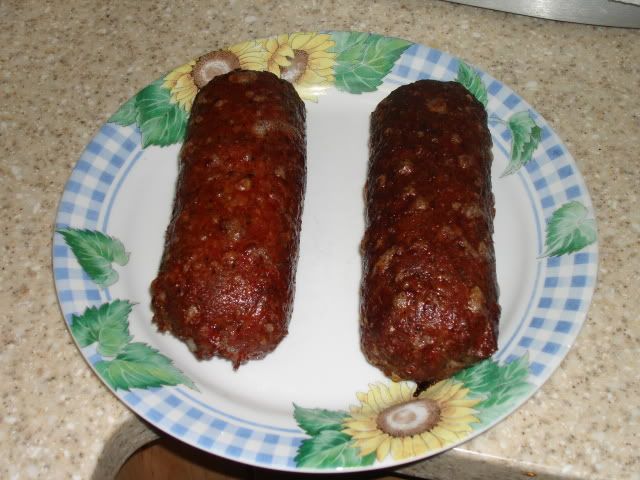 There's more things I want to do to this yet, but I needed it ready for this Thursday, so I hurried it up. I have to do 6 hardboiled egg breakfast fatties for Diana to take into work with her to feed the staff. I still want to put in another thermo port under the second grate, install the thermo from Bubba when it comes, put the handles on it, come up with a wheeled base for it and paint it all up pretty. But the paint job won't happen until next Spring.