Hello all,
Well, I've smoked several chickens, a lot of turkey, quite a bit of pork, a few fatties, a dessert once, many batches of ATB's, and even venison three very successful times. The one thing that has intimidated me since I started this awesome hobby is the might brisket. So, tomorrow is the day I tackle that foe. By the end of it, I hope to call it my friend. I've read many many posts. I'm prepared for the plateau... I have my rub in mind. (Jeff's awesome rub that I have enjoyed on everything I've put it on so far!!.. I figure why stop now?!?!) I've got my wood and lump all ready to go. Thermo's checked and working... BUT... I'm still struggling with one big step... When to start?
This is a small home grown brisket. I'm not even sure if it's a flat or a packer? I think a packer?? Or does it even get qualified like that when I raised this beef? It's in two pieces because that how my butcher processes it. He says he can't vac pac a whole one?? I figure, no matter, with my little smoker I probably would have had to cut it in half anyway just to make it fit? So, here it. Seven pounds total. One half weighing 4 pounds (on the left) and the other weighing right at 3 pounds. Dinner is at 6 p.m. If I understand right, it can (and only benefits from sitting in a towel lined cooler for up to five hours. So, I get it... there is a pretty big window... but... I'm still nervous about starting to early or to late?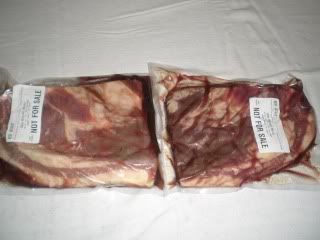 Help! What do you folks think?
Thanks... as always... any and all input is welcome and appreciated. More q-view to follow.
Yours in smoking,
Smoke Chef