Yesterday morning while rummaging through the deep freeze to find something for dinner, I ran across a pkg of country style ribs that had been in there for about 6 months, so out they came and into a pan of water to thaw. Now usually when I fix these things, I put a rub on them, then take them out to the gas grill and brown them up really well on all sides 1. To give them a nice char flavor and 2. To melt off a bunch of the fat (I refuse to Bubbasize them and boil them). After that I throw them in the crockpot, pour some BBQ sauce over them and let them cook on low all day.
Well, I knew I was going to be outside working on cutting the bottom out of and grinding the liner out of the drum smoker I'm working on so I said, Self.....smoke 'em! I hated the idea of runnin the smoker with just 5 ribs in it so I rummaged some more and came up with 2 rolls of Italian sausage and a roll of hot sausage that I decided to make some fatties out of.
At summer fairs and carnivals, I love the Italian sausage sandwiches smothered in grilled onions and green peppers so one fattie was being made that way and because hot breakfast sausage is never hot enough, I decided to add some jalapeños to the next fattie. I threw some onion in too for good cause.
The ribs were rubbed with some of Rich's rub and were sitting there while I chopped peppers and onions and made the 2 fatties. Once the meat was ready, I dumped half a bag of charcol in the SnP, started up a half chimney and poured it over the vent end of the pile and when it came up to 225º topped it with a few chunks of maple and hickory and added the meat. Surprisingly as breezy as it was out, this smoke was one of the most fuss free I've ever had with that pit. Usually I'm having to tinker with it most of the day to keep the temps even, but it pretty much ran between 220º and 240º for the 3 hours that I cooked.
When I took the fatties out after 3 hours, I brushed the ribs with a light coat of Famous Dave's Texas Pit BBQ sauce, not much at all, just enough to make them slightly sticky and shut the smoker's intake vent to shut the fire down, leaving the ribs inside. They stayed in there for another hour until Diana got home from work and we ate dinner. The ribs came out tender and had great flavor.
A couple hours after dinner I sliced the 2 fatties to try while watching TV and Diana who I know doesn't like spicy at all wouldn't try the jalapeño fattie and doesn't usually care for Italian sausage, raved about the Italian fattie. As for myself, it was all I could do the save some for today. Diana stole a platter of slices of both to take to work with her today and I've gotten 4 phone calls so far begging for me to make and send whole rolls to work with her. As it is, I already have to do 6 breakfast fatties stuffed with hard boiled eggs for her to take into work later this month to be sliced and served on toasted English muffins to feed the school staff breakfast.
Here's some proof/pics
Ribs rubbed and waiting: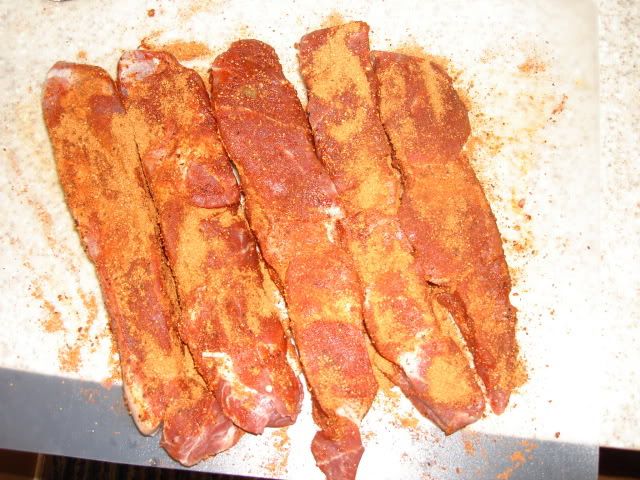 Ready to make fatties: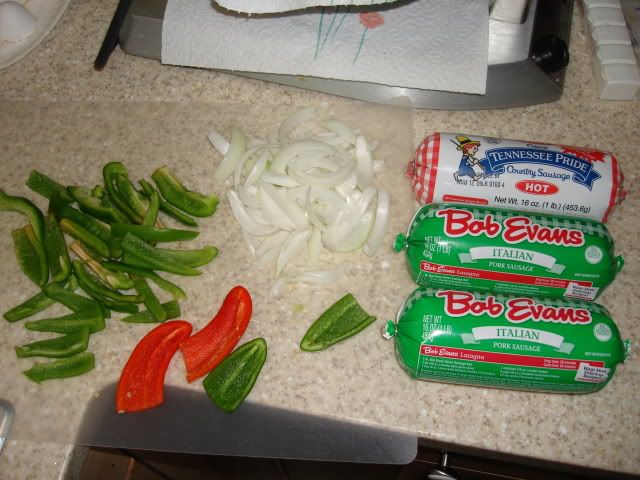 Hot sausage, jalapeños and onions: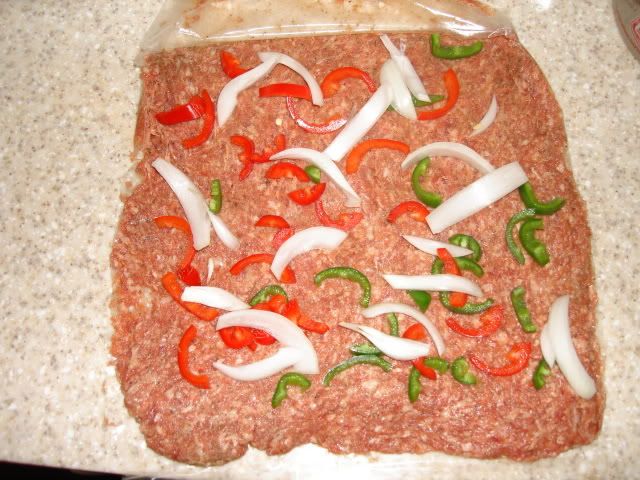 Italian sausage, green peppers and onions: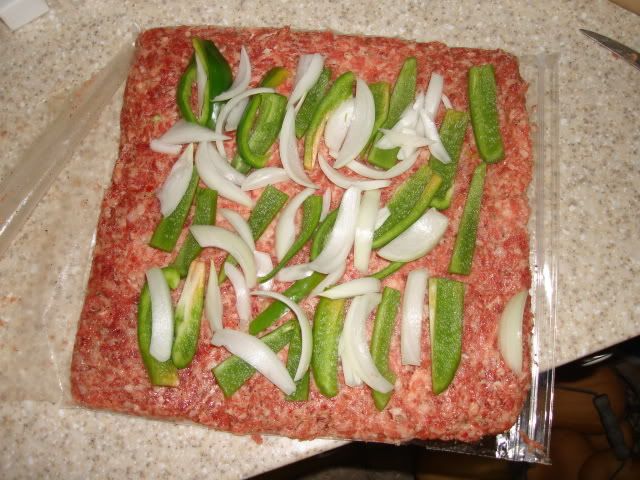 Fatties come out: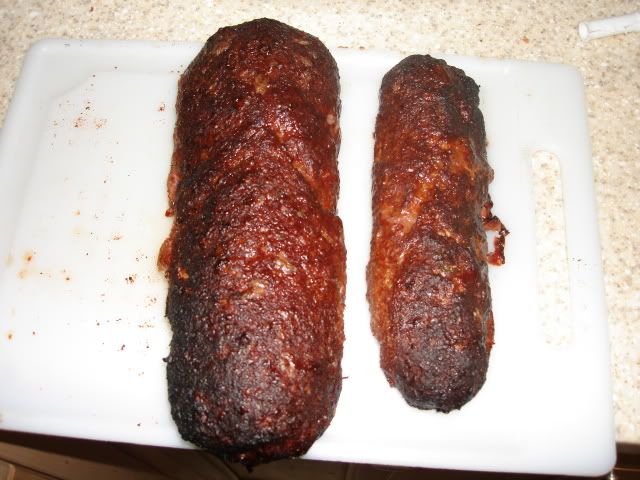 Ribs come out later: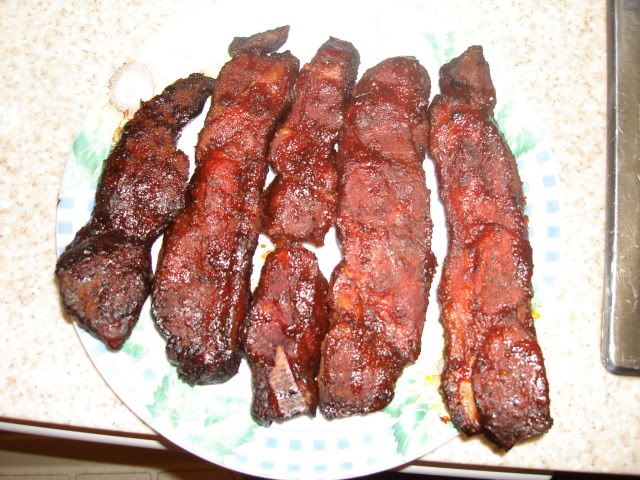 Rib meat, mashed taters, green beans and Butternut squash from the garden: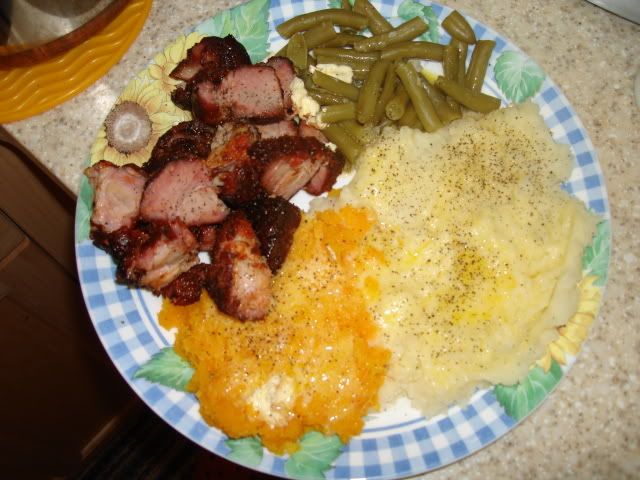 TV snacks: