First time doing any of these meats much less all at once. Was gonna just smoke tritip but figured I'd try CSR and wings at the same time because they were on sale and so cheap.
I marinaded the tritip and CSR in a root beer / Pappy's mix overnight and injected both of them with the marinade before putting them in the smoker.
I brined the chicken with the following brine (first time ever brining chicken)
2 qts water (filtered)
1/2 cup sea salt
1tbsp garlic powder
1tbsp onion powder
1tbsp paprika
I just did one package of wings to try them out. Tossed some in Franks. Tossed some in Lucille's BBQ sauce and seared on the grill. Both were just fantastic and juicy and moist. Can't wait to do a big batch for a bunch of friends.
I loved the country style pork ribs. So easy and cheap and great flavor. Will definitely be doing these again.
The tritip was pretty good. Next time I'll try a different marinade as I'd like more flavor. Came out extremely moist, though and the smoke flavor was killer. The tritip only took 2 hours and 10 minutes and it was a big one.
Did 50% hickory and 50" apple. Wanted to mix in some cherry but none of the hardwood stores near me carry cherry wood.
Chicken in the brine:
All meats in the smoker. Put tritip in first, then ribs, then wings. Next time I would put the wings and ribs in at the same time.
Wings done: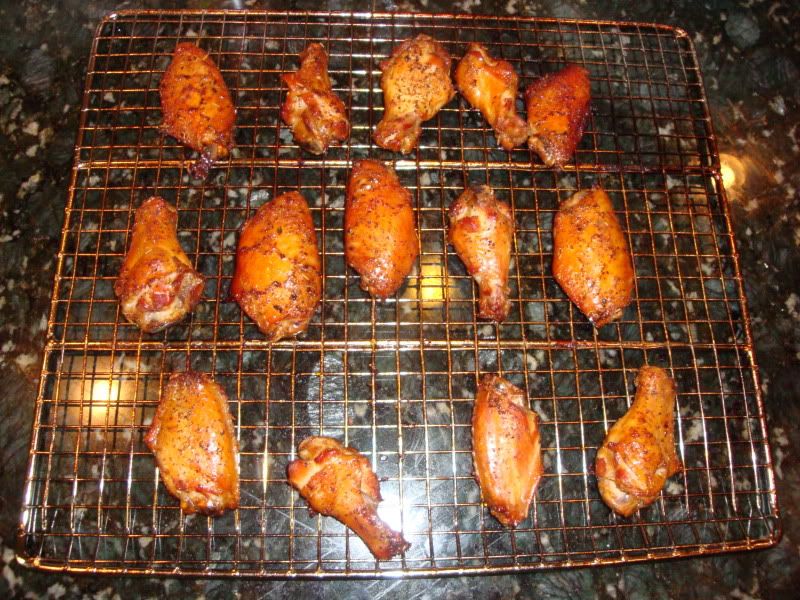 Wings with Franks:
Wings with Lucille's BBQ Sauce and seared:
My son Jackson loved the wings!!!
Wings gone in about 5 minutes:
Country Style Ribs done:
Tritip, finished earlier than I thought it would and was wrapped in foil for about an hour. There were a ton of juices when I unwrapped: