With Fall in the air a good hearty flavorful sausage sounds good and it is Oktoberfest time!
Recipe I used was as follows
6 lbs pork butt
4 lbs beef chuck
1T ground nutmeg
1T CBP
1T ground celery
1T ground allspice
1t ground marjoram
1t ground caraway seed
1T ground coriander
3T powdered dextrose
1t whole mustard seed
3T kosher salt
1T cardamom
2t insta cure #1
1 12 btl beer(good quality wheat beer)
Cube meat into 1 in chunks. Completely mix all dry ingredients with beer and pour over cubed meat in meat tub. Mix well. Grind meat mixture thru 3/16" plate and mix again thoroughly. Stuff into hog casing and twist links at about 6 in.
Place links on smoke stick and into smoker at 90o with no smoke to dry. Add smoke and turn up temp to 135o for about 4 hours and raise smoker temp to 165o until internal temp of sausage reaches 152o.
Cool in ice water until internal temp of sausage reaches 90o. Hang to bloom at room temp for a couple of hours.
Meat cubed up and mixed with the other ingredients.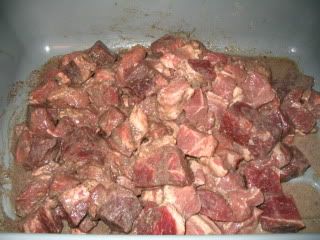 Hog casings stuffed with my trusty LEM vertical stuffer. One of my better purchases.
And into the smoker for a total of about 9 hours to reach temp.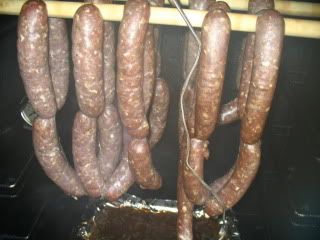 Pulled them out to cool and bloom about 2:00am this morning.
This is a great recipe I'd highly recommend trying. Very strong and flavorful. Gonna be good with some sauerkraut, potato pancakes, and spaetzle!
Thanx for checking it out.
Lou