After lurkin in the bacon section for a while, I got toooooo hungry and thought what the heck. Picked up a 4.8# belly and cut it two to fit in some ziplock baggies and on day 1/10 of the cure.
Cure mix:
~ 5 TBSP TenderQucik (4.8# of meat)
~ 5 TBSP Brown Sugar
1/2 TBSP Onion powder
1/2 TBSP Garlic Power
1/4 Cup Real Maple Syrup.
Q-View comming when the cure is done unless someone wants to see bellies in a bag....maybe I'll do a documentary of what it looks like when the cure happens...
--EDIT--
adding Picts to top post so you don't have to scroll.
New toys.
Got this for 25 off craigslist...never used
Got this to slice er up(Well mom and pops suprised me w/ it):
In the smoker. I did 2 somokes on this each for about 5 hours.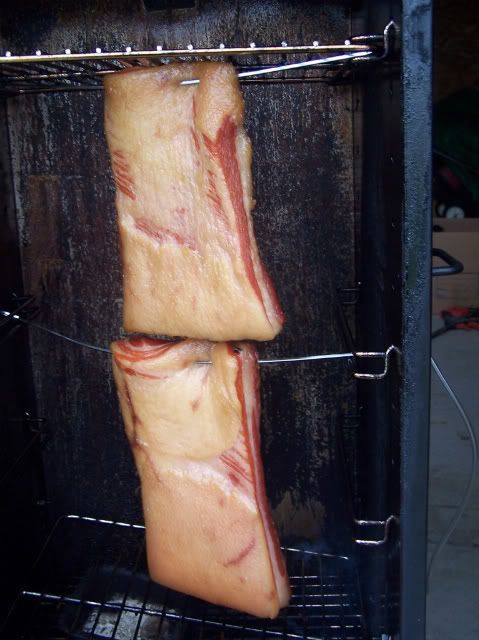 Done with smokes and into fridge in baggie for 24 hr.
Put in freezer for an hour and then sliced em up: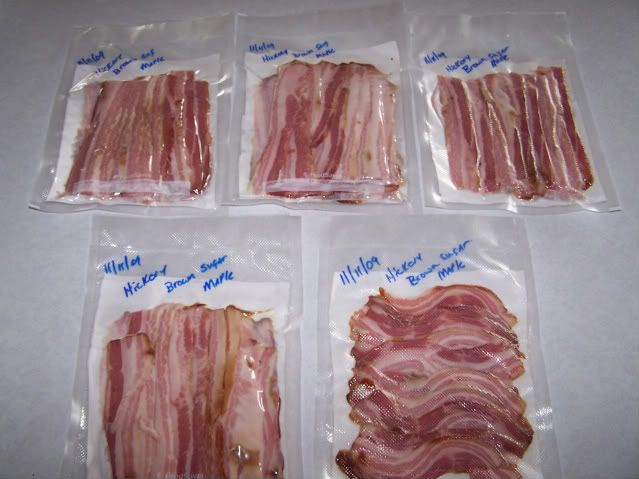 Turned out great for the first try. I can really taste the maple syrup and the brown sugar. Hickory smoke is really noteable. To that point, I think my next batch will not contain maple syrup nor brown sugar...Try one plain or with a 'Hickory Burger' seasoning, and maybe some CBP bacon...
Definatly a must do again!