With hunting season here I need to re-stock my snack stix supply. So this past weekend I did about 8 lbs worth and used the recipe out of Rytek Kutas - Great Sausage Recipes and Meat curing for cooked Pepperoni. I used beef chuck and pork butt about 50/50 and stuffed into sheep casing.
I let them cure over night in the fridge and then onto the smoker. Started out at 130o for a couple of hours to dry then bumped it up to 150o with hickory.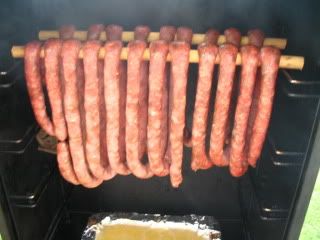 Bumped it up to 170o to bring the internal temp up to 152o then into a ice water bath to cool and then hung up to bloom.
Did they ever bloom. You can see the difference in the color.
The taste was pretty good but I think the anise is a little on the strong side and I think these sausages texture will benefit by drying out some so they are now hanging in my beer fridge with a wet towel to keep the humidity up. I'll let them stay in that environment for about and week and see what gives.
I'll post final pics and thoughts when they finish drying.
Lou