Getting some prep done for my all day pork, and football feast tomorrow. Picked up a slab of spares that weighed in just under 7#'s. Also grabbed a bone in butt that was just over 5 #'s.
Trimmed the spares, I saved the skirt for some future cooking, and I am going to do the tips tomorrow as a snack.
untrimmed: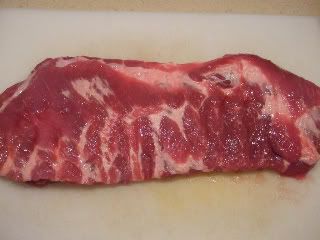 trimmed:
I am going to inject the butt with the following marinade later this afternoon, and then rub the butt with mustard, and a rub then wrap, and refrigerate until tomorrow morning. I will apply another coat of the rub before putting the butt on the smoker. I am also going to toss the ribs, and tips in the leftover marinade I dont inject in the butt for a couple hours before applying the rub on them & smokign them.
I plan to use up the rest of my cherry, and oak for this smoke.
marinade recipe:
1 qt apple juice
3/4 cup O.J.
1/4 cup Lea and perrins
1/4 cup cider vinegar
1/4 cup hot sauce
1/4 cup brown sugar
Gonna serve the pork tomorrow for dinner on Hawaiin rolls, and topped with some cole slaw I am doing(bought the pre-shredded veg, but I am doing the slaw dressing from scratch, I will post a recipe of that later.)
more pics to follow as the prep, and cook goes on.
thanks for looking.