After my last failed attempt at Lomo al Trapo, I knew I had to try it again. For those who missed it the first time (yea), this is a beef roast, traditionally center loin, packed with salt, wrapped with a clean towel, trussed and cooked over hot embers.
The last time I had too small of a cooking surface, forcing me to pick it up to rotate. The think fell apart. This time, I had a plan to resolve that issue.
As in last time, I'm not spending over $50 for a cut of meat, especially for something I'm experimenting on. So, this time I picked up a 5.5 pound eye of round. Not any where near a loin, but in my price range.
I first squared off the ends (to all for more even cooking) and trimmed away any fat or tough tissue. I then studded it with garlic and jalapeno strips. Finally I cut a slit in the center of the roast and stuffed a few carrot and mozzarella strips.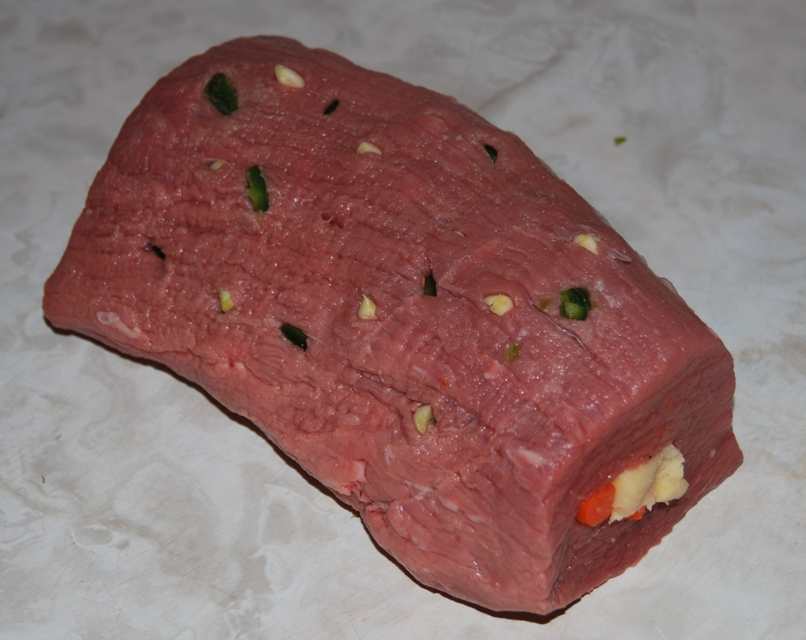 Next I laid out a kitchen towel (new, unused and clean) and poured about 2.5-3 pounds of sea salt. Spread it even with my hand and dashed Oregano, Basil, and Thyme.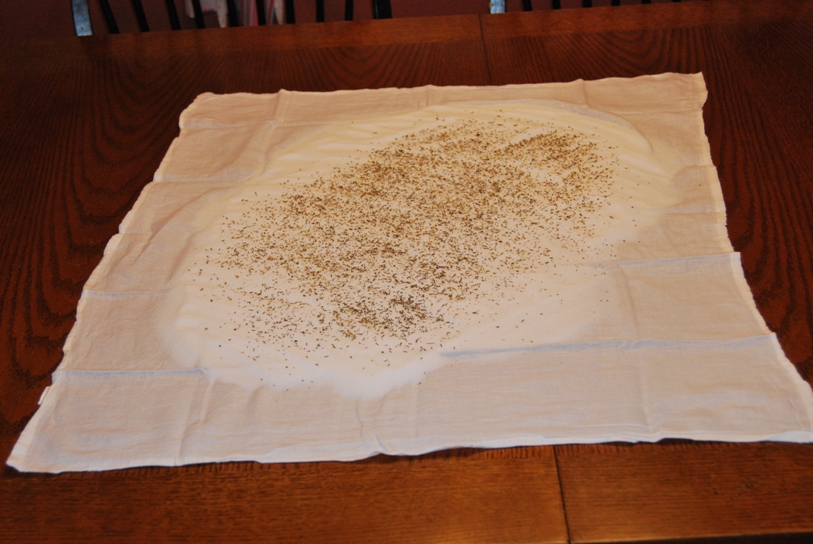 Carfully wrap the towel, starting with the long ends of the roast. Make sure that all surfaces are somewhat evenly coated with salt, and finally truss. Now, after my last go around, I wanted to make sure this thing didn't fall apart. So, I used aluminum wire, which will hold up to the temperatures and all for a nice handle for removal.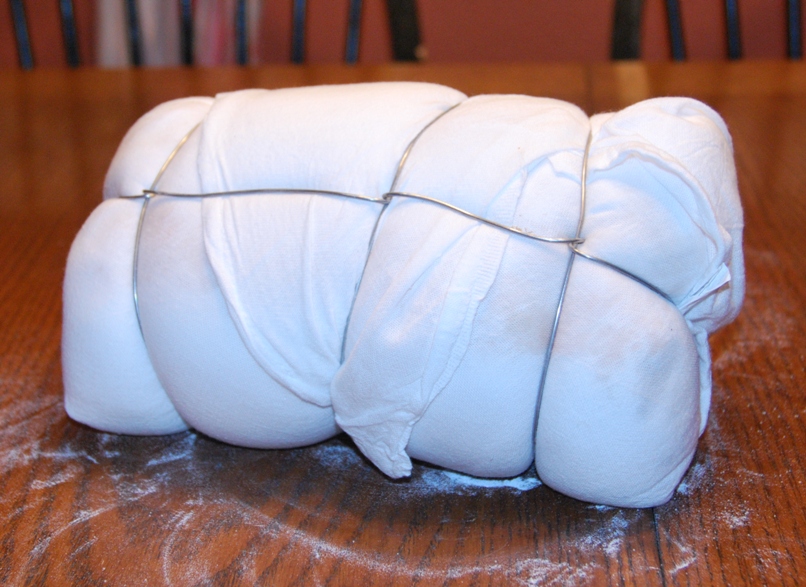 Here's the handle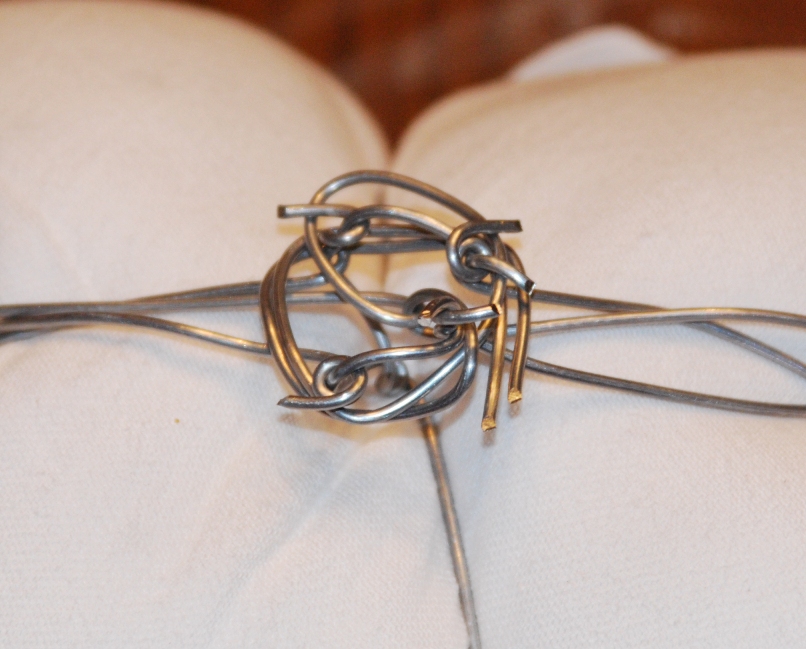 This time I used my drum. I removed the primary grate and replaced with an older one (one not used for food contact....it will be getting hot folks). Spread a nice even coat of hot coals. This is about 3/4 of a 10 pound bag of Royal Oak. Lay the Michelin Man (the wrapped roast) on one side, as you will be rolling it over about half way through.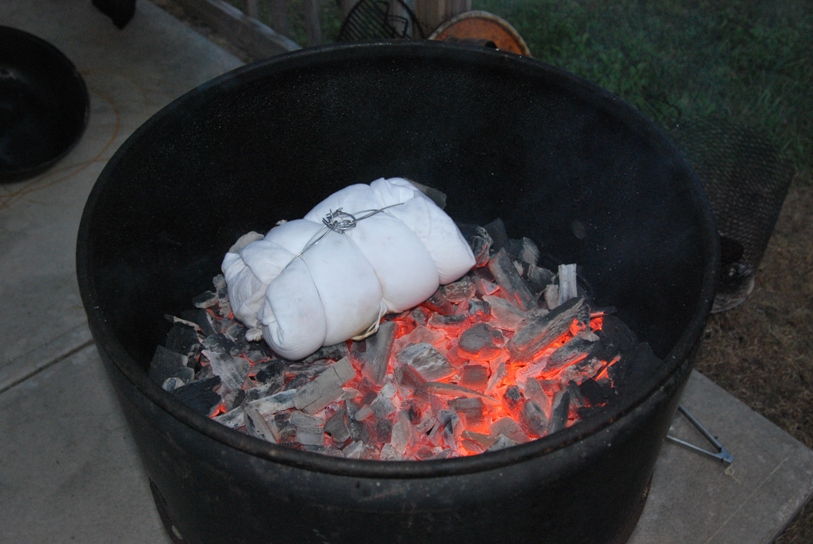 At about 15-20 minutes, carefully roll the thing over. I pushed coals up to the sides and even a few more on top.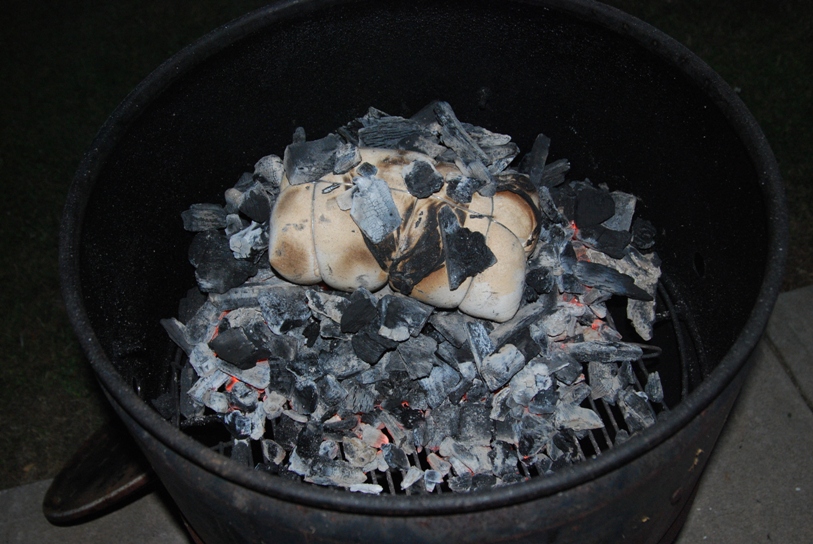 After another 15 minutes, start taking it's temperature. Yea, how heck are you going to do that? You choose for yourself how food safe you want to be. Me, I used a drill and poked a hole through the hardened salt. I pulled it when the center was about 135. Let it coast to about 10 more degrees. But I'll be honest, the outsides went way over that.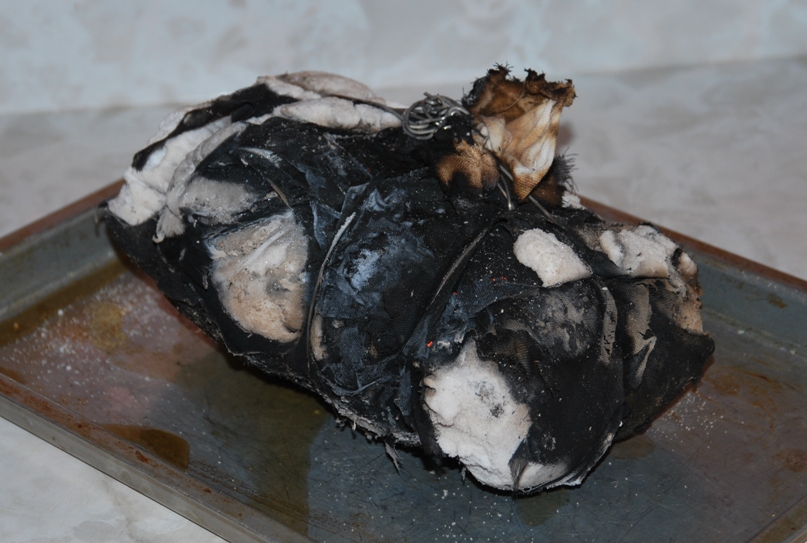 Remember, the aluminum? Yea, I think it got hot enough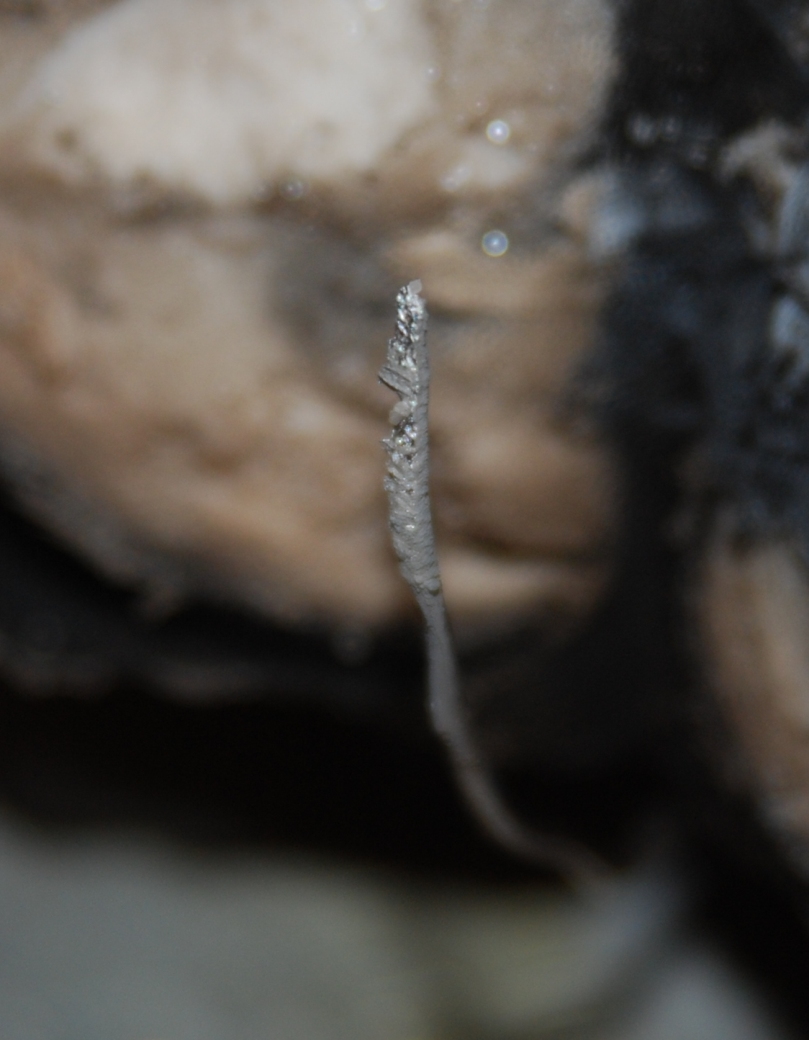 When it's time, cut the wires, and wack the thing with a large knife; just enough to get to the meat. The less you tear up the shell, the less salt will stick to the meat. Carefully remove the roast from the shell and brush away any salt on the surface.
Here's the center cut view after a rest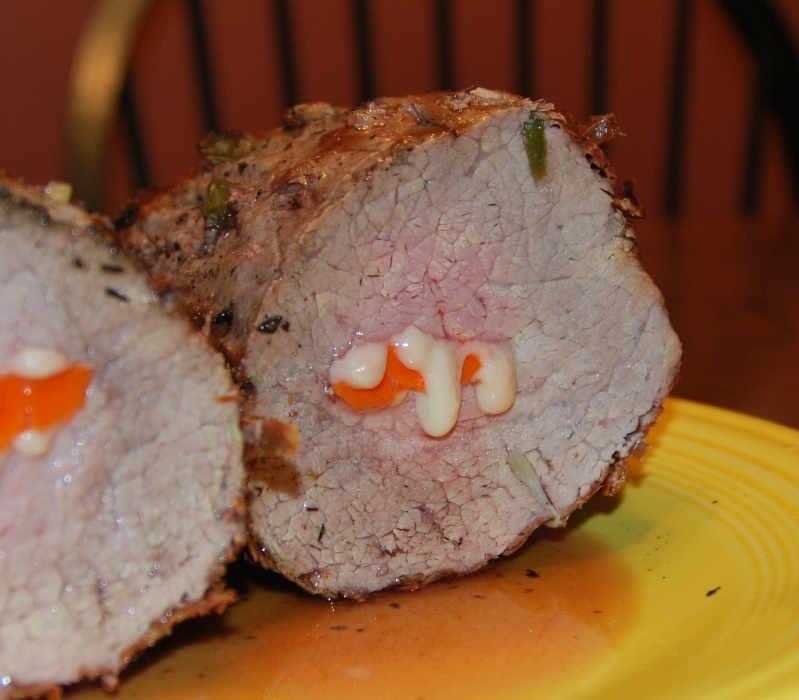 I'll be honest, I really wanted to love this. I mean think about it, cooking meat in a bundle over an open pit. It'll bring out the inner cave man in anyone. With that said, it's just not my thing. The outsides get way overcooked in order to make the inside food safe. It's juicy, I'll give you that. The shell keeps all of that moisture in. It also keeps any fire or smoke flavor out, so why not cook it in the oven. As for me and my house, we want smoke.