Last night I just had to smoke something after checking out cajonsmokes pictures.
So I stopped at the local market, got a 1 1/2-2 lb chuck steak, fresh asparagus, roasted marinated red bell peppers, tomatoes, mushrooms, some cheese and got busy. It was late around 8:00 pm. so just got the veggies already roasted and marinated, on any given day I'll do these my self but worked great in a pinch. A few pics not so clear but here goes.
Here's the ingredients.
Pounded the chuckie to 1/8"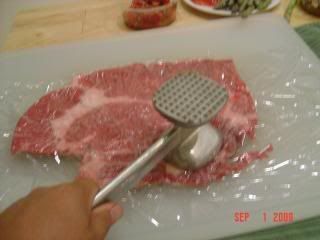 Seasoned with my mixture of spices, layed down some cleaned asparagus
Then some roasted and marinated red bell peppers
Top of that goes the roasted and marinated tomatoes
Then the marinated mushrooms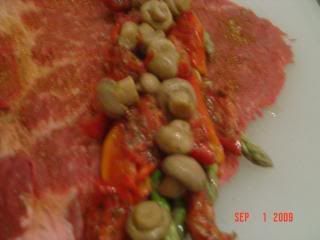 smotherd on some mozzarella and parmessan cheese
Rolled it all up, then rolled on some bacon
I then rolled it in some plastic wrap to get it nice and tight
While prepping the chuckie I got the smoker going, nice, got the propane smoker up to temps in 1/2 hour, set it to 220, on goes the chuckie I also had a water pan under the chuckie for some moisture
Got to enjoy the
TBS
and the view of Las Vegas from my back yard
2 1/2 hours and this baby was done, I pulled it out at 150
Boy was I surprised how juicy this turned out. the marinated veggies just exploded with flavor, it basically was marinated in italian style dressing, some vinegar, water, herbs, garlic etc. but that combo was great, you got the smokey bacon and beef with some cheese action and the veggies added a good juicy flavor burst, really nice.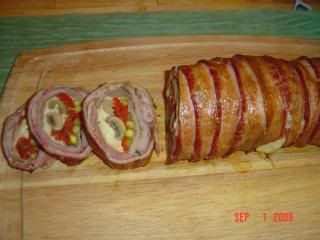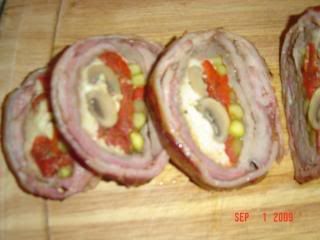 Enjoyed a nice dinner, alittle late but I was on a mission to do smoke something for dinner. I put the chuckie roll in the smoker at 8:45 and pulled it out at 11:15, Thanks for checking it out.