It's Sunday & I have 2 racks of spare ribs & a lawn that needs mowing. I'm going to try something a little different today. First I'm only going to trim off the skirts & tips. I usually trim them down St. Louis style. Also I'm going to do a modified 3-2-1. 4 hrs. in smoke, 1 1/2 hrs. in foil, then 1/2 hr. on the grill with sauce. I have never sauced the ribs before. I always did them dry with Jeff's rub & served warm sauce at the table. However the last guests we had said the best ribs they ever had were bbq'd with sauce, so I thought I'd give it a try. Here are the ribs ready for the rub.
The rub I used is Jeff's. I covered them with yellow mustard, then Jeff's rub, and also a dusting of CBP.
Here they are ready to go in the smoker.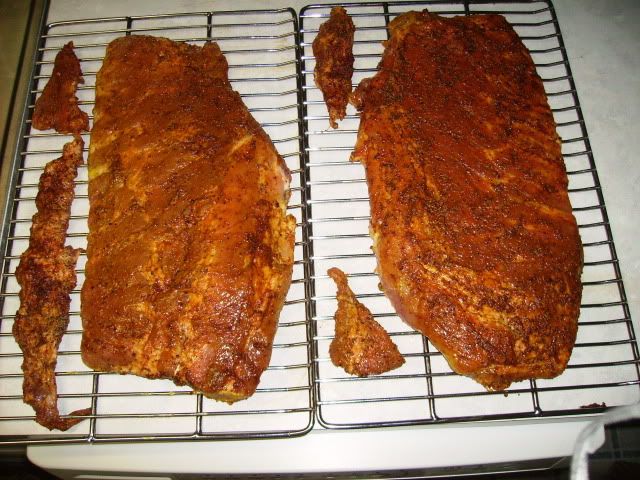 They have been the smoke for about 2 1/2 hrs., so we took the skirts & tips out & had a couple of beers & bbq sandwiches. Tender & full of flavor. I will post more Q-view later, but now it's back to the lawn.
Al