all right so i never made canadian bacon before... been talking about it for a long time but never went thru with it. well late week befor last i decided to take the plunge being i had a loin and all. but the question was how??? so i did some back research and settled on 3 recipies, tips slaughterhouse brine, shooter ricks, and wutangs candian bacon recipies. got all 3 going and thurs nite did a fry test and did some soaking as i felt needed to meet my taste as far as salt was concerned.
trimmed the fat from a loin and split in thirds, an electric fillet knife does the trick real well!!!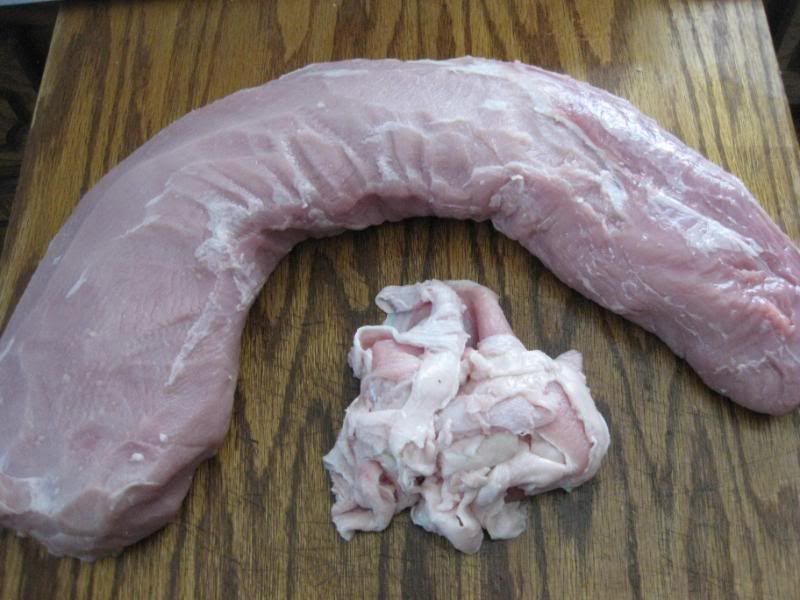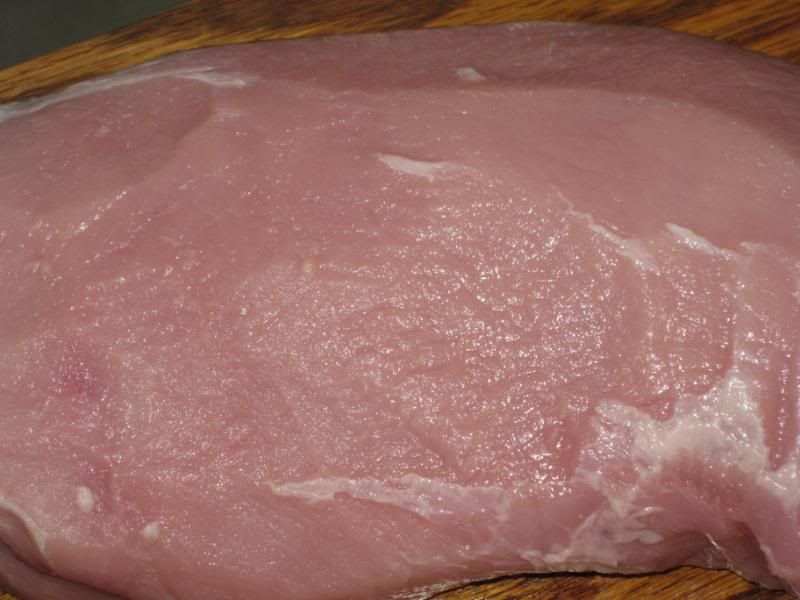 got the stuff for recipies together
tips slaughterhouse,plus a lil molasses... just add water...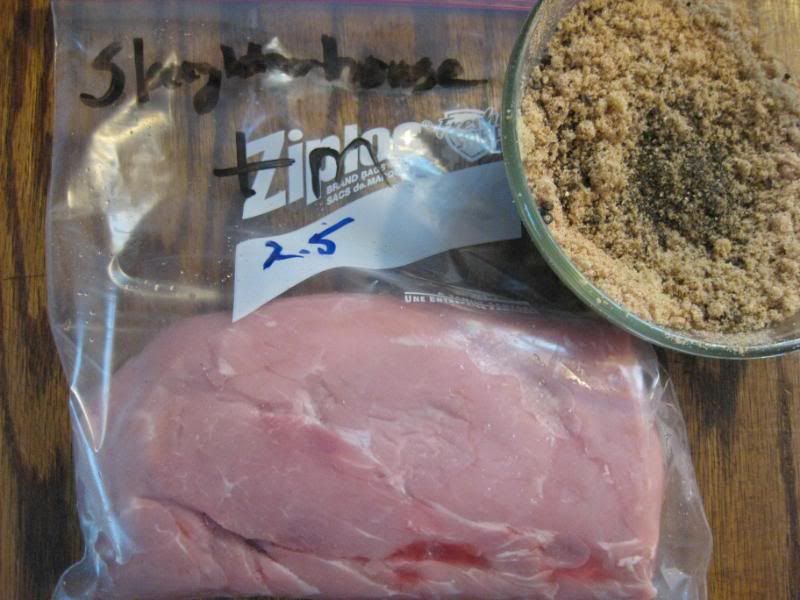 shooter ricks...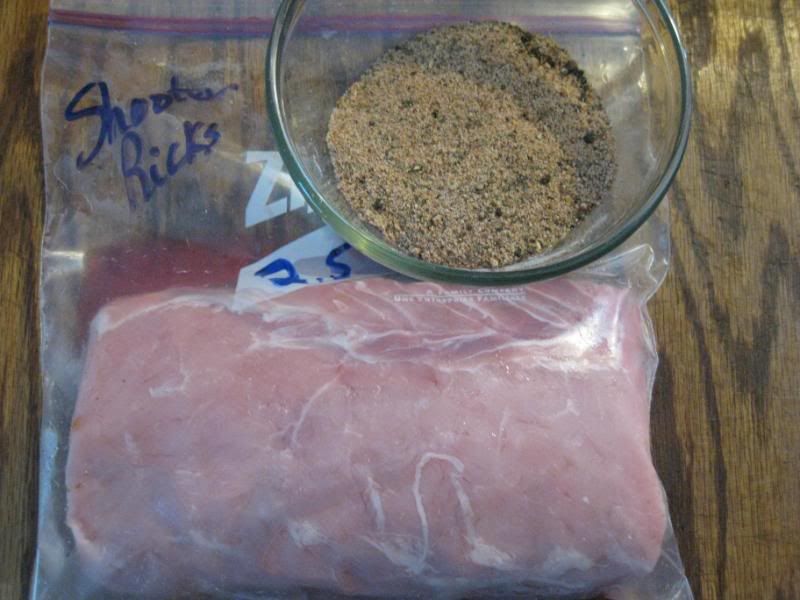 last but not least, wutangs plus!!! added a little jerk seasoning to it.
here the trio ready to start the cure journey,in the brine is tips weighing in at 2.5 lbs, center is wutangs at 2.25, and to the right shooter ricks at 2.5 lbs.
ready for smoke...
being i doing 2 butts and a brisket in the gosm figured i would see if the masterbilt still worked, only second time i used it!!! note the probe not inserted into loin yet at this time.
inserted probe later into the smoke. note i put in middle sized chunk, also i put the larger piece to the right which is directly above the heating element. it runs a little hotter on that side.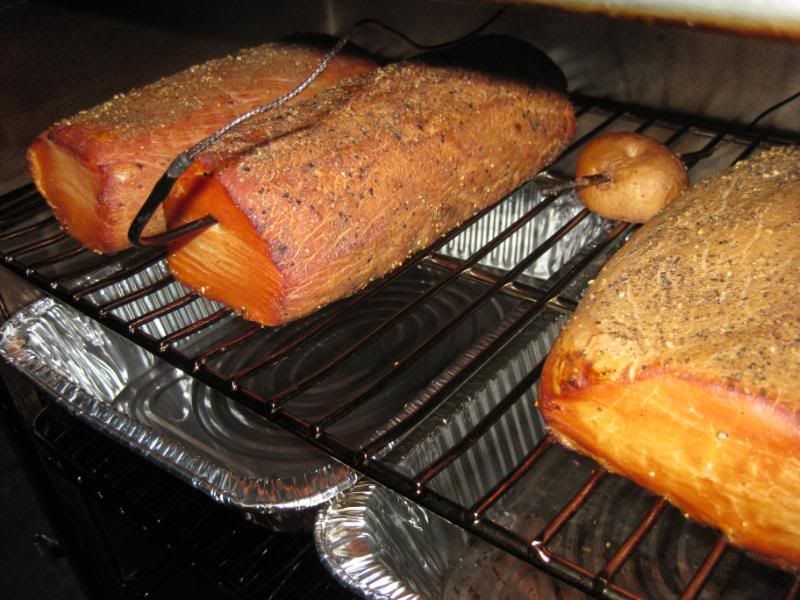 tookem to 160 deg, good for imediate consumption without any cooking.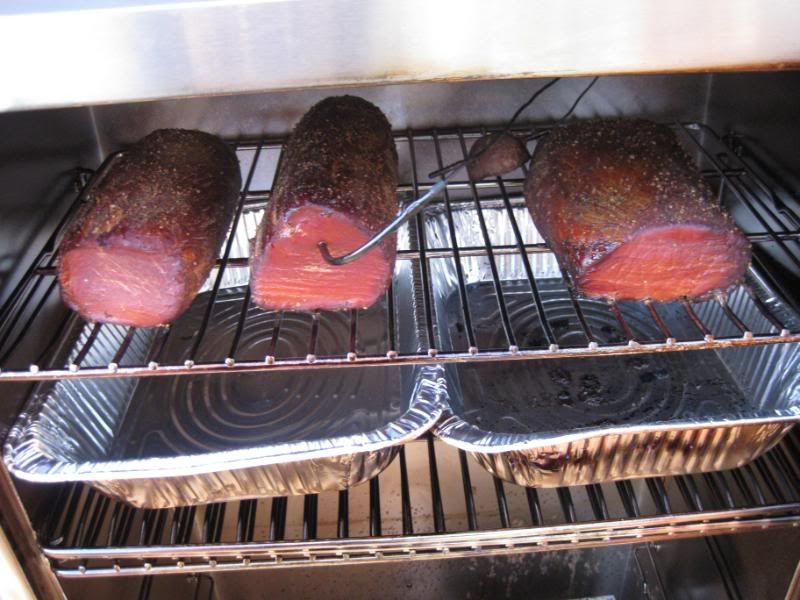 and here is the finished product, l to rt is slaughterhouse,shooters, and wutang style cb. i am not going to judge these on here as they were all good tasting and each has its own factors, the slaughterhouse is a more mild flavored cb, shooters is a little more aggressive which for those with happy taste buds will appreciate, and the wutang style was well pretty dang special as well, i think that jerk seasoning was pretty awesome on it. the only thing i did notice and you will be able to see in this sliced picture was the texture of the brine/cure canadian bacon, it was not the same as the other two which were in a dry cure. that however took nothing away from it and maybe i sliced it a little to warm, i was a bit anxious to try it out. great job to these peeps who posted there recipies and allowed me the use of them. thank a bunch!!!
thks for cking my pix!!!