I started with this ugly barrel I got from local restaraunt. This has been burnt and I put in 4 3/4 inch pipe nipples with caps on three and a 1/4 trun ball valve on one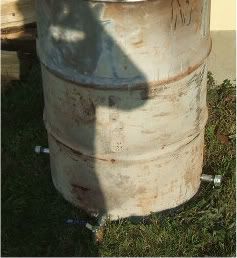 I decided to go with 2 racks and Joanne thought the silver on the stainless steel bolts were nice so I didn't paint them. I also have a small whole between the racks for my temp gauge. The bossman sent your young labourer to get the grills from Edmonton (a 2 hr drive from the job site) LMAO he came back with a bill for $75 and 2 really nice Weber grills.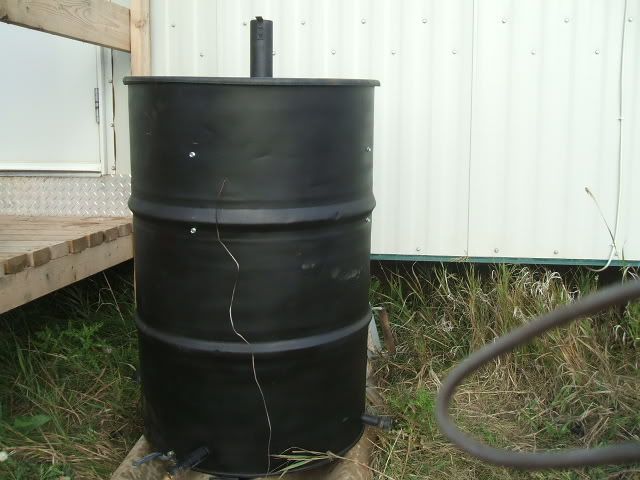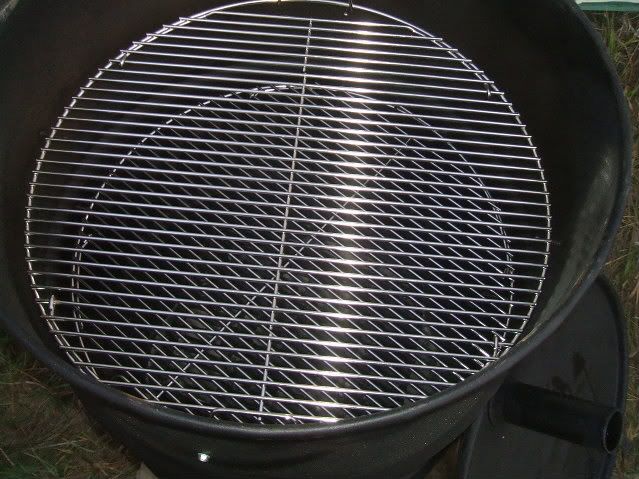 My basket is an old grill from my hibatchi with 4"D x 12"Wx 15"L expanded metal wired to it. I have 5" carrige bolts to hold the basket 4" inches from the bottom. I am using royal oak lump and rounds of birch.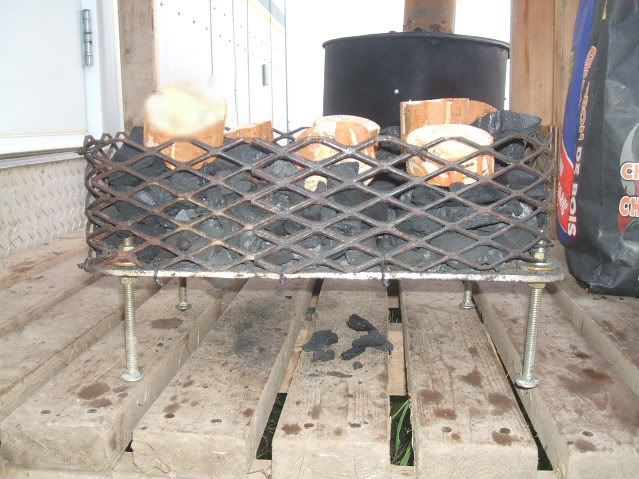 And here is how the day started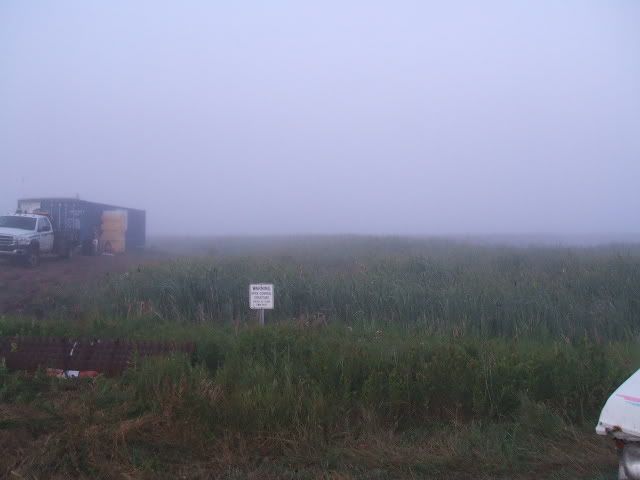 6:30 am getting things started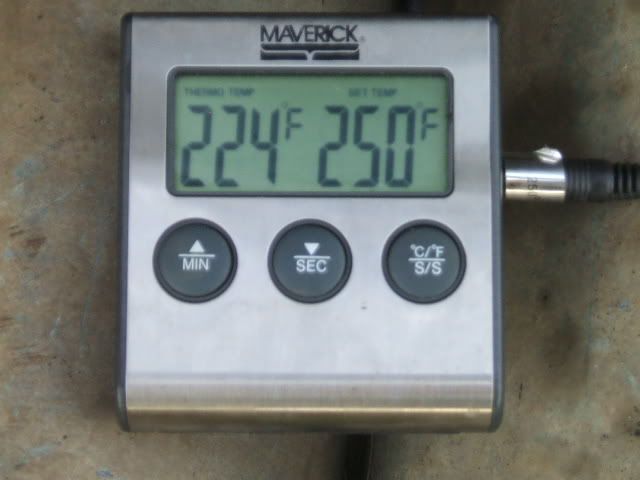 Was no problem to get the UDS to hold 225 for over 12 hr with one basket. ( I just continued the burn to see how long it would last)

On go the ribs and a chunk of 2x4 to hold the probe.

The ribs are 2 diffrent kinds I soaked both over night in OJ then got Jeff's rub, half the ribs I added Cayanne pepper and crushed pepper flakes. I made a sauce of OJ and orange marmilade with some montreal steak spice, and one with OJM and cayanne sauce with more pepper flakes (this stuff is hot)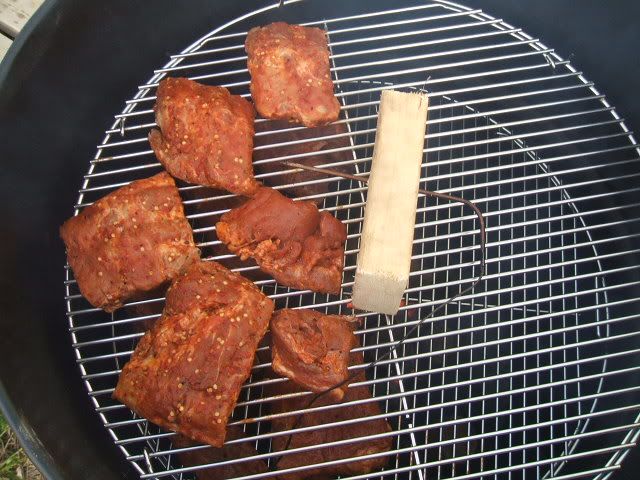 I wasn't thinking when I put these on the hot ones are on top so wde had all hot ribs lol. After 2 hrs on goes the fish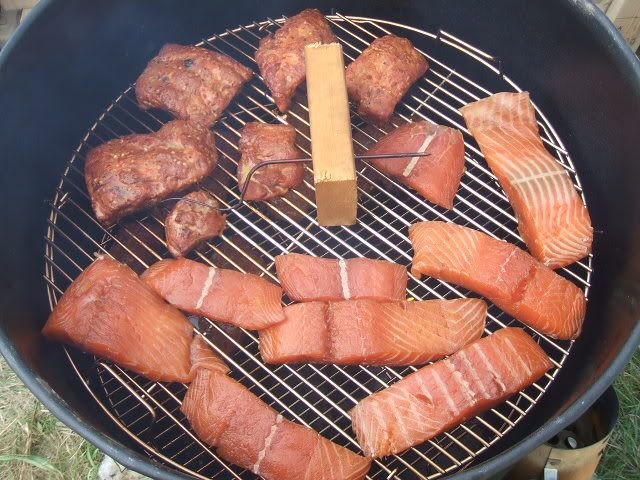 I used pickling salt, brwn sugar, garlic and onion powder,soy sauce and 2 cups water for a brine for the fish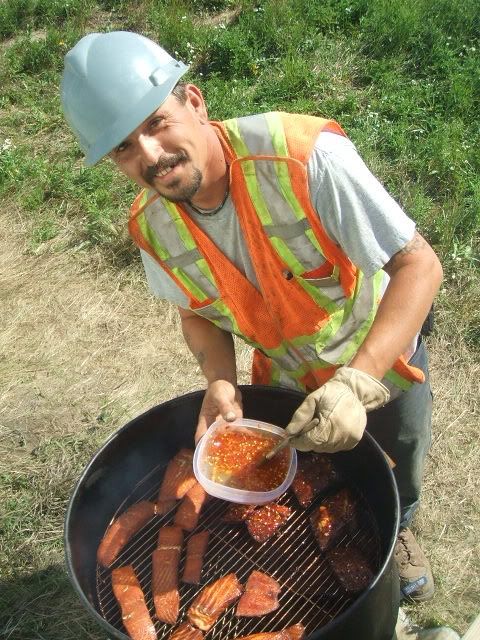 Here I am oblivious to the fact the hot sauce is dripping on my mild ribs LOL (bossman has my camera gathering evidense that i don't work)
Everything turned out great. Gotta love getting paid to smoke.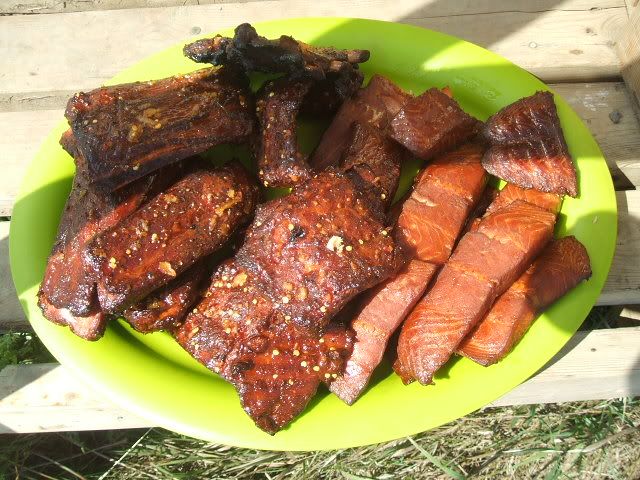 And I only cut my ribs small to avoid handling the food as much as possible