Was in the mood for a little experiment recently. Enjoy:
Geek's Barbequed Fettuccini
Pasta Recipe:
2+ Cups flour
1/2 tsp Salt
1 tsp Basil
1 tsp Chili Powder
1 tsp Garlic Powder
1/2 tsp Paprika
1/2 Cayenne Pepper
2 eggs
1/3 cup water
1 tsp Olive Oil (not EVOO)
Instructions:
Wisk together the dry ingredients in a mixing bowl.
In a separate bowl, slowly beat 2 eggs and stir in the water and oil.
Make a well in the dry mix and slowly poor in the wet. Using a spatula, slowly integrate the two together until there are no more traces of loose egg mixture. Using the paddle on your mixer slowly beat the dough until it starts to stick to the paddle. Slowly add additional flour only if mixture is too sticky (ie, sticks to the bowl, not the paddle). Replace the paddle with a dough hook and continue on slow for about 10 minutes. Remove from hook and let rest for 10 minutes, covered with a dish towel.
Cut the dough into thirds and roll each flat to a thickness of no more than 1/8" thick. If you are lazy like me, I use a pasta attachment on my mixer. Start with a setting of 1 and slowly work to setting 2. Let the uncut pasta lay flat on a lightly floured surface for about 20 minutes to slightly dry. Then either cut with a pizza cutter or use your favorite pasta cutter attachment.
Boil for about 2.5 minutes and drain well.
I serve with pulled pork and Sweet Baby Rays Honey BBQ sauce. The pasta has a slight BBQ flavor that will enhance the flavor of the smoked pork and sauce. Not very hot so if you want more heat, double the red pepper.
Here's the ball before the first form: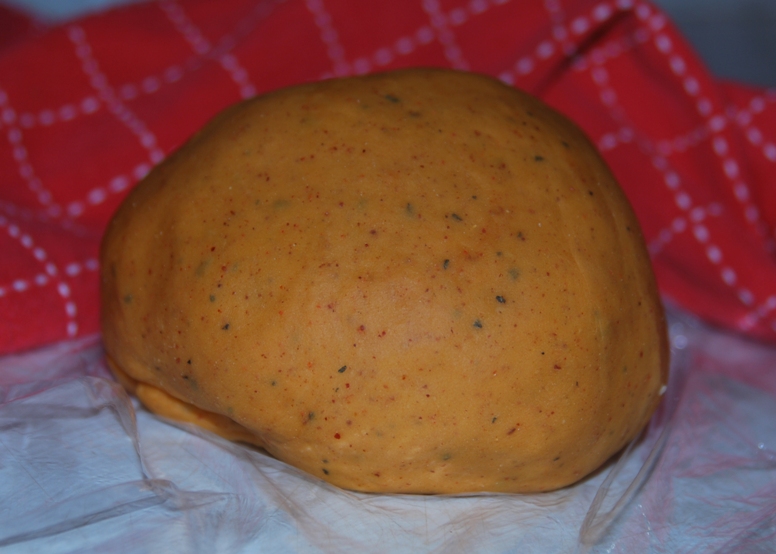 Here's the cut pasta after boil: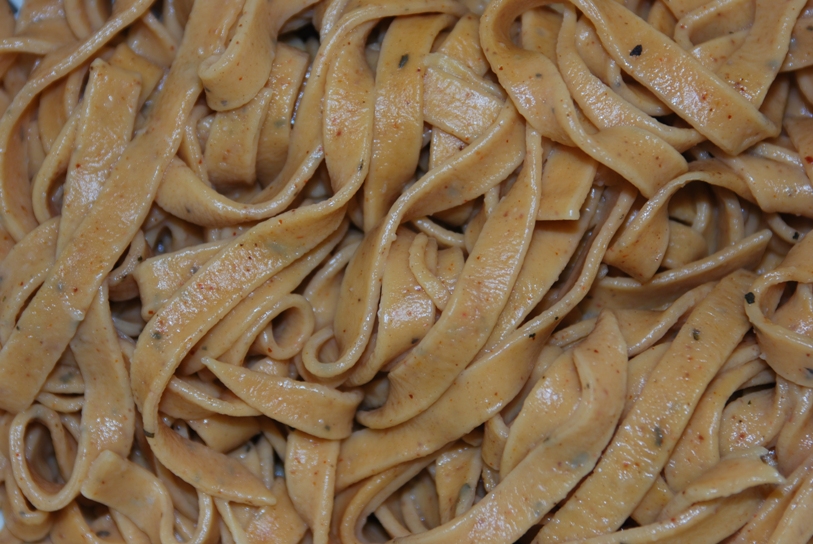 Finally, the served dish. Added a little freshly grated smoked parm: