Smoked a couple 4 lb. chickens yesterday with no brine, just rubbed the day before with some Durkee chicken and rib rub from Walmart. started about 2 pm temp at about 275, used Mesquite for smoke.
Had an audience for a while during the smoke.
I pulled them out at 165 deg.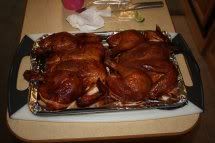 took about 3.5 hours, let them rest for a while and then the Wife and I dug in to them. The flavor was great and very tender. I can't tell the deference between brine and no brine, turns out great both ways.