So, after a long wait, I've finally brought myself to building UDS #6 and #7 of my fleet. #6 is now built and smoking and #7 will be an identical clone. Some of the most notable changes for these two from their brethren are:
- Single 2" inch intake drilled centered at 2.5 inches from the bottom v. the original three or four 1/2 or 3/4 intake drilled centered at 2" inches from the bottom
- Spring loaded slider cover to regulate air intake v. ball valve
- 2" inch conduit nuts both inner and outer to hold pipe in place and create a seal
I haven't spot welded the slide cover to the intake pipe as of yet because I don't own a welder but that will get done this week. She's on her initial burn and locking in desired temperature has never been so easy. One slide cover to adjust with minimal bending or squatting. The reasons I chose this design are:
- a single hole v. several holes reduces overall air leak potential
- (hypothesis) primary air intake should be equal in size to primary exhaust
- less holes drilled = better drum integrity
- ease of operation
With ease of operation comes the set back in money. For the build I ended up spending probably $35 MORE than normal, however I think at this point that the investment was well worth it. I'll post more pictures as the initial burn goes on.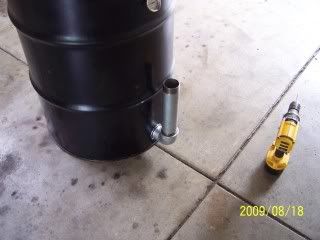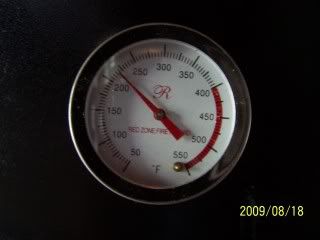 ***NOTE***
The lid on this barrel is from another barrel so it's not seated 100% down. I got a wild hair up the arse today while waiting for the electrician to show up and didn't want to go through the process of removing the rubber seal so I just swapped lids. I'm sure that will have an impact, but I again only forsee it being minimal at best. Test is being ran in my garage with the front door 6" inches off the ground and the back door wide open for ventilation, wind is not a factor in this test.